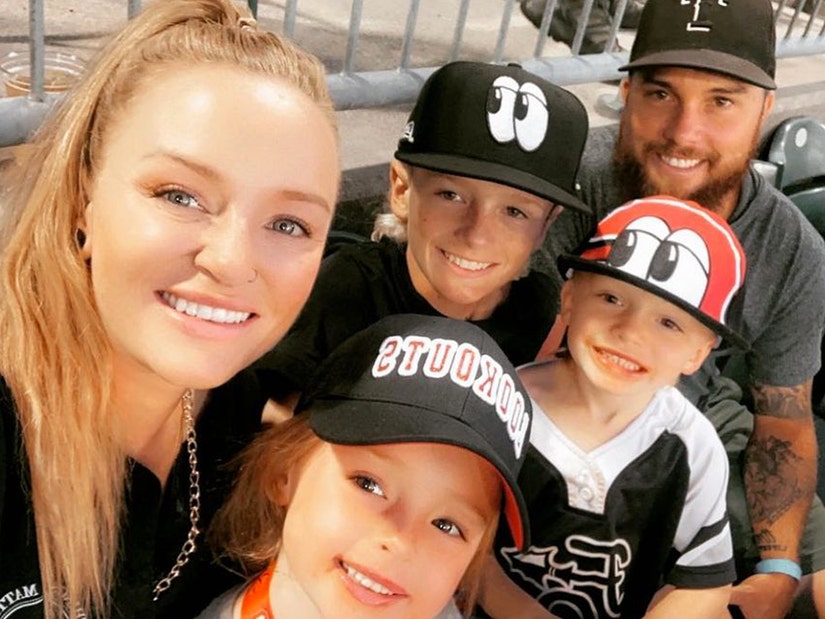 Instagram
She also spills on navigating social media with a teen and why she's okay missing out on filming with Jenelle Evans.
Maci Bookout has been sharing her life with MTV since 2011, when she appeared on the first season of "16 and Pregnant" -- and her son Bentley has grown up in front of the world.
And while Maci is clearly comfortable with appearing on camera -- going on to star on "Teen Mom OG" and MTV's latest series, "Teen Mom: The Next Chapter" -- can the same be said for Bently, as he enters his teen years?
That's just one of the questions TooFab asked the reality star as she opened up about the biggest difference between the new show and past iterations, how she's navigating her son wanting to join social media and her feelings on Jenelle Evans making a brief return to the franchise earlier this season.
What sets Next Chapter apart when it comes to filming, or does it feel very similar to Teen Mom OG?
Filming feels very similar. I think one of the biggest changes for me that I appreciate is that It shows more of the girls and our relationships and how we are actually friends on and off camera.
So instead of just seeing a girls trip, you actually see how we do communicate on a regular basis and do share things with each other like real friends do, it's just like long distance friendships instead. Also, obviously, the cast is much larger, so it's not just 4-5 girls anymore and that means that our group chat is nuts all the time. So that's definitely a difference too.
The group chat has continued?
Oh yeah, I had to mute it while I've been doing interviews today. I can't keep up sometimes, everyone's talking at once.
How much of what is on the show is a surprise to you? For viewers, Cheyenne's shooting incident was a shock, but is that something you had all talked about or are you learning some things as well?
There are definitely some things I'm learning when I'm watching, especially about the newer cast members who I previously wasn't on a regular season show with. For the most part, with Amber, Catelynn and Cheyenne, we kind of all know everything about each other before, sometimes even before we film about it. Usually, I'm never surprised when it comes to their experiences or stories.
How does Bentley feel about being on the show now and how has his relationship with the series changed over time, as he's come to understand what Teen Mom is, his friends understand what the show is, is that always changing?
I will say I think it always stays the same, in a sense that since he was born on TV and been on TV his whole life and even the crew, camera operators, they're just family now. I think it will always hold that normalcy for him. But I also think that, I'm surprised by this and I could be wrong, a year from now I could be like, you totally read that wrong, but I think in today's world with social media and influencers, I feel like he's actually becoming more appreciative of the platform and the work that it takes to make a TV show and the courage it takes for someone like me to put my life out there and the courage for him, because he's shared a lot of things on the show.
Like I said, a year from now I could be like, yep, I was wrong, he actually hates it and we're done, but of all the conversations and things we talk about and things I notice, I think he's coming to appreciate it as much as he can. It's still annoying for him sometimes, but he knows he doesn't have to film or wear a microphone if he doesn't want to and that's always been the case and production's always done a really good job of letting the kids -- no matter how big or small, old, young -- if they don't want to film, they're not filming and that's it and it's okay.
The trailer shows you do have some concerns about him being on social media. How tricky is it for you to navigate that, knowing he is a public persona just from being on the show?
It's super tricky. I have no idea what I'm doing. Neither does Taylor. Even when I first started this show, there was no Instagram, there was no TikTok. Truly, only people that had really good internet connection could get on YouTube. Smartphones were just becoming a thing. So I never, besides MySpace, social media wasn't really a factor when I was growing up and going through my teenage years, so we have no clue what we're doing.
There's no, 'My parents did this, so I wanna do that,' or, 'My parents did this and I want to do it differently.' There's no reference, so it's definitely tricky, but I feel like as long as our conversation stays open and I make sure to keep that a safe space, I don't have any bad feelings other than obvious fears that would come with any child whether they're on TV or not ... we're riding the wave together. No promises.
Jenelle came back briefly, only Briana and Jade saw her. Would you have wanted to see her or -- I know some of your other cast members were okay that they weren't part of that.
I'm not trying to be rude, truly, but I'm okay not being a part of that too. But not for any specific reason. Just mainly because Jenelle and I, I think we've only even met a couple of times.
It's not like we were friends and something happened or even worked together because we were on different casts for the whole time. So I feel like I don't even have a dog in that race, never have. It's fine with me. I don't care [laughs]. It doesn't change my life any way.
New episodes of "Teen Mom: The Next Chapter" air Tuesdays on MTV.