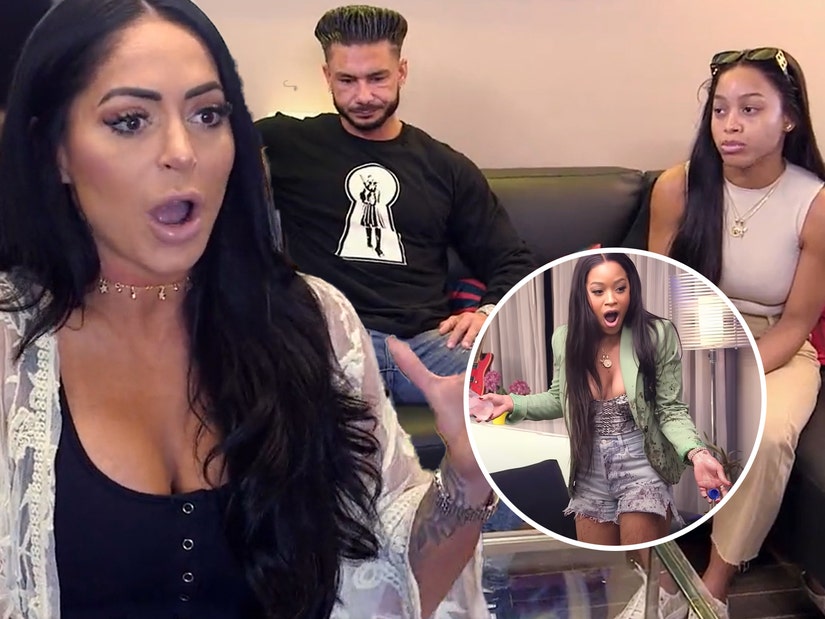 YouTube / MTV
"If they start coming at me sideways ... I'm gonna lose my mind and it's not gonna be good."
ICYMI: Last week, Angelina threw water at Vinny Guadagnino after he didn't fully commit to the terms of a bet they made, but Nikki got caught in the crossfire. While it all started in good fun -- with Nikki throwing water right back at her -- things escalated when Angelina then picked up a glass of vino and flung it at Pauly's girlfriend, ruining her outfit. After Pivarnick retreated behind a locked door, Vinny literally broke it down, while Hall emptied the wine bottle all over Angelina.
It was bad, the three ended the episode ticked at each other, while Deena Nicole Cortese was left asking whether it was all a prank. It wasn't ... and the fallout continued tonight.
"Can you believe this? Can you f---ing believe this?" Angelina asked Deena and JWoww at the top of the hour. "It was meant to be a joke to throw it at Vinny ... it probably hardly even hit her and that's when she comes in with a full blown water bottle in my face. Why did she want to throw a whole water and waterboard my f---ing face with a water bottle?"
Nikki, meanwhile, was venting to the rest of the cast -- saying she didn't care "how pissed you are," you don't "start throwing water and wine at people because you get mad and you don't know how to use your words."
The room, meanwhile, was an absolute mess -- with Jenni's fiancé Zack saying it would probably need a new door, paint, carpeting and, well, "everything."
"I am emotionally drained. I know that I'm gonna have to face Nikki and Pauly at some point today and I'm just not ready for it," Angelina admitted in a confessional the next morning, after the three avoided each other after the fight. "I apologize in these situations a lot more than I should and I think it's eating away at me. If they start coming at me sideways ... I'm gonna lose my mind and it's not gonna be good."
She then made her way down to talk to the couple and was immediately met with jokes about their situation, setting a much lighter tone than Angelina is probably used to when it comes to confrontations on this show.
"Oh, well, well, well, if it isn't Jesus," Nikki cracked, as Angelina said, "I did turn water into wine last night!"
"There's pieces I don't remember and pieces I do. I don't even know half of the story because I guess I shouldn't be drinking sugary drinks, not like that's an excuse," Pivarnick continued. "Really, I did not mean to throw water at all. I meant to throw it on Vinny, because he always reneges on all the bets that we do."
As Nikki said she didn't think Angelina initially threw water on her "on purpose," Pivarnick then apologized for the red wine as well.
"I just went and grabbed whatever, I didn't realize it was wine and I threw it. I'm so sorry I did that, by the way, I had no clue," she said. "And then next thing you know, someone broke the door down. Pauly stays out of all the drama, always, so this is like a new thing. I don't want to fight with you two."
With that, they all apologized to each other and it was settled faster than nearly every other family feud this season. Venting to the couple, Angelina then said everything going on in her life recently -- including her divorce from Christopher Larangeira -- has "been a lot for me." She added, "I also think this trip has been extra hard because usually I would have Chris in my room, I would have my person. Right now, I feel so lost."
With that, all was forgiven and they went to inspect the damage together -- with Angelina calling it "crazy." The three then hatched a plan to prank the rest of the group and pretend that their talk "went south."
Pauly laid it on thick with the gang, telling them Nikki was "pissed" and wanted to leave the trip. "S--- got crazy, no accountability for anything," he added, getting some of them on board with his tale. Vinny, however, said he thought something was off, before Pauly admitted it when he couldn't come up with a lie fast enough. Though Deena was initially very confused over what was and wasn't a prank, they all eventually ironed everything out and went on to celebrate Vinny's birthday.
New episodes of "Jersey Shore Family Vacation" air Thursdays on MTV.