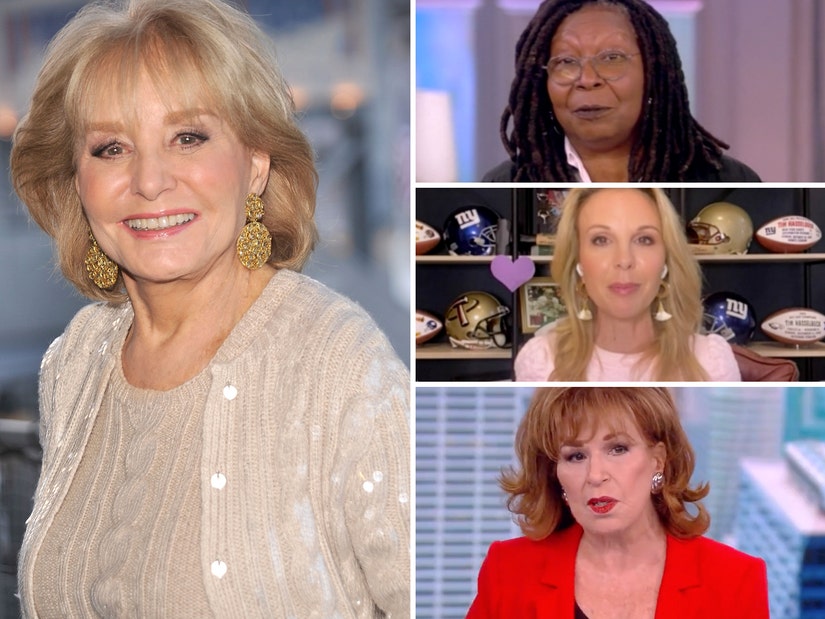 Getty/ABC
The OG lineup, Elisabeth Hasselbeck and more joined the current cohosts to honor a legend.
The women of "The View" paid tribute to one of their own Tuesday in the show's first episode back since the death of Barbara Walters. Walters, who created the ABC talk show back in 1997 and appeared on it until 2014, died last Friday at the age of 93.
"Tributes are pouting in from around the world to celebrate Barbara Walters and today we're remembering our friend and colleague," said Whoopi Goldberg at the top of the hour. "And the reason why we're all sitting here, really, if not for her, I don't know where most of us would be."
"It's true. We knew her better than anyone I think. She very much defied sexism and she defied ageism, she went right into the jaws of the lion," said Joy Behar. "She started The View when she was 68 years old. Very few people start a new career at that age. She was the original role model to everybody else. She was one of a kind and really important to the industry."
Sunny Hostin recalled some of her first interactions with Walters after she joined the show, saying she felt a sense of validation when Barbara agreed with Hostin's decision to change her questions to be more in her own voice.
"She started helping me and I thought, my goodness, the generosity of that moment," she continued, getting a little emotional. "She validated my opinion and after that day she would ask me during the Hot Topics meeting, 'What do you think, Sunny?' I was like, 'Barbara Walters is asking me what I think? Wow.'
"There was nobody like her," added Goldberg before a commercial break. "There isn't anyone like her and like all firsts, she's the first and there are many of us duplicates, but there will never be another Barbara Walters."
After the break, the show's first cohosts Debbie Matenopoulos, Star Jones and Meredith Vieira all appeared in-person, on Zoom and over the phone, respectively. After Meredith praised how the show gave her an opportunity to "reinvent" herself, Jones revealed how much Barbara loved to spill the tea.
"We got to dish with this woman ... she was the best gossiper, she knew how to tell tales and just drive the point home. I will miss that more than anything," she said. "If you wanted to know the tea, Barbara Walters had it!"
Matenopoulos recalled Walters being "tough" on her when they began the show, before explaining just how much she "appreciated" it and her guidance. Comparing their relationship to that of a mother and daughter, Debbie said, "She taught me everything. I was like Eliza Doolittle in 'My Fair Lady.'"
Getting choked up and teary-eyed, she added, "I owe her everything. I would not have this career if she did not choose me. My entire life, all I wanted to do was make her proud."
Following another break, Lisa Ling, Sherri Shepherd and Elisabeth Hasselbeck also appeared to honor Walters. Ling recalled how "surreal" it was to sit next to Walters on the panel, while Behar revealed Barbara did not like it when she and Whoopi walked out during a particularly contentious interview with Bill O'Reilly.
"There was so much publicity around that, she was fine with that," she added.
Shepherd, meanwhile, recalled how Barbara really felt about the men she dated -- sharing a hilarious anecdote from Shepard's bridal shower, which Walters threw.
"She said, 'You always get with these men who take your money! All the time! Stop getting married to men that take your money. You need to be a lesbian,'" said Sherri. "But with your luck, they'd take your money, too.'"
Appearing over Zoom, Hasselbeck said she "didn't expect waves of grief to come over me like they have with her because I think we all just assumed we'd continue to be able to speak with her, share thoughts with her."
"She and I had a layered relationship. She was my TV mom, my mentor ... she was contagiously, compassionately curious and I love that about her," she added. "She gave me a chance, she changed my life. The 10 years next to her side and with all of you at different times, enriched my life."
The show closed out its hour-long tribute to Walters with a highlight reel of Walters' greatest moments.