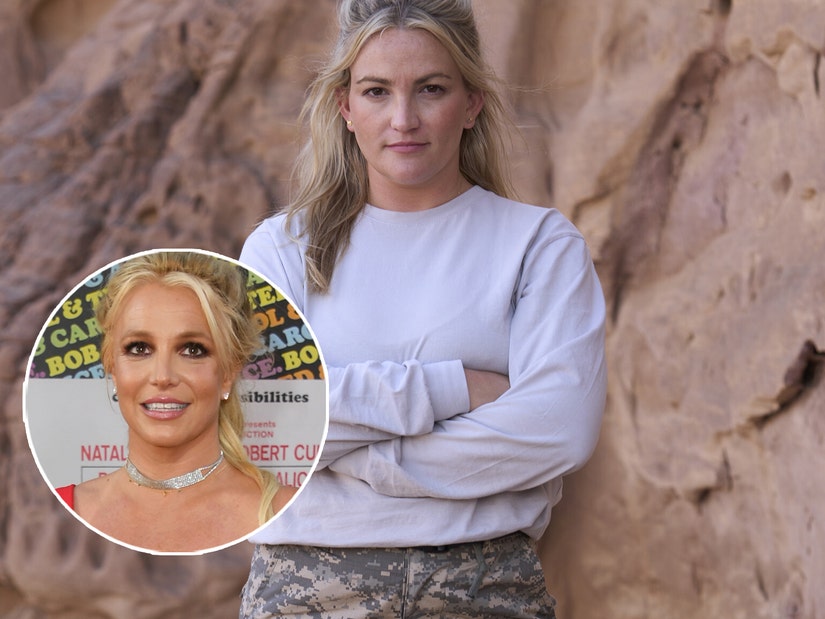 Fox / Getty
"Growing up, my sister became famous, worldwide famous, when I was very young"
Jamie Lynn Spears is opening up about struggling with her self-esteem and self-worth due to growing up in her sister Britney's shadow.
On Wednesday's season premiere of "Special Forces: World's Toughest Test," the actress sobbed as she became emotional while sharing that she feels that she's not seen as her "own person" or has "anything" for herself.
After struggling through the first exercise, in which she relived the trauma of her daughter's horrific ATV accident six years ago, she was sent to the psychological evaluation room, where she confessed to the Directing Staff how the experience was triggering for her.
Jamie Lynn began to sob as she recalled the traumatic accident before she then admitted that she wants to feel that she's "worth something."
When asked what makes her believe that she's "worthless," the "Zoey 101" alum said, "It just feels like every time I work really hard to get something on my own, it's like it's not really worth it."
"Growing up, my sister became famous, worldwide famous, when I was very young," she continued. "I'm so proud of her, love her to death, and I don't know, I just feel like sometimes I don't really have anything for myself."
The "Zoey 101" alum shared more thoughts in a confessional, saying, "I can be extremely proud for my sister, but also have my own identity and be expected to seen as my own person."
"I struggle with self-esteem all the time, and as a parent you really want to fake it because you don't want to ever see your children feel the feelings you feel," added Jamie Lynn, who is mom to daughters Maddie, 14, and Ivey, 4.
Eventually, Britney said she does love her sister "unconditionally" and added that it's "so tacky for a family to fight publicly like this" -- while asking her sister to show her some loyalty, instead of showing it to "the people that hurt me the most" amid her conservatorship battle. Jamie Lynn responded asking for her sister to call her so they could settle it offline.
"I'm happy to share how many times I've reached out to you, supported you and tried to help you. This is embarrassing and has to stop. I love you," she added.
The series airs Wednesdays at 8 pm ET on Fox.