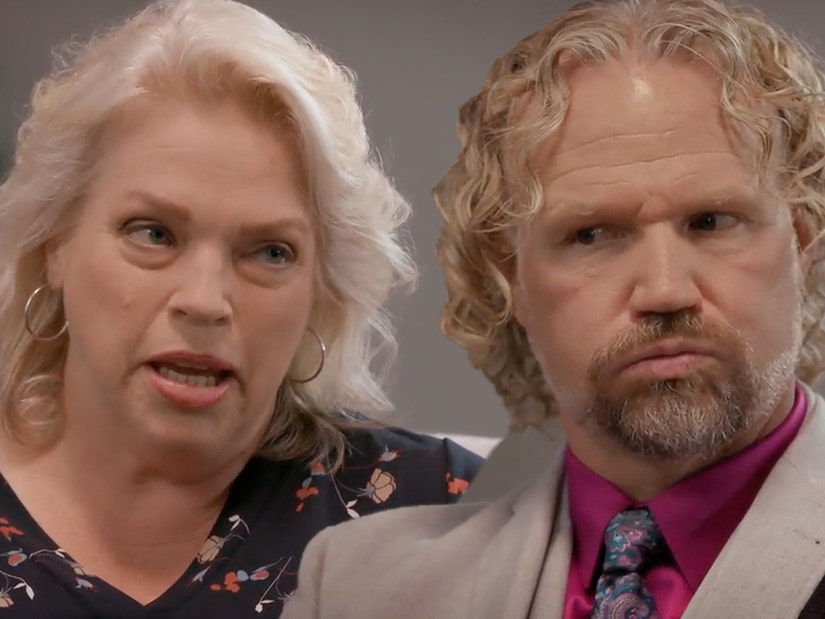 TLC
Janelle shares why she's "losing respect" for her husband and why being so "happy" without him has led to a crisis of faith.
Kody Brown said goodbye to one of his "Sister Wives" on the most recent season of the show, another said he didn't consider himself married to her on the "One on One" special and, in tonight's final installment, a third confirmed she and her husband are "separated."
While a preview for reunion teased Janelle and Kody confirming they had also gone their separate ways, the pair broke down what went wrong when the full hour aired Sunday night. Throughout the season, the duo clashed over how Kody handled Covid protocols with the entire family -- leading to serious issues with two of his sons he shares with Janelle, and with both Christine and Meri, who felt the protocols favored Robyn.
"I know that she suffered more in plural marriage. I think Janelle came into this idealistically and got shattered by the experience in plural marriage," said Kody, who went on to detail how he felt "disrespected" by all the women for fighting with him over something he felt was "keeping our family safe."
"It really made me know who was going to respect me and who wasn't going to respect me," he said, before being asked whether he believes Janelle specifically disrespected him. "Absolutely, she doesn't respect me." He also added, "Yes, we are separated. Pretty stupid for people who love each other, huh?"
In her own separate sit-down, Janelle said it was no longer "love" between them at this point.
"It's duty. It's commitment. It's faith that tells you to work it out and stick it out. I think if we both really sat down, we'd both look at each other and say, 'Really?' We've been separated for several months," she then revealed, shocking the host. "Kody and I have separated and I'm happy, really happy."
"Things just really became sort of indifferent. I just didn't care anymore," she said, adding that while she does respect him, she's "so mad about what's happened with our kids" and "losing respect for him in that regard." She also said the lack of respect was a "mutual" thing, saying, "It's a two-way street there. I think if he truly had been watching out for me and our children, he would have figured out a way to make it work for the whole family instead of having his rules and staying where he was respected and obeyed [with Robyn]."
When asked whether she felt the pair could ever have a "romantic" relationship again, Janelle said she wasn't "waiting for him" to come around in that regard.
"I've kind of mourned that, that part of our life is gone. It wasn't heartbreaking for me like it was for Christine. It was a really great, we had this great run," she said, before sharing that he "blew off" their 29th anniversary following a fight between them about how they'd celebrate the holidays. Janelle claimed they didn't speak for 3-4 months after that ... so she wasn't expecting much of a celebration for their 30th anniversary either.
"I think it could be there, but it would require so much change on both our parts, I don't know," she continued, as she then opened up about the situation has also presented her with a crisis of faith.
"Part me of thinks, okay, my religion requires that you continue to make a marriage work and I deeply believe in my faith. And I have been so much at peace, I don't know how to reconcile that," she explained. "So that's what my debate is with myself all the time. I know I'm happy, I don't want him to come back, but my faith requires that we are married eternally."
When asked if that meant the "door is still open" for reconciliation, Janelle said, "It has to be ... but I'm not interested in having anyone walk through that door."
Kody said that his estranged wife "has made it very clear to me that she's enjoying her life without me," but added that he "absolutely" wanted to work things out ... so long as he feels respected.
"I want to fix it, yes, but that's a whole new negotiation. We're in a new place," he continued. "Christine left. Janelle likes her. Why couldn't you have been good sister wives when you were sister wives? That's such a mess."
The hour ended with no real resolution, but with Kody declaring, "I hope I find a happy and beautiful place with Janelle and I hope my kids and I can reconcile. Here's hoping."