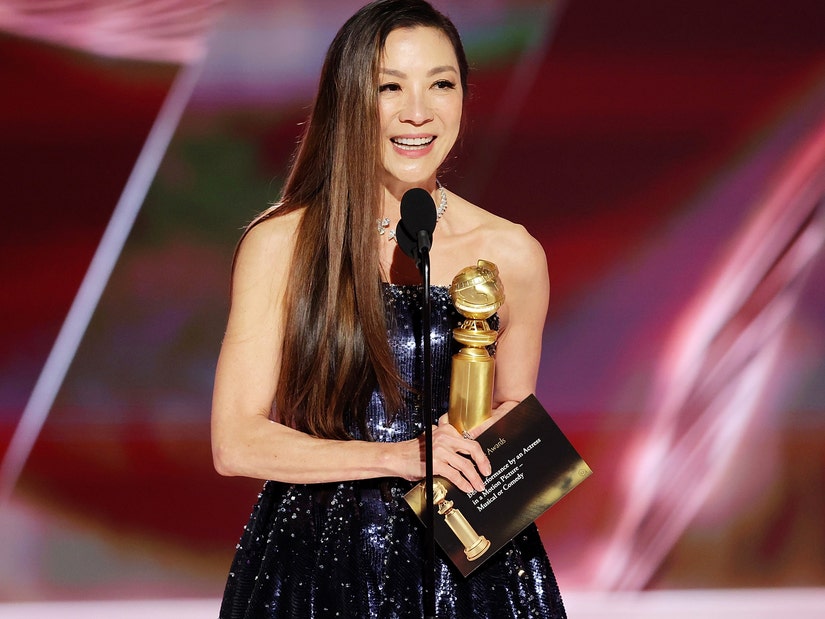 Getty
"Shut up please. I can beat you up, okay?" she exclaimed when music started to play her off.
Michelle Yeoh won the Golden Globe Award for Best Actress in a Motion Picture Comedy or Musical for her work in "Everything Everywhere All at Once" -- and used her speech to reflect on her "amazing journey" after four decades making films.
"I'm just gonna stand here and take this all in," she began. "40 years, not letting go of this. It's been an amazing journey and incredible fight to be here today, but I think it's been worth it."
She began her career making martial arts films in Hong Kong in the early 1980s, before breaking out in the United States in the James Bond film "Tomorrow Never Dies" and "Crouching Tiger, Hidden Dragon."
"I remember when I first came to Hollywood, it was a dream come true until I got here," she continued. "Look at this face. I came here and was told, 'You're a minority,' and I'm like, 'No, that's not possible.' Then, someone said to me, 'You speak English.' I said, 'Yeah, the flight here was about 13 hours long, so I learned.'"
"As time went by -- I turned 60 last year and I think all of you women understand this -- as the days, the years and the numbers get bigger, it seems like opportunities start to get smaller as well," said Yeoh, adding that there came a time where she thought to herself, "You had a really good run."
But then "along came the best gift," referring to "Everything Everywhere All at Once." At that point, music began to play her off the stage -- but Yeoh wasn't having it.
"Shut up please. I can beat you up, okay?" she exclaimed, before going on to thank everyone involved in the film -- including her "hot dog lover" Jamie Lee Curtis.