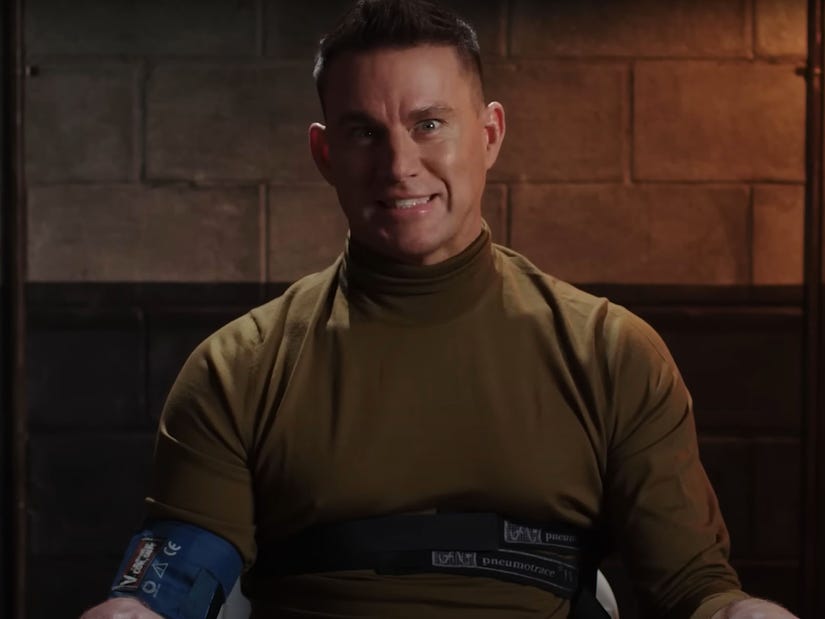 YouTube / Vanity Fair
The actor also shares whether or not he believes he's a better stripper than Joe Manganiello and Jennifer Lopez, or if he could beat George Clooney and Brad Pitt in a dance battle and more.
Channing Tatum is the latest celebrity who has been put in the hot seat to take Vanity Fair's Lie Detector test, and the actor didn't hesitate to tell the truth. In fact, he may be the most genuinely honest star to take the test so far.
In the 14-minute video, Tatum answered a series of questions about his career, pop culture and his personal life. While discussing his career, it only took a few minutes for the "Magic Mike" actor to reveal a brutally honest opinion about two of his past projects, and he didn't hold back.
When asked if it was his idea for his character Duke to be killed off in 2013's "G.I. Joe: Retaliation," the sequel to the 2009 film, "G.I. Joe: The Rise of Cobra," Tatum immediately replied, "Yes."
As for whether he "regret[s]" that choice, Tatum said he doesn't, before revealing his reasoning.
"The first one I passed on seven times, but they had an option on me," he admitted, "And I had to do the movie. So the second one, I obviously just didn't want to be in that one either."
During another moment, Tatum -- who famously plays a stripper in the "Magic Mike" films, inspired by his own real-life dancing days -- was asked whether or not he believes that he's a "better stripper" than his co-star Joe Manganiello.
"100%," Tatum said. "We're different, different classes of strippers. When you look in the dictionary next to like the perfect specimen of a man probably Joe Manganiello is one of the bodies that like pops up because he's just, he's kind of weirdly flawless."
"But as far as stripping goes, I would put myself above him dance-wise," he added.
And as for whether Tatum believes he's a "better stripper" than Jennifer Lopez, who played one in 2019's "Hustlers," Tatum replied, "I'm gonna say, yeah. I would go harder if I was stripping against her. I'm just saying, I'm gonna take it to J. Lo's front door."
While he appeared confident when it came to his stripping skills, the "Step Up" star wasn't afraid to admit defeat when it came to comparisons to other good-looking actors.
When asked if he or George Clooney is "more handsome," Tatum said, "That's George. Unfortunately, I wish, I wish I could hold a candle. It's just, I mean and the world would tell you that. And you go to Italy, I mean I don't even need a lie detector test. Like, Italy will be the lie detector test. He's a very classy gentleman and a very good-looking man."
Someone he believes is even more handsome than Clooney? Brad Pitt.
"Absolutely f---ing not," Tatum said with a laugh after he was asked if he thinks he's better looking than Pitt. "No, unfortunately, no. Like, I don't think really anybody, I mean he's more handsome than George. Sorry, George but that's just a fact. I think most people would agree."
The proctor then noted how Tatum, Clooney and Pitt have all been named People Magazine's Sexiest Man Alive, before asking who Tatum thinks would win in a dance-off. "I'm killing them in a dance-off, like crushing them in a dance-off," he hilariously replied.
However, Tatum didn't hesitate to admit that Beyonce is a better dancer than him.
"Beyonce without question," he said after the interviewer brought up his iconic dance number with the singer on "Lip Sync Battle." "I almost threw out my neck trying to do that move, like for real. All the 'Single Ladies,' go watch the video, you'll know what I'm talking about."
Throughout his entire test, Tatum was only caught in an -- apparent -- lie once.
After the interviewer brought up the song he and Jamie Foxx performed in 2013 -- "I Want to Channing All Over Your Tatum" -- she asked "The Lost City" star if wishes "more sex acts" were named after him.
"Yeah, I guess, yeah, why not?" he replied, adding, "It's not the worst thing to be known for."
The man observing the lie detector immediately chimed in, saying, "That's a lie."
"Ooh, maybe not," Tatum said. "I lied. Okay, I guess it was a little weird."
The "Dog" star then tried to explain his possible lie. "You know what it probably was? It was, you know, it's a really good song and it's really hard to get it outta your head. And I couldn't sing it anywhere because like everybody would just be like, 'This guy's like really into himself, he just like, keep singing about himself.' So maybe that's what it was."
See more in the full video, above!