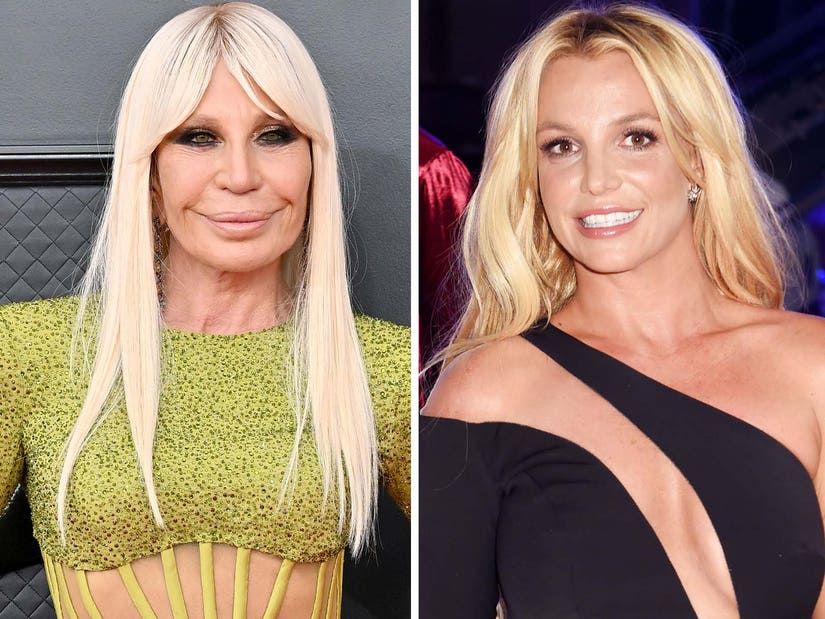 Getty
The designer also opened up about the infamous J.Lo dress and reflects on taking over Versace after her brother's murder.
"It was amazing to see Britney so liberated, so free," Donatella recalled. "The wedding was very small, but very beautiful. I made the dress for her for the wedding, for the after party and everything. So I spent a few days with her."
The designer revealed that she and Spears first crossed paths early in Britney's career, claiming Donatella was the first fashion designer the singer ever met.
"I think the first designer ... she met in her life was me," she explained. "She came to Milano [when] she was like 20, 21 ... not even 21."
Versace continued, "I was like looking at her. She was at the height of her career, but she was so humble. I asked her to do a few interviews for me, [and she said] 'Of course, yes, give me the list.' She was sitting there doing everything and never said no to anything. She was amazing."
Elsewhere in the episode, Donatella revealed how one of fashion's most defining moments came to be when, in 2000, Jennifer Lopez wore the now-infamous green, low-cut and backless tropical-patterned Versace dress to the Grammy Awards. The gown was such a hit, it's credited with the creation of Google Images.
"We did the dress, and then you know, we're thinking about J.Lo," she explained. "She is all about femininity ... it shows. She's a great artist. She can sing and she can act, she can do anything. She was confident and that you saw when she wore the dress and the world went crazy."
Though Donatella has taken Versace to new heights over the years, the designer admitted she wished she never inherited the fashion house after the murder of her brother and original founder Gianni Versace.
"I wish it never happened ... it was a shock," she said. "It was a shock because it happened in one minute. One minute he was there and then another minute he was gone. And I talked to him on the phone 25 minutes before he died. So when they gave me the news ... I said that's not possible, I just talked to Gianni."
"It was so sudden. And I think we talked to each other 25 minutes before it happened. He was in Miami, that was in Miami. It was early in the morning. [He said] 'I'm gonna go to buy magazines, I'll call you when I come back.' That's what he told me and he never came back," Donatella recalled.
When Ratajkowski noted it must have been "bittersweet" to take over, Donatella added, "Mostly it was bitter."