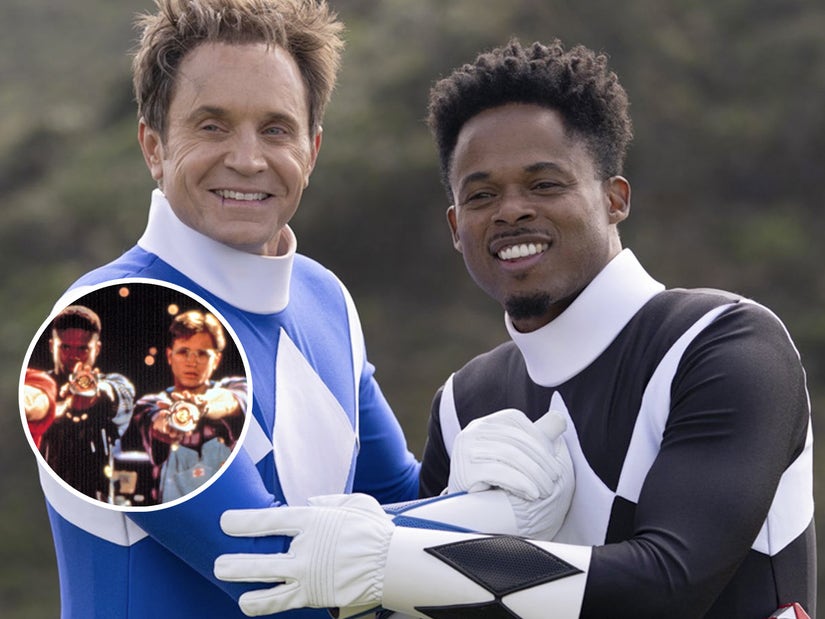 Netflix/Everett Collection
In addition to some "retro Rangers," the special also features an actress playing the daughter of OG Yellow Ranger Trini.
It's Morphin' Time again for original "Mighty Morphin Power Rangers" stars David Yost and Walter Emanuel Jones, who are back in their blue and black suits, respectively, for a new 30th anniversary special at Netflix.
A first look behind-the-scenes of the "Mighty Morphin Power Rangers: Once & Always" scripted, stand-alone special dropped Tuesday morning, showing the pair suiting up in Angel Grove alongside fellow former Rangers Catherine Sutherland (the second Pink Ranger), Steve Cardenas (the second Red Ranger), Karan Ashley (the second Yellow Ranger) and Johnny Yong Bosch (the second Black Ranger) as they prepare to face off against "a familiar threat from the past," per EW.
"It's been 28 years since I've been back on the set of Power Rangers. David and I, working with him as Billy and Zack being Zack and Billy, it's funny how similar it is, but in a different way," Jones said in the footage above.
"It's kind of crazy to think about that it's been that many years. It's been really exciting to film a 30-year anniversary special," added Yost. "Just getting to work with Walter, obviously we have a long history together. It's such a different take on what we've done before, but a lot of the same elements are there."
Cardenas said it was "surreal" to be filming alongside some Rangers who have never been on camera together before, like Jones.
"We're a family of Rangers, so to be on a set with them was really interesting," added Walter. "I think what I'm most excited about for the fans and this 30th anniversary special is for them to see us all together and our chemistry and our growth."
Waiting for your permission to load the Instagram Media.
While Bosch said he believes audiences will be "excited to see a bunch of us retro Rangers come back," Sutherland said the special will also be packed with "so many little Easter eggs" and will "give the fans everything they want."
According to Entertainment Weekly, the cast also includes Barbara Goodson and Richard Horvitz -- the voices of Rita Repulsa and Alpha 5, respectively -- and a new addition in Charlie Kersh, who will play Minh, the daughter of original Yellow Ranger Trini (pictured in the fourth photo above). Trini, of course, was originally played by Thuy Trang, who tragically died following a car accident after leaving the show in its second season.
Per EW, it's unclear whether any other original cast members are involved in the special or if it will honor Jason David Frank, the original Green Ranger who died by suicide last year.
"Mighty Morphin Power Rangers: Once & Always" premieres April 19 on Netflix.