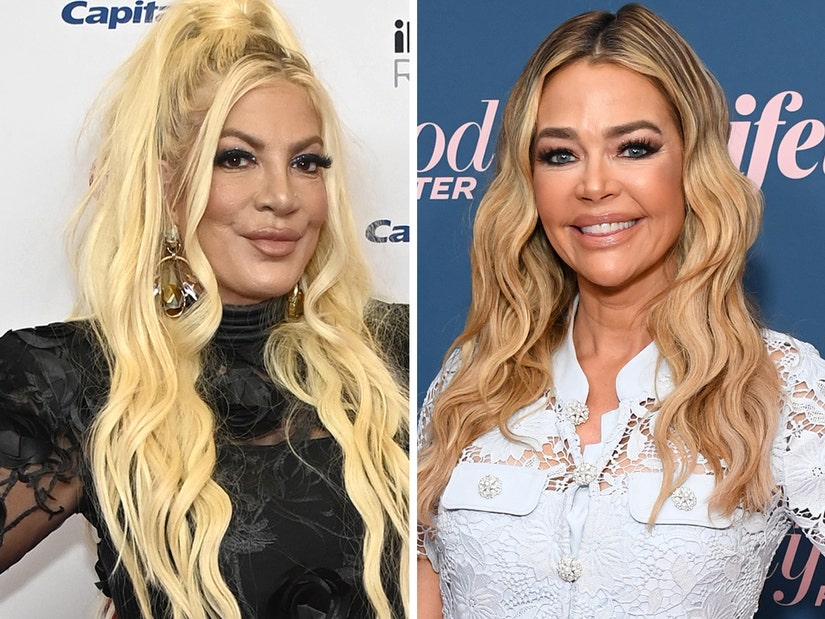 Getty
"I was like, 'Hey, love what I'm seeing, would love to see some more.'"
While appearing on Friday's episode of SiriusXM's "Jeff Lewis Live," the actress revealed she dropped $400 within "two days" on Richards' page on the internet subscription service.
"I've been friends with her for years. I was just kind of fascinated by the whole OnlyFans and -- I'm not going to lie -- I was like, 'Let me check it out. What does it entail?'" said Spelling, 49. "So I looked at it and of course, it shows something [like] unless you subscribe, you can't get it. So of course I subscribed under a fake name."
"It's riveting because they're like 'Hey we might show you this in the shower,'" she continued. "And I just wanted to see, it's my friend and I'm like, 'Hey, how far is she going?'"
The "Beverly Hills, 90210" alum added that "allegedly if you tip them they get to you faster," and shared what she messaged Richards.
"So I was like, 'Hey, love what I'm seeing, would love to see some more,'" she said as Lewis and his co-hosts burst into laughter. Spelling then revealed, "I ended up, in the course of two days, spending $400. I couldn't stop."
Waiting for your permission to load the Instagram Media.
When Lewis asked whether or not she spent $400 "all" on Richards," Spelling hilariously admitted, "Yeah ..."
Lewis, for his part, said he's "intrigued" about Richards' photos, asking Spelling, "She looks good doesn't she?" to which the latter replied, "God, she looks good!"
"I kept tipping her and I didn't want her to know it was me in the DMs," she added with a laugh.
In June, Richards, 51, revealed she had joined OnlyFans after she feuded with ex-husband Charlie Sheen over their daughter, Sami Sheen, joining the platform.
After calling out daughter Sami's haters and Sheen for slamming her decision to join OnlyFans at 18, Richards teased that "perhaps I should open my own account.," before doing just that.
Waiting for your permission to load the Instagram Media.
At the time, the "Real Housewives of Beverly Hills" alum posted a video of herself in a white dress headed into the ocean, captioning the posted, "Ready ... here we go #onlyfans Link in bio."
In an interview with KTLA in July, Richards opened up about her decision to create an OnlyFans account.
"My daughter got a lot of backlash for opening the account," she said at the time. "I had heard of OnlyFans but I wasn't educated on what OnlyFans was and once I started to learn about it, I really think that the creators of the site really took the best of every platform of social media and put it into one site. You own your content. The other sites, they can sell your content."
She went on to add, "We all post pictures with ourselves with bathing suits on Instagram and some of the other sites that there's no difference other than you actually own the content."