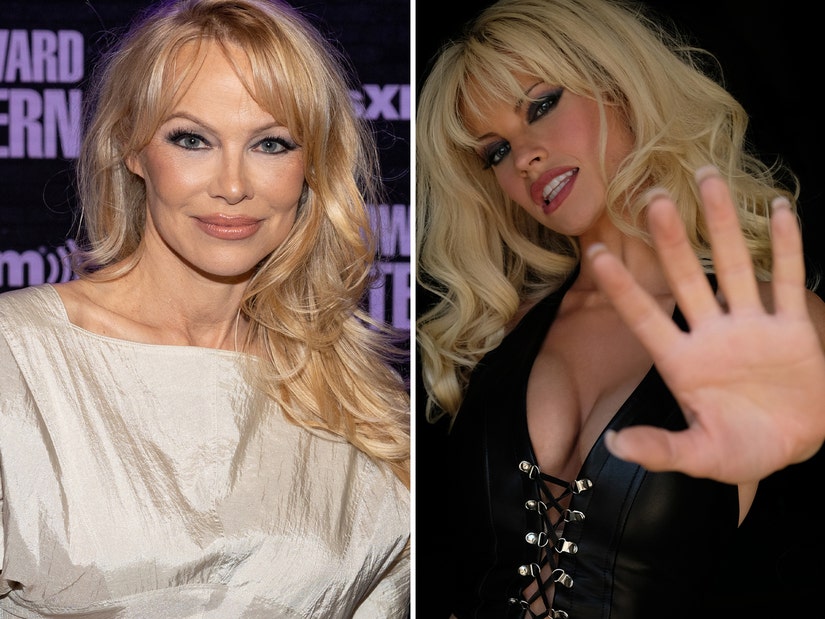 Getty/Hulu
"You still owe me a public apology."
Pamela Anderson may have some major issues with Hulu's "Pam & Tommy" series, but she has no ill will toward star Lily James. And to prove that point, she even invited the actress to a premiere for her new documentary!
According to a new profile in Variety, Anderson hopes James will attend a red carpet premiere for her "Pamela: A Love Story" doc, which debuts January 31 on Netflix.
"I think it's hard to play somebody when you don't know the whole picture. I said to Netflix, 'I'd love to invite Lily to the premiere of the movie,'" said Anderson. "I've got nothing against Lily James. I think that she's a beautiful girl and she was just doing the job. But the idea of the whole thing happening was just really crushing for me."
Anderson has made it pretty clear she has no intention to ever watch the show, which revolved around the illegal release of her stolen sex tape with Tommy Lee. She told Variety she has only seen billboards featuring James and Sebastian Stan, who played her ex on the series -- adding, "It just looked like a Halloween costume to me."
She called the team behind the show "Assholes," saying the show only put "salt on the wound" for her and telling the creators, "You still owe me a public apology."
"It was just shocking," she continued. "Tommy probably thought it was funny. I remember Tommy writing me a note saying, 'Don't let this hurt you like it did the first time,' because he had heard through the kids that I was kind of struggling with the idea of bringing this all up again. I don't think he was portrayed kindly. I just know that I refuse to watch it."
In the doc, per Esquire, Pam and Tommy's son expresses his confusion over the limited series as well.
"Why bring something up from 20 years ago that you know f---ed someone up?" he exclaims. "The worst part of her life and making a semi-comedy out of it didn't make sense."
"Pam & Tommy" wound up being celebrated by the Emmys and Golden Globes -- which both nominated James, Stan and Seth Rogen for acting awards, as well as the show itself for limited series -- but went home empty-handed.
Anderson's memoir, "Love, Pamela" and her Netflix documentary, "Pamela: A Love Story," will be released simultaneously on January 31.