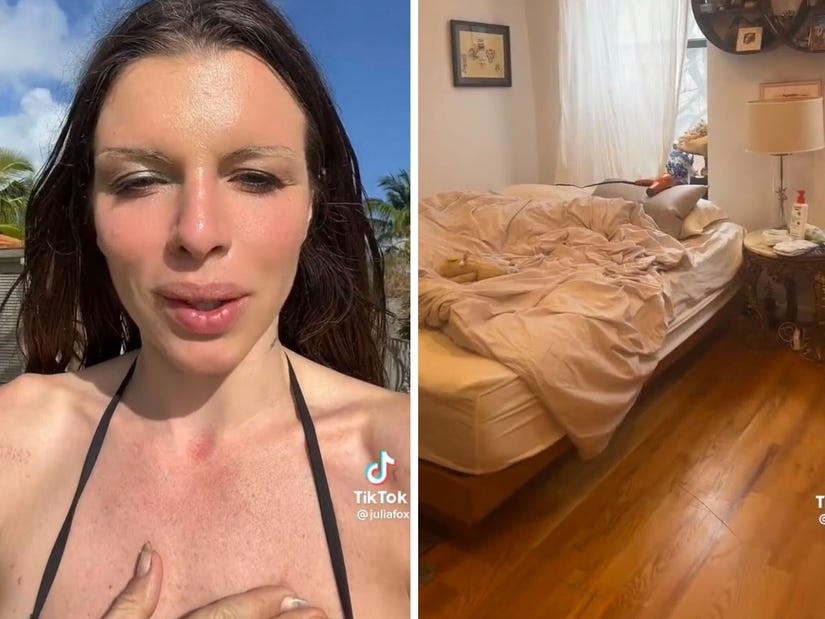 TikTok
Fox responds to claims she's worth "$30 million" and defends herself from "mixed reviews" of her NYC pad.
Julia Fox has no time for the haters when it comes to her New York City apartment.
The model made headlines last week after she gave what she called an "underwhelming" tour of her NYC home, which she shares with son Valentino. Being transparent with her followers, she explained that she doesn't "like excessive displays of wealth" and even admitted to having a "little small mouse problem."
Though most of her followers were supportive and praised her for not only keeping it real but also living a more "normal" life, she said in a new video uploaded Monday that she received "mixed reviews" for the clip. In the footage, she directly responded to one fan who asked, "Isn't she worth like 30 million dollars?", suggesting she should be living a more extravagant lifestyle.
"I really wasn't expecting my apartment tour to go so viral and people are freaking out over it. I just want you guys to know that like, first of all, I'm not worth $30 million, not even close," she began. "And second of all, I don't give a f---, I don't need $30 million, what does one person need $30 million for? I've survived on a lot less and I'm doing just fine."
"It's really not that deep. This just happens to be the apartment where I took my son home from the hospital to, so it's his home," she continued, defending the space. "It really is Valentino's apartment. It's like a sentimental thing. That's kind of why I'm like, even though I could probably afford a bigger place -- probably, because I am in New York, after all -- it's about having that sense of normalcy for Valentino."
"I don't want him to grow up and be like a f---ing prick, you know what I mean? I want him to be in touch with the f---ing real world, because I grew up in the real world, believe it or not," she went on. "I just want my son to have the same."
Fox then claimed she really doesn't spend a lot of her money, especially on "nice s---" like designer clothes. Though is is often photographed on red carpets and at fashion week shows in some head-turning looks, she said most of it was "borrowed couture."
"Jesus Christ, come on people. Most of the clothes I wear are like young designers starting out, to be honest," she added.
"So, yeah, I don't know. I got a lot of mixed reviews, but most of it was really supportive and it warmed my heart that so many people could relate," Fox concluded. "I used to be like an aesthetic queen and want my space curated perfectly a certain way. Then I realized there's more to live, I don't give a f---, okay?"
Fox was clearly unbothered by the whole thing, as she said she was living her "best life" in the Bahamas for her birthday. She closed out the video by saying, "Don't believe everything you read on the internet, all those celebrity net worth things are complete BS."
Watch the original tour video below: