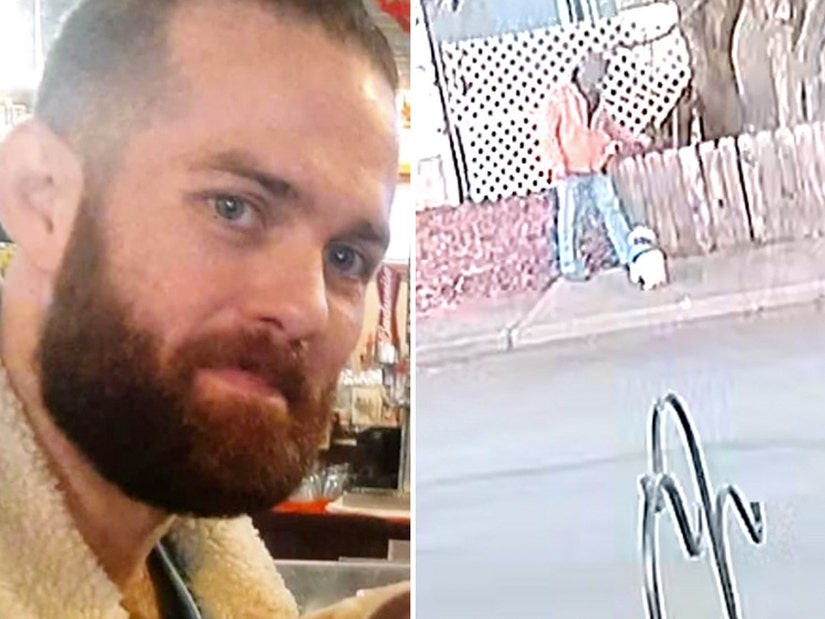 Grants Pass Police Department
He was spotted walking a dog belonging to the two homicide victims before a stand-off with police.
Last week, police in Grants Pass, Oregon announced they were on the hunt for 36-year-old Benjamin Obadiah Foster after they found "a female victim who had been bound and severely beaten into unconsciousness" in a residence. This after Foster was arrested for a similar crime back in 2019.
While authorities tracked him to a nearby home, he was able to slip past them. Speaking at a press conference today, Grants Pass Police Chief Warren Hensman said, "We hate the fact that he evaded capture." During the raid on the home, 68-year-old Tina Marie Jones was arrested in connection to the case for Hindering Prosecution, as the search continued.
During the manhunt, police went on to claim "that the suspect is actively using online dating applications to contact unsuspecting individuals who may be lured into assisting with the suspect's escape or potentially as additional victims." In the presser, however, Hensman said they were just warning people that's what he could have been doing.
This week, however, there was a break in the case, as the Josephine County Sheriff's Office did welfare checks near the location of the earlier raid following a tip from a cab driver. During the door-to-door stops, they discovered two dead bodies. "At this point, we do believe Benjamin Foster is the suspect of that double homicide, as the M.O. is very similar," said the Sheriff during Wednesday's presser.
The victims were identified as Richard Lee Baron, Jr. and Donald Owen Griffith, who both lived on the property.
Captain Kennedy from the Oregon State Police also said there were some missing items from the home, including a dog, which Foster was later seen walking near the location of the original crime (above right) -- where a cab had dropped him off.
"We have no outstanding suspects in relation to the deaths, we believe those are related to Benjamin Foster," added Kennedy. "We believe blunt force trauma was the means used in this."
Local police then deployed a SWAT team to Foster's location on Tuesday, issuing a shelter in place warning for everyone living nearby.
"After a lengthy stand-off and failed communication -- he did not want to communicate with police -- we located him burrowed deep underneath the home," said Hensman, who added Foster was found in the crawlspace with the help of a robot. "We knew he was armed and dangerous. We had to be incredibly careful. At the end, throughout this entire process, Foster took his own life with what appears to be a single, gunshot wound to the head."
Police initially believed Foster was dead after the gunshot, but then noticed he was still breathing. Hensman said they "literally had to cut into the floorboards to pull him from the home and take him to a medical facility," where he was pronounced dead within the next couple hours.
"We are confident the community is safe," added Hensman, who said the original victim -- a "former domestic relationship" -- was still In critical but stable condition.
Last week, Josephine Country District Attorney Joshua Eastman accused Foster of trying to kill the victim while "intentionally torturing" her and leaving her "in a place where she was not likely to be found," per AP, citing court documents.
At the time, Hensman told the outlet he found it "extremely troubling" Foster wasn't still behind bars for his past crimes.
In 2019, Foster was arrested after his ex-girlfriend was held captive with her wrists and ankles bound by duct tape and zip ties for two weeks. Per The Las Vegas Review Journal, citing a police report, the victim claimed she was forced to eat lye, had her head shaved and suffered seven broken ribs and two black eyes. She escaped after convincing him to take her to a grocery store and gas station for food and water, running for help when he let her out of his sight.
Though he was reportedly charged with five felonies initially, he pleaded guilty to one felony count of battery and a misdemeanor count of battery constituting domestic violence as part of a plea deal and was given a 2 1/2-year sentence. He was granted time served, however, for the 729 days he spent awaiting trial ... and was imprisoned for less than 200 days.