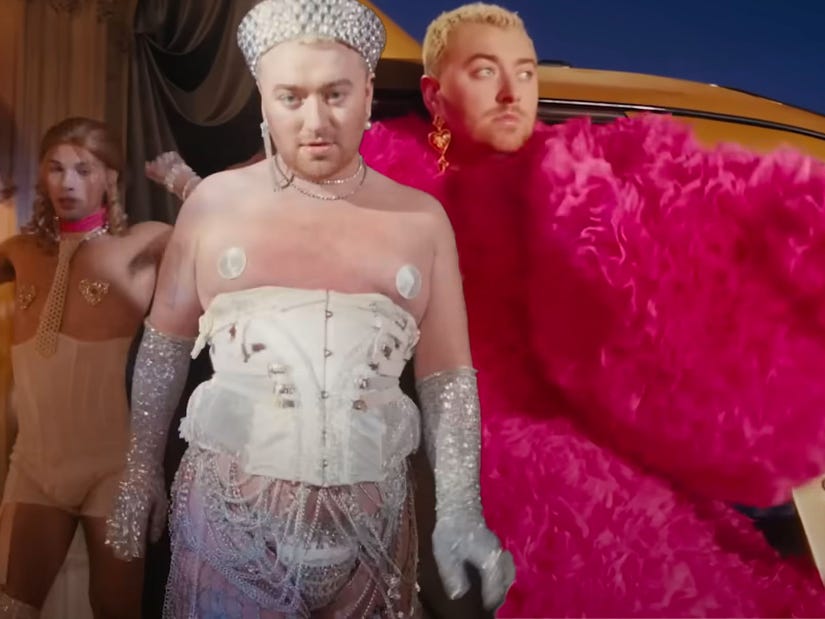 YouTube
"Thank you all of you for making me feel so naughty and nice."
Sam Smith is expressing their love for those who helped create the all the looks they rocked in their latest music video, following online criticism of the outfits.
Last week, the 30-year-old singer dropped the music video for their single, "I'm Not Here to Make Friends." The video, which was filmed at an historic palace in England, featured Smith and their dancers wearing avant-garde, burlesque-style costumes, with the Grammy winner donning grand, colorful and extravagant couture.
Among Smith's fabulous fashion looks were a hot pink fluffy gown, a plunging black satin top paired with a matching skirt and a spectacular feathered headdress, and an off-white corset with nipple covers, which was accessorized with pearl chains, and a bejeweled hat and gloves.
On Friday, Smith took to Instagram to open up about their experience wearing the lavish fashion looks for the "I'm Not Here to Make Friends" music video, sharing their gratitude to the designers for giving them the opportunity to don the costumes ... while not addressing the ongoing controversy directly.
The Oscar winner first posted a photo of themselves in the long-sleeved, hot pink gown, and praised the designer Tomo Koizumi for creating the look.
"Tomo Koizumi is an incredible artist and it has been a true honour to wear his sensational work," Smith captioned the post. "This dress is called 'The Biggest Dress' and even though it's so huge it was honestly one of the most comfortable outfits to wear. Thank you Tomo for letting me wear your art. I'll be forever grateful for this pink explosion x."
In a second post, Smith went on to give a shout-out to those who were involved in creating the corset outfit, saying that the costume made them feel "naughty and nice."
"Stephen Jones Millinery, Grete Henriette, Ed Marler, Jimmy Choo. This outfit was hands down one of the funnest outfits I've ever worn, also insanely painful, but my god it was worth it," they wrote alongside a photo of themselves posing in the look. "Thank you all of you for making me feel so naughty and nice. The work and the time that went into each individual piece in this look is breathtaking and I am forever grateful for the opportunity to wear your work and art."
The "Stay with Me" singer shared a third post on Instagram in which they thanked the stylist and "fabulous gentleman" who was "behind all of these incredible outfits" they wore in the music video.
"Darling Ben Reardon. This fabulous gentleman here is the man behind all of these incredible outfits for the INHTMF video but also so much of what you've seen over the last few years," Smith captured a photo of Reardon wearing the hot pink gown. "Ben, your talent and your vision is unprecedented in my life. You have taught me so much and re introduced me to art and creativity in a way that I never thought was possible. Thank you for helping me be brave and have fun at the same time. I love you and I am honoured to work with you daily x."
Waiting for your permission to load the Instagram Media.
Waiting for your permission to load the Instagram Media.
Waiting for your permission to load the Instagram Media.
When the criticism first started, fans didn't hesitate to come to Sam's defense on Twitter -- with many calling out the critics for being homophobic and fatphobic towards Smith.
"If Sam Smith were thin, cis, and straight, they wouldn't be ridiculed for how they present and dress," a user wrote in a viral tweet. "If Harry Styles wore the same fits on a magazine cover, y'all would be screaming YAS QUEEN. Anyway, support fat queer people."
"I was going to ask 'what has sam smith done to deserve this amount of hate directed at them,'" another person added. "But it's quite literally that they're queer and fat isn't it. that's what it comes down to."
"The backlash against Sam Smith is absolutely about people not wanting people to be overtly sexual unless they're skinny," a fan commented, while another tweeted, "If they were doing that routine with exposed abs there would be no articles about this debating if it's suitable for children."
Sam has also been vocal about their shift in showing skin with the release of their new album.
"Within my industry there is definitely that question of, 'What should a pop star look like?' When I was 25 I came off tour exhausted. I looked to role models in the body world. Every time I went to the pool I felt self-conscious, but I forced myself to take my top off,'" they told Sunday Times. "It paid off because I now have the opposite of body dysmorphia. I look fabulous. I'm finally getting a tan. I'm burnt in places I've never been burnt."
See how more fans defended Smith in the tweets, below.
If Sam Smith were thin, cis, and straight, they wouldn't be ridiculed for how they present and dress. If Harry Styles wore the same fits on a magazine cover, y'all would be screaming YAS QUEEN. Anyway, support fat queer people.

— Mae Murray (@maemurrayxo) January 30, 2023 @maemurrayxo
I was going to ask "what has sam smith done to deserve this amount of hate directed at them" but it's quite literally that they're queer and fat isn't it. that's what it comes down to

— das 🌿 (@das_penman) January 29, 2023 @das_penman
Sex has always been a running theme in modern pop music, and music videos often flaunt it.

But Sam Smith has made the criminal offence of being a) queer and b) not skinny, and in an increasingly anti-LGBTQ culture, that can't be tolerated.

— Owen Jones (@OwenJones84) January 30, 2023 @OwenJones84
The backlash against Sam Smith is absolutely about people not wanting people to be overtly sexual unless they're skinny

— marcus 🇧🇧🏳️‍🌈 (@marcusjdl) January 29, 2023 @marcusjdl
sam smith looks so much sexier and happier now and it's pretty sad how many people would prefer for them to he thin closeted and depressed

— samson (@testochunky) January 29, 2023 @testochunky
A selection of clips from Queen's video for Body Language including some that are FAR more risque than in Sam Smith's video AND they feature the horror of John Deacon finger-clicking in a way that suggests "I don't have a case of Body Language, lads". pic.twitter.com/zpZOOfvRq4

— Sooz Kempner🐀 (@SoozUK) January 31, 2023 @SoozUK
They were being freely played on music channels for anyone to see. People are talking about Sam Smith like they're a predator yet this was all fine? Weird double standards, probably homophobia mixed in too. I don't like Sam Smith's video, but don't say it's worse than all these. pic.twitter.com/t4aA05OJb5

— Sam Rogers (@SamR_1995) January 29, 2023 @SamR_1995
I fully support @samsmith's expression and identity in their latest video. It's the most authentic and confident I have ever seen them and any hate towards it is projection of internalised homophobia https://t.co/8mE34g6NOA

— R Y A N • L A N J I (He/Him) (@RyanLanji) January 29, 2023 @RyanLanji