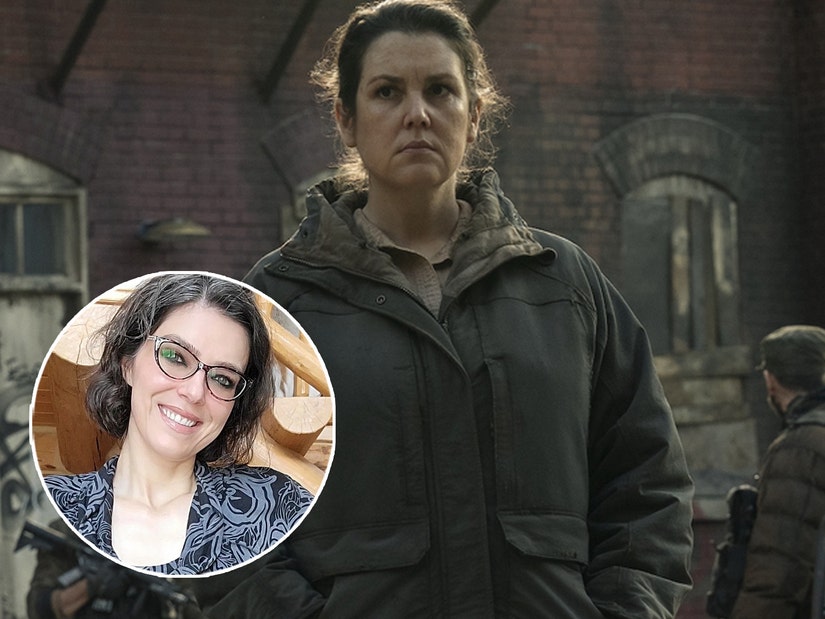 HBO Max / Twitter
"F--- that," said Lynskey in a thread, after Curry doubted someone with Lynskey's "soft" voice and short stature could be a warlord.
update at 8:30am PT 2/9/23
After Curry continued to contend she was only commenting on the character and not Lynskey herself, the "Last of Us" star's husband Jason Ritter also tip-toed into the discourse.
On Wednesday night, he tweeted, "You… you could have just… not tweeted it. But you did, and people are upset with what you said. Whatever happens now, DO NOT LEARN ANYTHING FROM THIS UNDER ANY CIRCUMSTANCES!! Dig your heels in deeper, and double down! BECOME the victim! You can do this!! I believe in you!!"
He also liked a number of tweets about Curry, including one which read, "I think it's physically impossible for her to not tweet the dumbest possible s---" -- and another reading, "Hateful people hate having to deal with the consequences of their actions!"
Curry later doubled down on her stance in an Instagram Live on Thursday, reiterating that she simply can't believe seeing smaller women in power roles on apocalyptic shows:
Waiting for your permission to load the Instagram Media.
On Wednesday, the actress -- who joined the HBO zombie series as criminal warlord Kathleen on Sunday's episode -- responded to criticism she received from the Cycle 1 winner of "America's Next Top Model," Adrianne Curry. While watching the show, the ex-reality star and self-described "Nerd Queen" said she had a hard time believing a woman with Lynskey's soft voice and "short" stature could ever rule a group of men in the zombie apocalypse.
"Watching short, midwestern, soft voiced soccer moms be in charge of post-apocalyptic warlord men is SO what would happen LOL #TheLastOfUs," Curry tweeted out last night.
One of her followers then responded by sharing a glam photo of Lynskey from a photoshoot, to say they would "run through a brick wall for Rose," referring to the actress' role on "Two and a Half Men." Her response: "Her body says life of luxury...not post apocolyptic [sic] warlord. Where is linda hamilton when you need her?"
"That is an hourglass shape of a woman who is not toiling over heavy burdens and work. Curvy and soft, as men prefer ... but not someone I'd hire to help me move," she also wrote. "She also couldn't fight off a flea to save her life. yes, 5 foot tall ... soft spoken, not athletic Midwest moms will DEF be in charge of 6'6 armed warlords after SOCIETAL COLLAPSE it will be KILLER."
"After societies collapse .... no warlord is taking orders from a girl," she added. "She will be pillaged and raped with the rest of em. Feminism dies when society does."
Firstly- this is a photo from my cover shoot for InStyle magazine, not a still from HBO's The Last Of Us. And I'm playing a person who meticulously planned & executed an overthrow of FEDRA. I am supposed to be SMART, ma'am. I don't need to be muscly. That's what henchmen are for pic.twitter.com/YwkmkwUdOm

— Melanie Lynskey (@melanielynskey) February 8, 2023 @melanielynskey
Sharing a screenshot of just one of Curry's comments to her own page, Lynskey hit back at the criticism, tweeting, "Firstly- this is a photo from my cover shoot for InStyle magazine, not a still from HBO's The Last Of Us. And I'm playing a person who meticulously planned & executed an overthrow of FEDRA. I am supposed to be SMART, ma'am. I don't need to be muscly. That's what henchmen are for."
Curry later responded to Lynskey's post, saying, "Did you really take what I said about a FICTIONAL character you ACTED seriously? You seem to have ignored where I said you, the real human in this pic, had a perfect, [feminine] hour glass frame under this comment. The internet makes me so tired."
One of Curry's followers pushed back, saying she "literally said [Lynskey] had the wrong body for her job" -- to which Adrianne responded, "So what? I do not associate bodacious Marilyn Monroe figures with post apocalyptic warlords We are talking about a FICTIONAL CHARACTER! She is NOT the character! Am I in clown world?"
"If we can't critique characters in TV shows without those portraying them getting mad ... I am at a loss!" she concluded, before deleting all of her comments from her feed moments later.
"i am so over everything anymore. actors cant allow people to not like their characters? I am DONE," she then shared. "we are not the things we pretend we are on a set or stage. its ok if someone doesnt like em. it isnt personal in the slightest."
In a separate thread defending her role more generally, Lynskey then said the thing that "excited" her the most about joining the show was that her "casting suggested the possibility of a future in which people start listening to the person with the best ideas. Not the coolest or the toughest person. The organiser. The person who knows where everything is. The person who is doing the planning. The person who can multitask. The one who's decisive."
"I was excited at the idea of playing a woman who had, in a desperate and tragic time, jumped into a role she had never planned on having and nobody else had planned on her having, and then she actually got s--- done," she added. "I wanted her to look like she should have a notepad on her at all times. I wanted her to be feminine, and soft-voiced, and all the things that we've been told are 'weak.' Because honestly, f--- that."
"I understand that some people are mad that I'm not the typical casting for this role. That's thrilling to me," she concluded. "Other than the moments after action is called, when you feel like you're actually in someone else's body, the most exciting part of my job is subverting expectations."
She went on to thank all her supporters, saying their love is "so overwhelming and powerful."
Speaking with Entertainment Weekly after Sunday's episode aired, Lynskey opened up more about subverting expectations with the character.
"I can't remember exactly, but I do feel like there was something about her being a person that you might dismiss, that you might not be necessarily afraid of until you suddenly realize, 'Oh s---! This is somebody who I'm supposed to be the most afraid of,'" she said.
"I wanted her to be kind of gentle. I wanted her to be soft spoken and delicate in the way she looked around. I wanted her to feel like a sweet person, and then to have a surprising capacity for violence," she added. "I thought the difference between how she carries herself and how she speaks and the things she's doing would be interesting."
"The Last of Us" airs Sundays on HBO. This weekend's episode, however, will drop Friday on HBO Max, ahead of the Super Bowl.