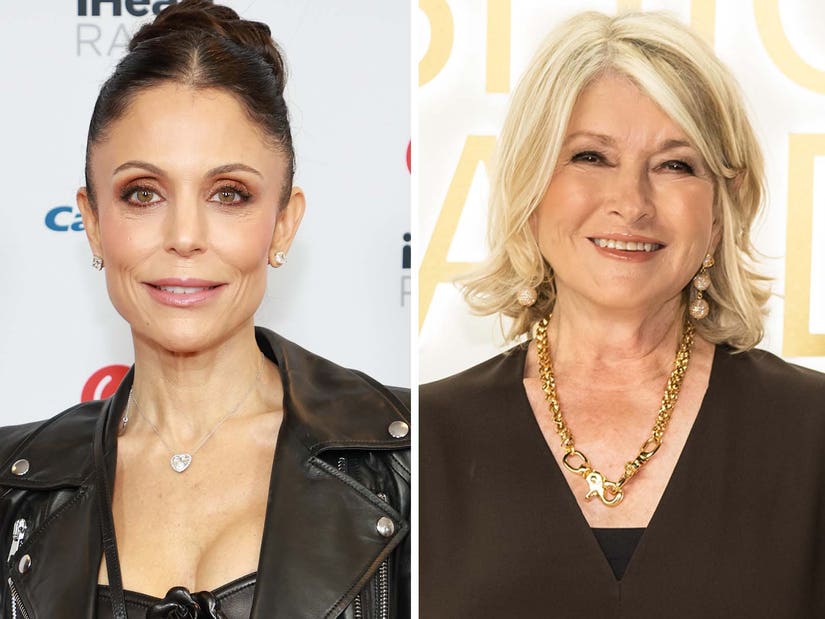 Getty
"She's a ball buster going for it her own way…whether or not she'll admit it or not she feels the same way about me."
On an episode of her iHeart Radio podcast, "Just B with Bethenny Frankel," the 52-year-old reflected on her long-standing beef with the 81-year-old lifestyle guru.
The reality star claimed their complicated relationship began in 2005 when she appeared on Stewart's spin-off of the "Apprentice." Though Frankel had a couple of high profile connections that made her seem successful she in fact needed a job. However, according to Frankel, things kept happening that gave Stewart the impression that the future RHONY star was already wealthy or at least very well connected.
Things ultimately came to a head when Stewart supposedly noticed Frankel was wearing a designer suit, and apparently assumed she was there for the wrong reasons.
"There was one time when someone walked her through the loft and she saw that I had a Louis Vuitton little suit this guy had bought me," she recounted. "So I'm this girl who's broke who needs this job and she saw my Louis Vuitton suit and she commented on it."
According to Frankel, Stewart made a snide remark while she was out completing a challenge, which led her to believe she had left a bad impression on the icon.
"I wasn't there because I was out winning a reward for a task or something," she continued. "I wasn't in the loft but she asked 'Who's this? Oh let me guess, Bethenny.'"
The Skinnygirl mogul claimed that Stewart's general dislike for her was formed through a series of incidents, including a time where she told former President Bill Clinton he had spinach stuck in his teeth.
Frankel claimed she was eating lunch at Barney's when she saw Clinton eating a salad with his wife Hillary Clinton the day they were shooting the live finale of "The Apprentice: Martha Stewart."
"We walked outside and he just had a couple security…I said hello and I told Bill Clinton he has spinach in his tooth because he did. I made the mistake of letting Martha know that that happened and it was almost like me trying to be on her level," she explained, which further perpetuated the notion Frankel did not need the job.
Following her interaction with the Clintons, the "Skinnydipping" author recalled another moment she claimed led to Stewart firing her during the season finale.
"There was another person… Paul Allen who passed away… he called me, said 'I hear you're on Martha Stewart's show [and] I told her we're friends' and I'm like 'ugh please no,'" she recalled.
"Then she's going to think I'm not this person who needs this "Apprentice" job because I know people, so that combined with the Bill Clinton thing was all like [I'm at] the level of Martha Stewart and I knew this wasn't going to go well."
While Stewart has never publicly said she disliked the Bravolebrity, Frankel said she could tell she had rubbed her the wrong way during Stewart's speech when she was eliminated.
"By the way, what she said to me when she fired me is insane," Bethenny said before reciting the speech from memory. "You've seen Donald Trump fire a bunch of people and the way he did it, she said 'Bethenny, you're pushy, you're a show off and you feel the need to make a physical impression which is not entirely necessary at Martha Stewart Living Omnimedia."
"She hated me, she hated me," Frankel said.
Though the two have a rocky relationship, the TV personality claimed she has always respected and admired Stewart's work ethic.
"I can't really stand her either but there's something about it that I respect and I've always respected her work ethic," Frankel said. "She's a ball buster going for it her own way…whether or not she'll admit it or not she feels the same way about me."