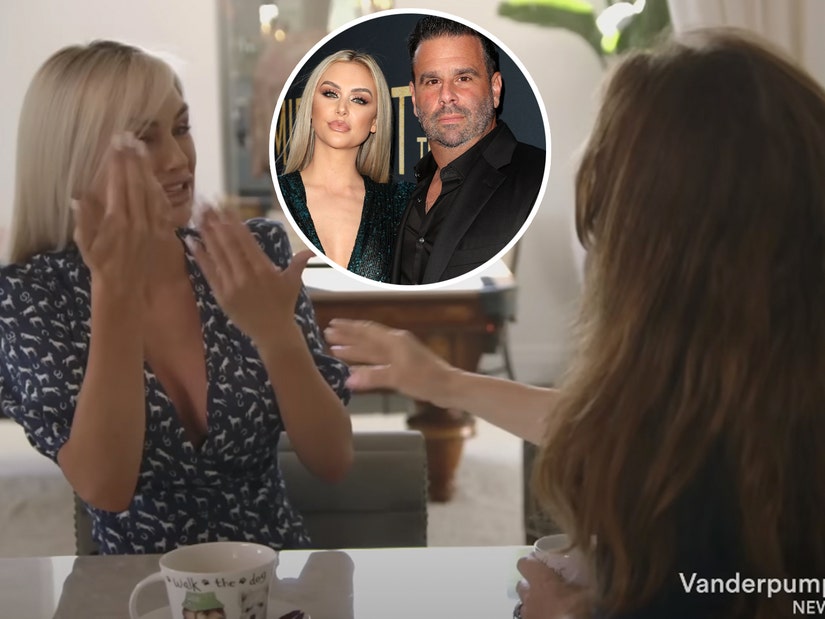 Bravo / Getty
"I'm just saying you're smarter than that," said Lisa, as Kent opened up about her conversations with Randall's ex-wife.
update at 7:40am PT on 2/16/23
Appearing on "Watch What Happens Live" after the episode aired, Kent said she "wasn't happy" with the conversation she had with LVP.
"At what point do we say, I'm so sorry that you fell victim to this man and there's many other women who have been through the same thing," she added. "I'm over it."
She also said she let LVP know "if you choose to communicate" with Randall, "I'm off limits" -- adding Lisa hasn't communicated with him since.
The pair sat down together to play catch up on Wednesday's new hour of "Vanderpump Rules," with Kent sharing that she's "kind of been in a hole" after splitting from Randall and the subsequent fallout from an LA Times exposé accusing him of offering roles in his films to women in exchange for sexual favors. Randall "staunchly" denied the allegations.
"I feel happy, but there's just this weight of going into this custody situation between Randall and myself," said Kent, who shares daughter Ocean with her ex. "I have people coming to me daily and it gets more disturbing with every person who calls me."
When Vanderpump said Kent "must have known there was something going on," Lala pushed back -- and started getting choked up.
"Do you think that for the last 9 months I have not been spiraling looking back going how the f--- did you not see it? Don't you think I do that daily?" she exclaimed. "Lisa, don't you wish that I would have taken a moment and thought, 'This is weird, I've never seen his house.'"
LVP then wondered if Lala's mother ever asked about Emmett, how he lived or how he interacted with his children. In addition to Ocean, Randall shares London and Rylee with ex-wife and actress Ambyr Childers.
"I just saw him FaceTime his children. I was 25, I met someone who was head over heels for me," Kent told Vanderpump, clearly getting a little frustrated with the conversation.
"I'm just saying you're smarter than that. I don't think you wanted to see it," said Lisa, as Lala continued to cry.
"Clearly, I'm not and that is so not true," Kent responded. "I know what the outside world thinks of me. I know how this looks. I just didn't know you were thinking that way about me."
Vanderpump said she was coming from a place of love, before Kent opened up about her interactions with Childers ... without mentioning her by name. Lala and Emmett started dating around the time his divorce from Ambyr was finalized -- though she has always been adamant she wasn't a homewrecker who was responsible for their split. Speaking to LVP, she revealed how he convinced her she wasn't the other woman when even she had doubts.
"He says to me, 'I go to a therapist and she's gonna tell you I was not married and you didn't wreck anything.' We fly to Arizona and this woman looks me in my eyes as I'm sobbing saying he said he wasn't married but things aren't adding up," she explained.
"She says to me, 'His ex was a co-dependent, he tried over and over again to tell her this marriage is not working and she could't accept it, that is not your fault,'" she continued. "I left going, 'He was honest and I let it go in that moment.' Cut to where we are now, nothing about it was truthful."
She added she's had "many conversations with his ex," who allegedly said the therapist was actually the same one they used as a couple's therapist when the two were "working on our marriage."
"I fell for every single thing he told me. I so badly wish I would have listened to the people around me," said Kent, who also tried to look on the bright side. "But then I wouldn't have Ocean. She's the only thing I can think about in order for me to not bang my head against the wall and go, 'How the f--- did you not see this in front of you?'"
"Vanderpump Rules" airs Wednesdays on Bravo.