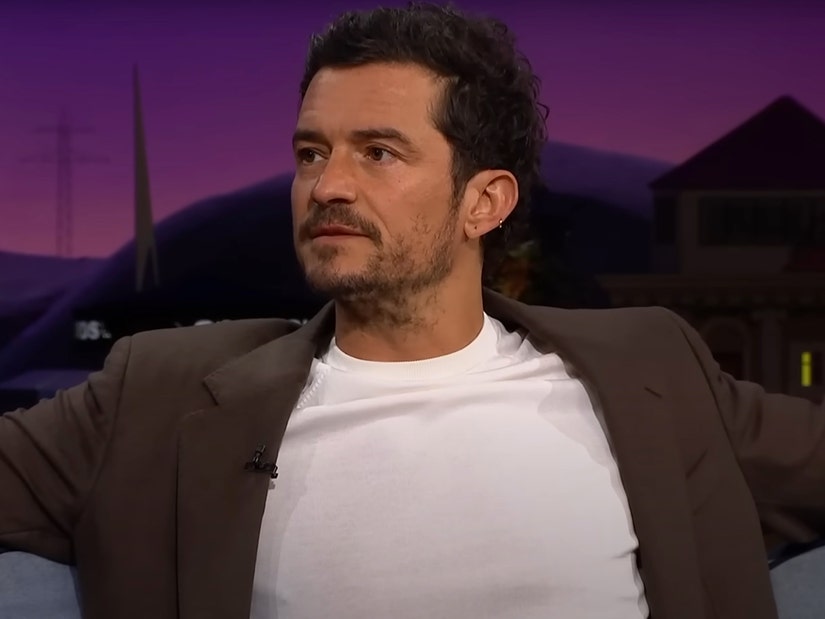 CBS
"I think it was Sofia Coppola who made 'The Bling Ring.' The movie of my getting the watches back [would have] probably been better."
Orlando Bloom is recalling an absolutely wild story about how he took matters into his own hands after he was robbed by the notorious "Bling Ring" many years ago.
While appearing on Thursday's episode of "The Late Late Show with James Corden," the actor detailed the insane adventure he went on to get back a "stash" of stolen watches, which he had collected over the years.
"They took a lot of things, it was a really weird situation," began Bloom, 46. "What they did find was a stash of watches that I'd had. I didn't have a safe ... it didn't even occur to me at that point in my life."
"They took these watches," he continued. "I've collected watches since I started making movies. I buy one [for] each movie, and they took some very expensive watches. Three months after the robbery, I got a call from a guy who I'd actually bought some of the watches from, saying, 'I think your watches are surfacing,' and I was like, 'What?!'"
The "Carnival Row" star said he met the guy, who told him he knew of a possible way that he could get his watches back, indicating that it could happen if he was willing to pay another person for them. Bloom alluded that the man was a bit cagey when it came to revealing the contact's information, but he didn't give up.
"Long story short, I finally get the number of this guy. I'm calling this guy for maybe three to six months," he said. "Eventually, I find out where he's from, and he has a pawn shop down in the valley. I just walked up to his shop one day, and I wired myself. I have a little microphone --"
Corden chimed in, joking that Bloom was like a "private detective." Coincidentally, the "Pirates of the Caribbean" actor said he did call up a private detective, who advised him to get a voice recorder.
When fellow guest Niall Horan asked if Bloom brought any security with him, he replied, "No just me ... I'm from Kent, bro!"
Bloom then continued his story, recalling what went down when he went to the pawn shop.
"I go down there, and I'm like, 'Hey man, how you doing?' He goes, 'Orlando!?' You know, freaked out," he said, noting that the man was shocked to see him there, before he told him to return the next day.
"[I] turn up the next day, he takes me to meet his daughter ... in a shop," he continued. "I think he was trying to show me what was at stake right? I was like, 'Listen, no police, just, I'd like to get my watches back.' And he's like, 'I got to go around. I got to rough some people up.' There's this whole story. And I'm like, 'Wait what?!' I said, 'Well, let's go! Let's go. I'll rough some people up, you ready?'"
The "Tory" star said the man told him he couldn't "do it right now," so Bloom left, before he then received a phone call from the man 10 minutes later.
"He says, 'Come back.' I'm like, 'Bro, I'm on my way to Thanksgiving lunch with my family ... I can't.' He goes, 'I'm not wasting any more time. Come back, come back,'" said Bloom, who had returned to the shop after the phone call. "On the table in his office, [there's] a box, I open it, and I just started to cry."
"The Lord of the Rings" star added that five of the 10 watches he lost were in the box, however, he noted that the market to sell those particular five can be difficult. "How do you offload the kinds of watches that I had collected? It was very challenging. I got them back, and that was that."
When Corden asked if Bloom had to "buy them back" or if he "just took them," Bloom said, "I said, 'Thanks very much, mate,'" before hilariously jumping out of his chair, beginning to run away.
"Wow, what a story that is," said Horan, to which Bloom joked, "I think it was Sofia Coppola who made 'The Bling Ring.' The movie of my getting the watches back [would have] probably been better."
Bloom was one of the many celebrities that included Paris Hilton, Lindsay Lohan, Rachel Bilson and Audrina Patridge that the "Bling Ring" -- consisting of Alexis Neiers, Rachel Lee, Nick Prugo, Courtney Ames and Diana Tamayo -- stole from. The infamous group stole roughly $3 million in cash and belongings from 2008-2009.