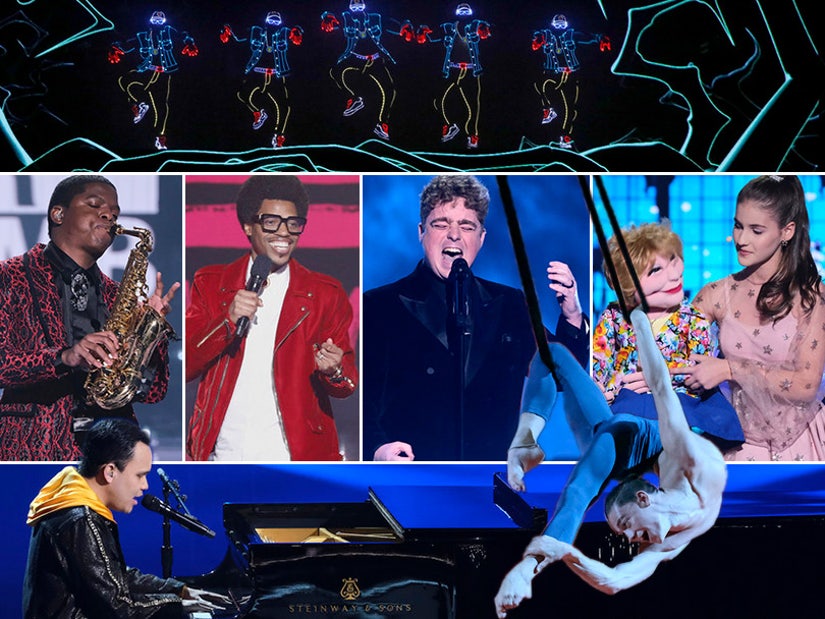 NBC
Kodi Lee might be the "AGT" all-star to beat, but he faces stiff competition from a variety of acts including a magician, ventriloquist, acrobats, dancers and more!
Truly, despite our unhappiness with the overall format of "AGT" these days (with only one act advancing by vote each week and another by Golden Buzzer), there was assembled a pretty impressive and powerful lineup of talent for this performance finale.
The biggest question, though, going into the night had to be, Can anyone beat Kodi Lee? A phenomenon when he first appeared in 2019, it was immediately clear from his audition he was going to win the whole show. Two weeks ago, it happened again as it was instantly clear he was in a class of his own among that night's competition.
Tonight, though, we have to say that we feel like there is actually a chance that someone other than Kodi Lee could win the competition. We say that, though, and it may just be wishful thinking that there's still a competition to be had. Certainly, Kodi gets a crowd reaction live beyond anything anyone else has ever seen on this show.
Will it translate to votes? Has he done enough to win again? Detroit Youth Choir certainly hopes not as they've already lost to him once, back in Season 14. They showed up with something to prove, and they weren't the only ones. There were some stellar performances as many of the acts really pushed themselves.
Another runner-up, Aidan Bryant, did things we've never seen before, while Light Balance Kids took their digital dance technique to another level. Ventriloquist Ana-Maria Mărgean sounded better than she ever has before, while Power Duo and Bello Sisters offered clean, stunning acrobatics and artistry.
They were joined by Mike E. Winfield, hoping to be the first-ever comedian to win an "AGT" show, as well as Aidan McCann, hoping to be the youngest-ever magician to win. Throw in the powerhouse vocals of British teacher Tom Ball and Kodi even has competition in his own genre.
The competition was much tighter than we thought it would be, but it certainly made for a memorable show that was at times mind-blowing and at other times had us catching our breath or wiping away tears.
Fair warning, since I'm safe at home, I'm probably going to be a little harsher than my colleagues Howie Mandel, Heidi Klum, and Simon Cowell. But I might be nicer, too. Maybe.
And just for fun, I'm gonna rank them from worst to first to see how my favorites do and then we can see how you did -- i.e., if you agreed with me.
(musicians - AGT:S14 runner-up) DYC already lost to Kodi Lee their first time on AGT, who is a revelation and a phenomenon every time he hits the stage, so you know their nerves were frayed having to face him again. They've definitely upped their game, delivering their strongest routine yet. The dancing was on point and the energy was great. What's more, it was infectious, leaving us both smiling and tearing up at just how beautiful it is to see these kids really believing in themselves and putting it all out there. That said, they came out first and we've still seen choirs more impressive vocally with harmonies and differing layers. They're not as polished or technically impressive, but damn do they leave you feeling something.
(comedian - AGT:S17 finalist) We love Mike and his infectious smile and all that crazy amount of charisma he splashes all over the stage like the gold confetti Simon gifted him … but this wasn't it. Of all his appearances, this may have been his weakest material yet. Even his last joke, we saw it coming a mile away and you never want that. We still hope everything in the world happens for him, because he's so funny and engaging, but this was not the set to try and take on world-class competition like tonight's.
(acrobats - AGT:S15 finalist) Just when we think they must be out of different ways three people can climb all over one another and do balancing tricks, the Bello Sisters pull another one out of their hats. We're not sure this was a step up from the danger and incredible balancing we saw their first time on this season, but it was still utterly transfixing. Their strength, power and trust is undeniable, as is the grace and artistry with which they go into and out of their moves. The bit in front of the judges was a bit underwhelming and showy, and we found ourselves missing that big moment they've always delivered. We're thrilled for them they got to do what they do on a live stage like this, though -- twice!
(magicians - BGT:S14 runner-up) Probably the best part of Aidan's act remains Aidan himself as he is just so charming and funny. His barbs at the judges were sharper than ever. The trick itself, though, seemed a bit like a lot of fluff after a sleight-of-hand to ensure the Octopus was the card Simon got at the jump. Everything else was already planned, save the balloon portion, which was pretty clever. The bottom line, though, is that magic is so much about the show, and Aidan already has a crackling one at such a young age. He's going to really go far in this business.
(ventriloquist - Romania's Got Talent: S11 winner) Ana-Maria really put a lot of work into her own vocals, as well as her ventriloquism. Her mouth was tighter than we've ever seen, and her voice has never sounded stronger or richer. We did appreciate her new puppet pointing out her enunciation, as that was her biggest flaw as a ventriloquist -- she would bury her R's and a few other sounds. She sounded crisper and more confident than ever. She could probably compete just as a singer, making her by far the best singing ventriloquist we've seen (and boy are there a lot of them these days!).
(singer/pianist - AGT:S14 winner) We aren't as enamored with Kodi's softer voice, though it was nice to hear that variance in his performing style. He has grown so much since we first met him in 2019 both as a performer and just as an individual. He's able to communicate more in interviews and give us insight into his world and it's clear how much this journey has changed his life for the better. This was another stellar performance from him, but not one of his best on the "AGT" stage. What felt like it might be a slam-dunk victory for the wunderkind might not be. He may have left enough of a crack for someone else to snatch that trophy.
(saxophonist - AGT:S17 finalist) Once again, Avery has proven that an instrumental band can work with the right leader, and he may just be that man. It's remarkable how much he's grown in confidence and showmanship since we saw him just a half year ago. That said, this wasn't the most showcase piece he could have chosen to really stand out on as a sax player. We get that this is the Avery Dixon Experience at this point, so he's got a whole band to get down with, but we didn't get that special sauce this time around from Avery himself. It's amazing what he's done with a saxophone, making it a solid lead in a band, but this didn't seem enough to beat out tonight's talent.
(singer - BGT:S15 third place) Tom has one of the most effortlessly full and gorgeous ranges we've ever heard on any singer. We don't think singing Radiohead's "Creep" did him any favors as the song just didn't really offer him a chance to connect. He did his thing on it, finding ways to show us that power and range, but it only left us feeling intellectually impressed rather than emotionally blown away. We already knew he could do this. It's still incredible, don't get us wrong, but we wanted some of his artistry to shine through and we put down not feeling that all to this unexpected song choice.
(light dancers - AGT:S14 finalist) It's the creativity for us, how they incorporate the graphic visuals behind them with the dancing to create impossible physical effects like losing your head, stretching your limbs or even getting captured by a spider. It's all done with such pizzazz and so much fun energy, we find ourselves on the edge of our seats both trying to see how they did it and waiting breathlessly for the next trick. A completely different tone than their video game piece, with a more spooky bent, this just cemented the limitless fun this act can provide.
(acrobats/dancers - Philippines Got Talent: S5 winner) Once again, this combination of aerial stunts and acrobatic contemporary dance is like nothing we've ever seen before and it is so stunningly beautiful it leaves us with tears in our eyes. Their love and trust is at the forefront of every motion. We were breathless with that trust, seeing things we'd not seen before and feeling that adrenaline rush knowing how badly things could go. This time, though, there were no mistakes. It was a beautifully realized vision of love, strength, shocking flexibility and incredible trust. We only wish we could see more from them -- it's no wonder they won their season!
(aerialist - AGT:S16 runner-up) We're not sure we've ever seen a contortionist do aerial stunts, but Aidan's flexibility has him pushing into that territory. It's allowing him to truly do things we've never seen done before on the ribbons. From the very first stunt that saw him ultimately holding himself aloft by one ankle, we knew he'd really crafted a routine that would leave us as terrified and anxious as his mother in the audience. This was by far the best we've ever seen Aidan, and after some of those tricks, he may have put himself among the very best in the world at this type of work. It's just remarkable how far he's come, the artistic vision he has, and that he's trained himself to this elite level in such a short span of time.
We're as surprised as anyone that we have to aerial acts in our Top 2, but after what they poured onto (and above) that stage, how could we not. We still think they're long shots to actually win, just because acts like this tend to struggle with the vote. We say that, though, and both Power Duo and Bello Sisters advanced to this stage on Superfan votes -- so anything is possible.
We suspect Kodi Lee will do much better in the Superfan voting than our sixth place ranking for him. We might just be cynical after four years, but this was't as mind-blowing as most of his appearances are, and we think that really created an actual competition here. We also kind of hope it did, too, as it would be boring otherwise.
We could definitely see Light Balance Kids also running away with it. Like Kodi, their strength is a combination of a great act and an incredible story. Kodi's is his personal struggles and triumphs, while theirs is what is happening in Ukraine and their perseverance.
And then there's Tom Ball and Ana-Maria Mărgean, sentimental favorites who really came out and are among the best at what they do, respectively, we've ever seen on a "Got Talent" show. Honestly, there are a lot of good choices to win, but only one of them can be the winner.
We've no idea how many places Terry will play it out, but in a regular season he gives us a full Top 5, so we'll follow suit -- and probably get this wrong in all kinds of ways. It's a testament to how good this lineup was that it's so hard to predict.
So, here's how it definitely won't go!
"America's Got Talent: All-Stars" crowns its winner next Monday at 8 p.m. ET on NBC.