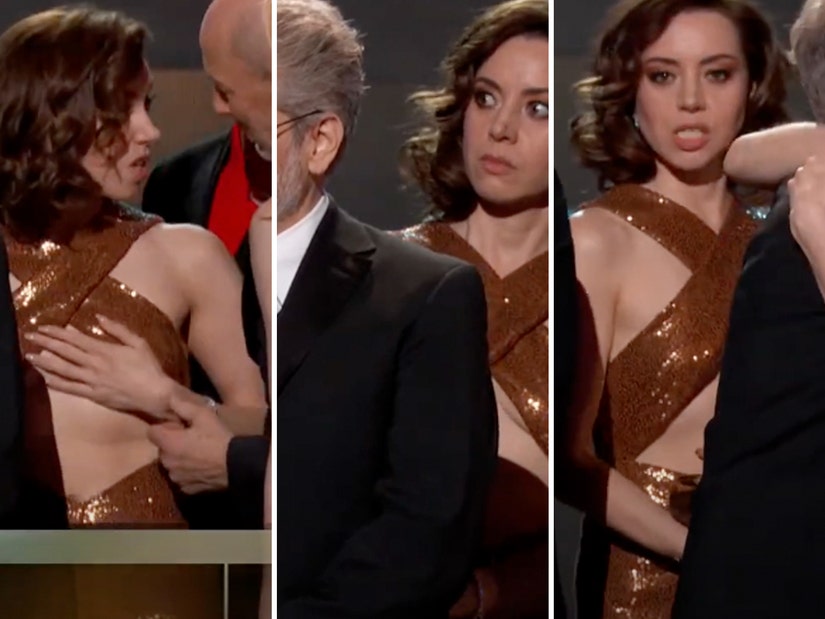 Netflix
Fans are calling the awkward moment peak Aubrey Plaza as she and her White Lotus castmates won the 2023 SAG Award for Best Ensemble in a Drama Series on Sunday night
update at 7:15am PT on 2/28/23
Plaza's "White Lotus" costar Jon Gries says he texted Aubrey after she went viral and reveals what he believes prompted her angry expressions. See what he said here.
Aubrey Plaza has made a career out of creating awkward moments on camera ... and that talent made its way onto the winners podium at the 29th Screen Actors Guild Awards on Sunday night.
Plaza and her "White Lotus" season 2 castmates won the 2023 SAG Award for Best Ensemble in a Drama Series but it was the "Parks and Recreation" alum's facial expressions on stage that had the internet talking.
It was the final TV award of the night and as the cast reunited onstage they had industry vet F. Murray Abraham do the honors of delivering the acceptance speech.
Watch the full speech below:
While Aubrey made her way to a visible spot among her costars Meghann Fahy, Theo James and Will Sharpe, fellow "White Lotus" star Jon Gries could be seen whispering something in her ear. The interaction led the actress to readjust her dress, leading many online to speculate that perhaps Gries was warning her of a potential wardrobe malfunction.
Then when Abraham sent "a prayer out to the earthquake victims of Syria and Turkey and a prayer for peace in Ukraine and Russia" followed by the rallying cry "Union forever!" -- which had the audience cheering -- Aubrey's eyes darted around. Regardless of what she may have been thinking or feeling her expressions soaked up all the attention for viewers at home.
What followed was all the cast members hugging and congratulating each other when Aubrey once more stole attention when she seemingly mouthed "Jesus Christ" in apparent frustration.
Viewers at home seemed to think the moment had to do with an overeager embrace between Meghann Fahy and Michael Imperioli which resulted in a clumsy elbow narrowly missing Aubrey directly in the face.
The series of seemingly awkward moments had fans in a frenzy on Twitter -- with some questioning what she was upset by while others simply noting how that type of scene stealing persona is what makes the actress so special.
TooFab reached out to her rep for comment. Late Monday, Plaza shared a pair of posts about her outfit and her show's big win on social media, but made no reference to the moment in question.
"Best cast ever! I love these people and am so proud of this show. Thank you @sagawards 🇮🇹❤️‍🔥🙏" she shared on Instagram.
Meanwhile, earlier in the show Aubrey appeared on stage with "Wednesday" breakout star Jenna Ortega where the two showed incredible -- and very dark -- chemistry.
They were there to present the award for outstanding performance by a male actor in a television movie or limited series.
The two began with perhaps a full 10 seconds of silence before Aubrey deadpanned, "I don't know why they paired us up together."
Waiting for your permission to load the Instagram Media.
With Ortega responding, "I know, we have nothing in common."
"We should find the people who did this," the "Emily the Criminal" star said.
The duo then recited in unison: "And curse their families and watch as misfortune follows their bloodline for the next seven generations."
"Okay, I see it now," Aubrey said.