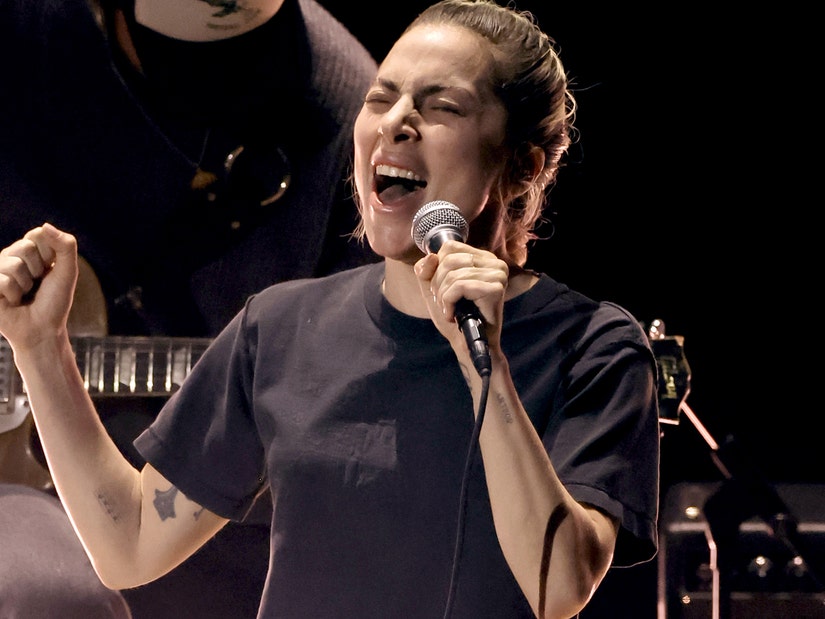 Getty
"You might find that you can be your own hero even if you feel broken inside," Gaga said, introducing her performance of "Hold My Hand," which is from "Top Gun: Maverick," and is nominated for Best Original Song
Lady Gaga delivered a raw, emotional performance of her Oscar-nominated song, "Hold My Hand," during the 2023 Oscars on Sunday night.
During the 95th Annual Academy Awards, the singer-actress performed "Hold My Hand," which is from the "Top Gun: Maverick" soundtrack, and is nominated for Best Original Song. However, instead of singing the chart-topping version of the song, Gaga sang a stripped-down, acoustic rendition of the track.
The 36-year-old appeared on stage in a t-shirt, jeans and sneakers, and seemingly removed her makeup, including bright red lipstick, that she donned on the red carpet.
Watch her powerful performance, below.
Meanwhile, before she started singing, Gaga introduced her performance, which she described as "deeply personal."
"I wrote this song with my friend Bloodpop for the film 'Top Gun: Maverick' in my studio basement," she said. "It's deeply personal for me. I think that we all need each other. We need a lot of love to walk through this life. And we all need a hero sometimes. There's heroes all around us in unassuming places, but you might find that you can be your own hero even if you feel broken inside."
After Gaga finished the song, the camera zoomed out, with the screen behind her featuring a photo of Tom Cruise and Tony Scott, who directed the first "Top Gun" film. Scott died by suicide in 2012.
Gaga's performance is said to have been last-minute, per Variety. Earlier this week, Oscars executive producer and showrunner Glenn Weiss said Gaga wouldn't be performing as she's currently shooting, "Joker: Folie à Deux." However, on Sunday morning, sources told Variety Gaga was indeed performing.
"Hold My Hand" is up against fellow Best Original Song nominees "Life My Up" from "Black Panther: Wakanda Forever," "Applause" from "Tell It Like a Woman", "Naatu Naatu" from "RRR," and "This Is a Life" from "Everything Everywhere All at Once."
The nomination marks the fourth time Gaga has been recognized by the Academy, and third time she's received a nomination for Best Original Song. She took home the award in 2019 in the category for the "Shallow" from "A Star Is Born."