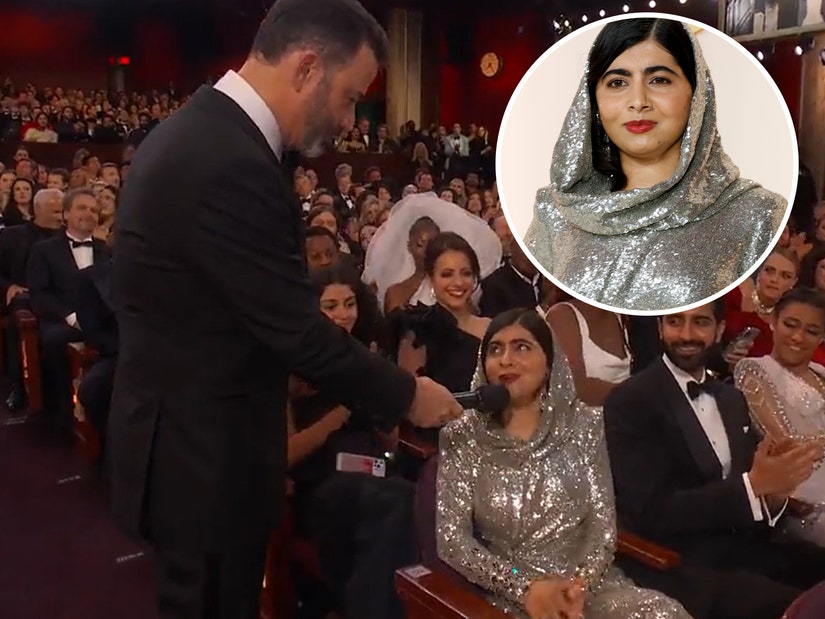 Twitter / Getty / ABC
"Cocaine bear, leave Malala alone," Kimmel demanded in one of three Malala related bits on Oscar night
Malala Yousafzai may be a Nobel Peace Prize winner, executive producer of an Oscar nominated documentary short, and most notably survived an attempt on her life from the Taliban, but even she can't escape "Spitgate".
At the Academy Awards on Sunday evening, host Jimmy Kimmel asked the activist, "As the youngest Nobel Prize winner in history, I was wondering, do you think Harry Styles spit on Chris Pine?" to which she replied, "I only talk about peace".
Yousafzai took to Twitter to comment on the controversy, politely responding, "Treat people with kindness" to a tweet of the awkward scene.
Not only can she not escape Kimmel's jokes, she was then (playfully) accosted by Cocaine Bear, to which Kimmel chimed in the five words we'd never thought we'd hear together in a sentence: "Cocaine bear, leave Malala alone."
Yousafzai was attending the Oscars as executive producer of the short film "Stranger at the Gate". She appeared in a stunning silver Ralph Lauren gown that has also been the talk of social media.
Another one of the host's jokes, where he referred to the activist as "Malala Land" in reference to film "La La Land," had some viewers raising their collective eyebrows. That's strike three Kimmel!