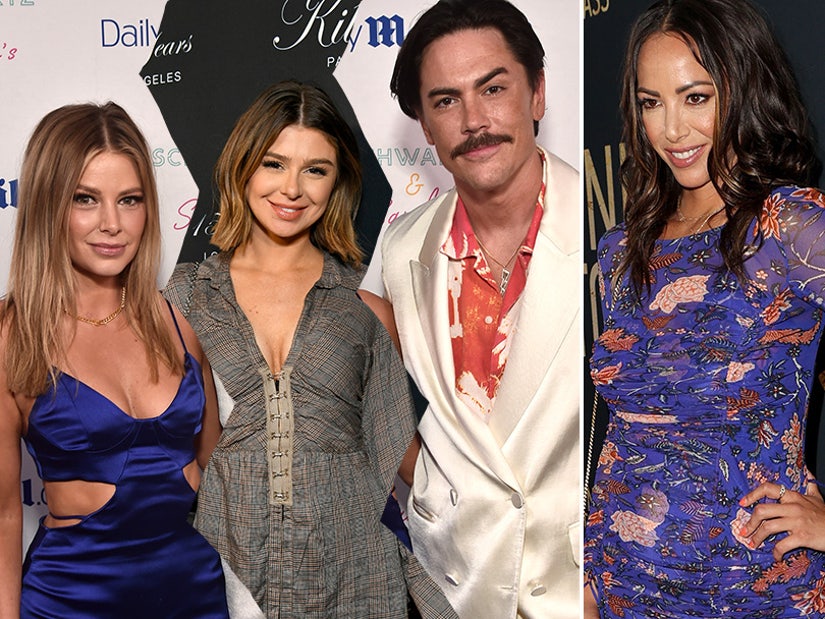 Getty
Doute doesn't believe their apologies, shares why she thinks Leviss really got that restraining order, and how Ariana Madix is doing and why she's afraid to be home alone.
Among all of the mud she was slinging his way amid the ongoing scandal of he and his "Vanderpump Rules" co-star Raquel Leviss having a months-long affair while he was involved with Ariana Madix, Doute says there was "no genuine apology."
"I believe it was filmed, he was just gaslighting her," Doute said. "There was no genuine apology." She went on to say how Sandoval was critical of Madix, saying "how she never supports him, she doesn't validate him." In other words, Doute said Sandoval was blaming Madix for the affair in their tense encounter, which was reportedly filmed for the show's current Season 10.
"Of course it made her mad, but then when I filmed with her, she's like, crying and holding up her phone going, 'So, he's saying our relationship is that of convenience and contentment,' or something. Not love and romance," Doute added. "She said that Tom said this about she and Tom."
"And she's immediately just flooding tears, looking at her phone going, 'So, all of these memories, all of these wonderful trips we took, all of these videos I have, all these kissing photos, this was all bulls---?'" Doute continued.
Doute, who dated Sandoval for six years prior to his relationship with Madix, said "that is Tom to a T." She went on to say, "I think he's a narcissist and he's just very ... self-centered."
She further said that Sandoval is refusing to fully vacate the home he shares with Madix. According to Doute, a mutual acquaintance reached out and asked Sandoval to give Madix a heads-up if he was heading him to pick tings up, with him allegedly replying, "It's my f---ing house. I own half of it. I will come and go as I please, and if she has a problem with it, she can leave."
Doute said that as a result of this, Madix is afraid to be at home alone in case he were to show up. While she has not moved out at this time, she is purportedly considering it; including an offer from Lisa Vanderpump.
"Ariana has said that Lisa has welcomed her with open arms," Doute told Viall. "Like, 'You can come bring your dog and your cat, you can come stay at Villa Rosa.' Ariana's like, 'S---, to I just-- do I do that? That sounds fabulous. Go to Beverly Park and enjoy myself?'"
She did just that, to an extent, by attending a wedding recently in Mexico. Doute said that Madix shared with her, "It was really nice to get away from everything."
"She's not quite ready to come back to real life," Doute said. "She's very nervous and afraid for the first time she's going to have to sit alone with these thoughts and, like, truly deal with the reality of it all, post-filming."
Doute also took aim at Leviss herself, calling out her recent restraining order against Scheana Shay -- the validity of which many have questioned and Shay has outright denied. "How convenient that she gets this ridiculous, temporary restraining order against Scheana that is granted only until the hearing on March 29, right?" Doute said. "But they have to film the reunion on March 23."
Her theory is that Leviss got this at least in part to have an out from appearing on the reunion special. "Scheana can't even be on a Zoom with her, according to said temporary restraining order, so I just think it's really f---ing convenient and I think it's Raquel's way of getting out of it," said Doute.
She also has her doubts that Leviss will return to "Vanderpump Rules" after the current season, which has resumed filming amid this bombshell cheating development. "I don't see her coming back," said Doute, "because I think she's gonna be terrified."
While she did not mince words about Leviss, calling her "dumb" and saying she has no personality, Doute actually said she places "a little more blame" on Sandoval for the affair. "He made a free-willed choice to do what he did," she said.
Talking about how Madix let Leviss stay with them for a while, Doute added, "Ariana's being nothing but hospitable to you and this is how you return the favors? I think they're both pretty equally to blame. I don't think Raquel was 'taken advantage of.' She's not 21."
Doute's candid comments come just after Madix's first-ever comments following the reveal of the affair. Madix dropped her response on Wednesday via Instagram, thanking everyone for their love and support.
"when i have felt like i couldn't even stand, you all have given me the strength to continue and seen me through my darkest hours," she wrote in part. "to say i have been devastated and broken is an understatement."
She went on to praise her incredible support system, ending with a bit of a warning, "what doesn't kill me better run."
Waiting for your permission to load the Instagram Media.