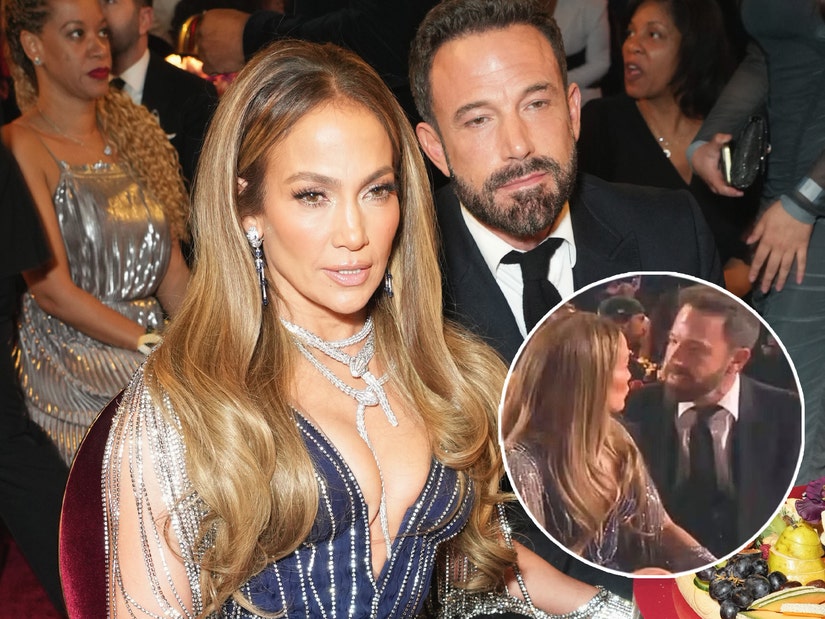 Getty / CBS
Affleck shares what he and Jen were saying during one viral moment caught on camera and how he felt about those saying he was "drunk" at the show.
The actor went viral ceremony, quickly becoming a meme on social media. At several points in the show, CBS cameras caught the Oscar winner watching the stage alongside wife Jennifer Lopez, with Affleck appearing to look bored, sad, and even miserable. It didn't take long for fans to post snapshots of the actor's expressions online, as well as an interaction some believed was a fight between the pair.
"No. I had a good time at the Grammys. My wife was going, and I thought, 'Well, there'll be good music. It might be fun,'" he said, before explaining what happened during one particularly popular moment.
"At movie award shows, it's speeches and, like, sound-mixing webinars. But I thought this would be fun. I saw [Grammy host Trevor Noah approach] and I was like, 'Oh, God.' They were framing us in this shot, but I didn't know they were rolling," he said. "I leaned into her and I was like, 'As soon they start rolling, I'm going to slide away from you and leave you sitting next to Trevor.' She goes, 'You better f---ing not leave.'"
"That's a husband-and-wife thing. I mean, some of it is, I'm like, 'All right, who is this act?' Like, I don't keep up. My wife does, obviously," he added.
Though Affleck said he has gone to events "and been pissed off," "bored" and "drunk" in the past, it wasn't until this appearance at the Grammys that some speculated online that he was drunk at a major event.
"I thought, that's interesting. That raises a whole other thing about whether or not it's wise to acknowledge addiction because there's a lot of compassion, but there is still a tremendous stigma, which is often quite inhibiting," he said of the suggestion he'd been drinking. "I do think it disincentivizes people from making their lives better."
Though that is one of the drawbacks to being so open about his alcoholism, Affleck also said that he does receive calls from people asking for help -- and "it makes me feel so good to do that."
"The big trick of 12-step is the reason they want you to help other people is because it actually helps you more," he added. "And often what I'll say to people is, I would avoid [your addiction] coming out if I were you. You don't need to be anybody's poster child. You don't need to f---ing tell anybody. That's why there's two words on the front of the book. They're just as important, both of them: Alcoholics Anonymous. It's always anonymous."