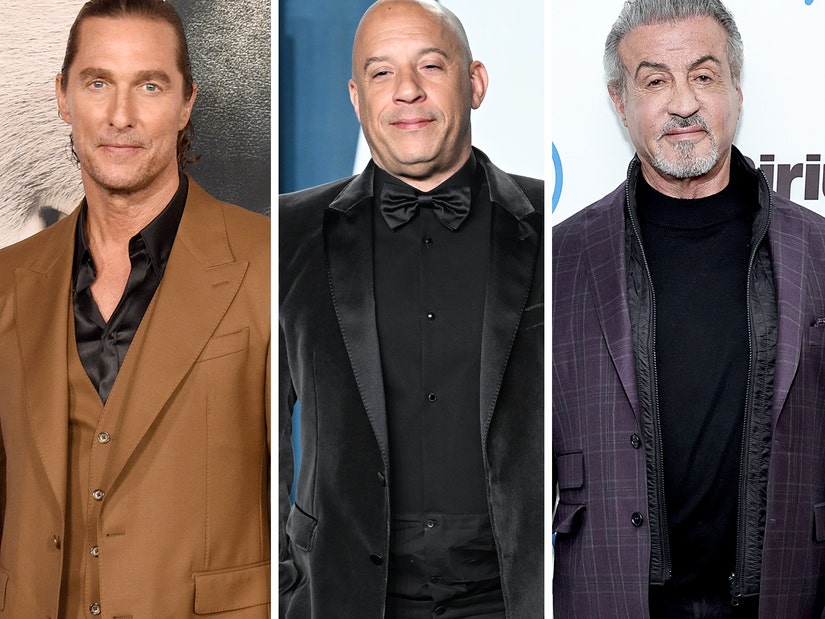 Getty
"She said, 'If you don't play Dumbledore then I will never speak to you again,'" the late Richard Harris recalled.
There are a lot of factors that go into an actor's decision to accept a big screen role. From the salary to the script, seasoned actors usually take their time to determine if they want to sign on for a flick. While they're weighing their options, some other factors may come into play that end up being a little bit more unusual. From the advice of a fortune teller to a losing bet, some stars have admitted that they've taken on roles for some hilarious and strange reasons.
Read on to discover why these actors accepted these roles…
Back in the early 2000s when Matthew McConaughey was considering if he should take on his role in "How to Lose a Guy in 10 Days," he says he consulted with a fortune teller. He explained that he was on a walk one night on Sunset Boulevard when a psychic approached him with a message.
"This guy comes up out of nowhere to me -- he was a fortune teller guru [and] goes, 'Can I tell you your fortune real quick?' I was like, 'Yeah, man. Sure.' He immediately goes, 'There's a movie you're considering right now. It's a romantic comedy. You have to do this or it will be one of the biggest regrets of your life. It is going to be a blast, it is going to be an incredible experience and it is going to make a bunch of money,'" Matthew told Vanity Fair.
While he thought the studio may have hired the man, it ended up making him seriously consider the role and he accepted it the next day.
Back in 2006, Vin Diesel was asked to make a guest appearance in "The Fast and the Furious: Tokyo Drift." At the time, Vin decided to make an unusual deal with Universal Pictures. Instead of getting paid for the appearance, Vin asked if the studio would give him the rights to his "Pitch Black" character, Riddick. When Universal agreed, Vin said he would make the appearance.
"Friends" fans probably remember Bruce Willis' guest starring spot on the hit sitcom, but it turns out he took the gig as part of a bet. Matthew Perry explained that after meeting Bruce on the set of "The Whole Nine Yards," the pals placed a bet on whether the movie would be a hit. Bruce wasn't so sure the movie would make it big so Matthew wagered that if the film was a success, Bruce would have to appear on "Friends." When the film was a hit, Bruce headed to the "Friends" set.
"Bruce hadn't been sure the film would work at all, and I'd bet him it would -- if he lost, he had to do a guest spot on 'Friends,'" Matthew wrote in his memoir, "Friends, Lovers, and the Big Terrible Thing."
Before Richard Harris' passing, he appeared in two "Harry Potter" films as Dumbledore. It turns out that he had initially declined the role quite a few times because he didn't want to commit to all the sequels. He eventually agreed to join the cast but only because his granddaughter insisted he had to accept the role.
"She said, 'Papa, I hear you're not going to be in the 'Harry Potter' movie', and she said, 'If you don't play Dumbledore then I will never speak to you again,'" Richard told Zap2it.
Bill Burr has spent a lot of time hating on "Star Wars" in his standup act, but that's actually what landed him a role in "The Mandalorian." When he was approached by director Jon Favreau, he explained that the fact that he's always teased "Star Wars" fans is what would make the role even better.
"I went to Mike Binder's birthday party, and Jon was there, and he said, 'Hey, we're writing this thing. We kind of have you in mind. Do you want to do it?' And I said, 'I don't know, Jon. I have teased Star Wars people a lot.' He goes, 'I know. I listen to the podcast a lot. I think it would be funny if you got in it,' My wife was kicking me under the table, and I was like, 'All right, I'll do it,'" Jon said on the "Your Mom's House" podcast.
Sylvester Stallone was essentially tricked into taking on his role in "Stop! Or My Mom Will Shoot," a movie he later called "one of the worst films in the entire solar system." At the time, Sylvester was feuding with Arnold Schwarzenegger, who was initially offered the role in the film. After reading the script and seeing how bad it was, he turned it down -- but decided to see if he could trick Sylvester into signing on. Sylvester jumped at the opportunity to do the film before he even realized how bad it was.
"So I went in -- this was during our war -- I said to myself, I'm going to leak out that I have tremendous interest. I know the way it works in Hollywood. I would then ask for a lot of money. So then they'd say, 'Let's go give it to Sly. Maybe we can get him for cheaper.' So they told Sly, 'Schwarzenegger's interested. Here's the press clippings. He's talked about that. If you want to grab that one away from him, that is available.' And he went for it! He totally went for it. A week later, I heard about it, 'Sly is signing now to do this movie.' And I said, [pumps fist] 'Yes!'" Arnold said during Beyond Fest 2017.
When basketball legend Kareem Abdul-Jabbar was offered a role in "Airplane!" he had a specific request about his salary. His agent said that he needed to be paid $35,000 so that he could purchase a specialty rug he wanted. The fee wasn't much more than the studio had planned for so they agreed.
"When we offered the role [of Murdock] to Kareem Abdul-Jabbar, I think we offered him $30,000, and then the agent asked for $35,000 because that's how much this rug cost that Kareem wanted to buy. It was an oriental rug -- an art piece, not one to walk on, I don't think -- so our initial reaction was, 'That's got to be the best line we've ever heard from an agent.' It was like, 'Boy, this guy's really creative!' But then a couple of weeks later, there's an article in Time with a picture of Kareem standing in front of the oriental rug that he'd bought for $35,000 after we'd paid him," director Jerry Zucker told AV Club.