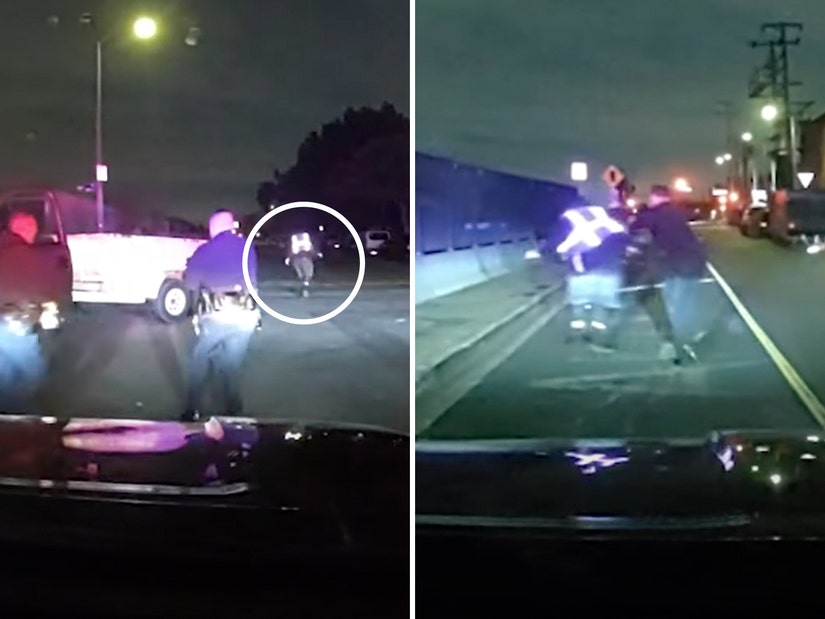 LAPD
After officers conducted a "high risk stop" on the man --who was later charged with stealing a truck -- he appeared to whip out his skateboard and start to dash away from the scene.
A man in Los Angeles allegedly attempted to evade police in a very unique manner: by jetting off on a skateboard in the middle of a high speed pursuit!
It all went down in the early morning hours of February 13, when LAPD officers responded to a 9-1-1 call for a stolen vehicle. Upon arrival to the scene, authorities found a truck matching the description of the jacked vehicle and began to follow it.
As they followed the vehicle, it reportedly began to take off at high speeds down narrow streets -- before allegedly clipping a parked vehicle. The whole chase was caught on dashboard and body cameras, with video being shared by the LAPD to YouTube (below).
Eventually, the driver -- later identified as Pedro Villalobos -- appeared to lose control of the truck while attempting to make a hard left turn. As police surrounded the vehicle with guns drawn, Villalobos exited the vehicle, appeared to throw a skateboard on the ground and began to take off from authorities.
A handful of officers chased him down on foot, as others responded to the area in patrol cars. As police ran behind him, an officer in a cruiser stopped in Villalobos' path and body checked the suspect as he tried to swerve past. The contact made Villalobos hit the sidewalk with the skateboard, before falling to the ground.
Per the LAPD, he was taken into custody and treated for a fractured leg. Nobody else was injured during the incident. He was later booked for vehicle theft and reckless evading, while -- per Fox 11 -- the incident is being investigated by Force Investigation Division detectives as a law enforcement-related injury.
The vehicle, meanwhile, was returned to the original owner.