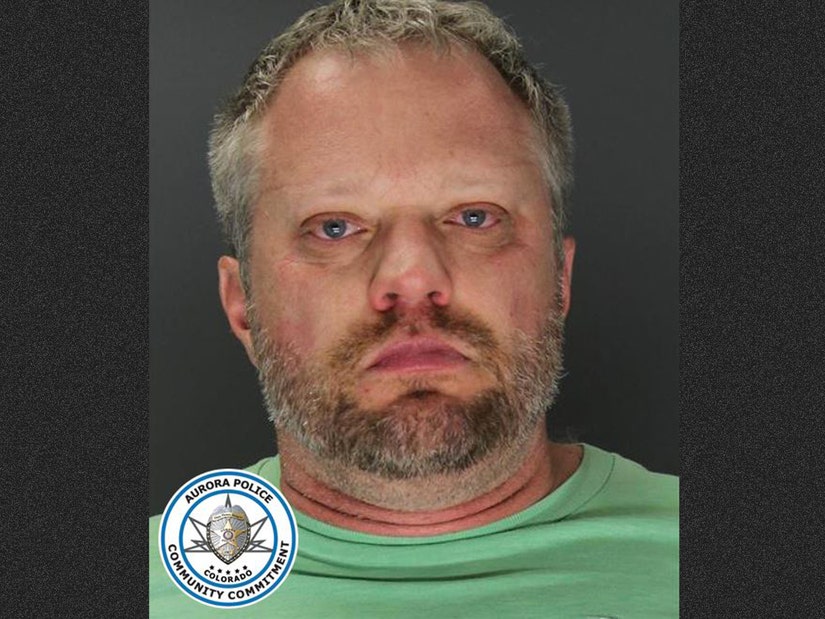 Aurora Police Department
"I feel drugged," his wife wrote in one text after he allegedly made her a protein shake -- just days after reportedly having arsenic delivered to their home.
A dentist from Aurora, Colorado was arrested this week on suspicion of fatally poisoning his wife -- and the details leading up to the alleged crime from his arrest affidavit are just wild.
45-year-old James Toliver Craig was booked on suspicion of first-degree murder on Sunday, according to a press release from local authorities. Per the release, he stands accused of committing "a heinous, complex and calculated murder," after his wife Angela died in the hospital following multiple trips for care in a short period of time.
"When the suspicious details of this case came to light, our team of officers and homicide detectives tirelessly worked to uncover the truth behind the victim's sudden illness and death," said Division Chief Mark Hildebrand. "It was quickly discovered this was in fact a heinous, complex and calculated murder. I am very proud of our Major Crimes Homicide Unit's hard work in solving this case and pursuing justice for the victim."
The Daily Beast obtained Craig's arrest affidavit, which revealed details about the investigation -- including alleged text messages between Craig and his wife, allegations of an affair, as well as some very suspicious internet searches and online orders.
According to the documents, Angela first became sick on March 6, went to the hospital and was released -- before she was admitted and released again from the 9th-14th. She returned again on the 15th with a severe headache and dizziness, had a seizure and "began to rapidly decline mentally." She was then placed on a ventilator, declared brain dead and was taken off life support this past Sunday.
Authorities started to dig into Angela's husband, James, after a business partner of his from the same dental group told one of the attending nurses about "his suspicion that Angela was the possible victim of poisoning." He claimed James "recently ordered Potassium Cyanide for their dental practice," saying that "there was no medical reason to purpose to order" it for their office. The business partner also said James admitted to having "marital problems" with his wife. The nurse then reported those suspicions to the police.
The business partner said James confronted him over whether he "said anything to the hospital staff" -- with the man saying he "was aware of the package that James had ordered." James, however, allegedly claimed the package was "a ring for Angela," which he was hoping to surprise her with. When the partner said he knew what was actually in the package, James allegedly said Angela asked him to order the poison, adding that he "didn't think she would actually take it." Text messages also reportedly show James pleading with his partner not to speak with authorities, adding, "Angela is gone and I am devastated."
During the investigation, an office manager told authorities Angela "became faint and dizzy" after drinking a protein shake in "which James gave her extra protein because she was feeling sluggish." A child protective services case worker also expressed the belief that "James was attempting to build a cover story for what really happened" after he told them Angela was "suicidal and had been for some time." Per the case worker, nobody else in the family reported any issues of depression with Angela.
Based on those initial findings, a search warrant was issued for James' home, dental office, cell phone, laptop and work computers.
Upon searching a computer inside the office, authorities say they discovered a new email address was set up under James' Google account. Under that account investigators say they found internet searches from February of this year for queries including "how many grams of pure arsenic will kill and human," "is arsenic detectable in autopsy," "Top 5 Undetectable Poisons That Show No Signs of Foul Play" and "how to make poison." The account was also reportedly linked to records for a Potassium Cyanide delivery to the office on March 13, an arsenic delivery to his home on March 4 -- two days before Angela's first hospitalization -- and orders for oleander.
Text messages also showed alleged exchanges between James and Angela, including one from March 6 in which she thanked him for making her a shake, before she later said, "I feel drugged."
Authorities also say they found emails "intimate in nature" which "contained sexually explicit conversations" with another woman. Per police, it appears James had the other woman "visit him while his wife was in the hospital sick," with flight itineraries matching up with her hospital stays. "It appears James was flying this woman into Denver while his wife and the mother of his children was dying in the hospital," read the affidavit. The docs also said that the other woman "stated she knew it had to be so hard what he was going through and that she wanted to be there for him but did not want to mix in with his family and friends and pretend to be only a friend when there was something more."
Angela's sister also allegedly told police James had "multiple affairs" throughout their marriage ... and claimed Angela told her James once "drugged her" in the past, so he could "give himself a lethal injection of something and commit suicide." She also claimed James said he "would not allow hospital staff to conduct an autopsy" -- adding that if doctors "couldn't figure out what was wrong with her when she was alive he wouldn't let them poke her more when she was dead."
Authorities said Angela's symptoms lined up with cyanide poisoning.
"Based on the totality of the investigation, James has shown the planning and intent to end his wife's life by searching for ways to kill someone undetected, providing her poisons that align with her hospitalized symptoms, and working on starting a new life with [the other woman]," concluded the affidavit.
James was arrested shortly after the decision was made to take Angela off life support. He was booked into jail on suspicion of first-degree murder. Per AP, he is being represented by the public defender's office and is scheduled to appear in court Thursday where he will learn if prosecutors will file charges.