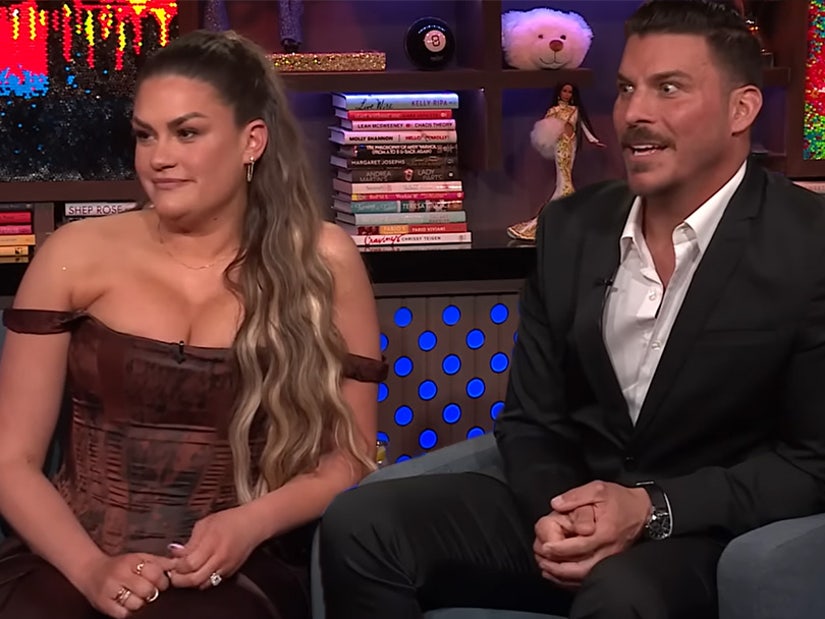 Bravo
Brittany Cartwright and Jax Taylor say they haven't given up on their relationship with Stassi Schroeder, Beau Clark, or Katie Maloney after complicated circumstances kept them from attending Stassi and Beau's wedding.
For one thing, the show was built around a group of coworkers and friends, so just because they're not part of the series anymore doesn't mean Brittany and Jax stopped talking to everyone. In fact, Jax said he still talks to Tom Schwartz every day.
That was why on Wednesday's "Watch What Happens Live," he was willing to say he knew "on my child" that Schwartz knew about Tom Sandoval cheating on Ariana Madix with Raquel Leviss. He said that Schwartz told him as much, though he conceded he didn't know how long Schwartz had known.
Sandoval and Schwartz are best friends and business partners. In his first apology that was focused on the business impact of the affair getting leaked, Sandoval said that Schwartz hadn't known until just recently. No specific timeline was given for how long.
According to Jax, Schwartz told him he'd known "for a while. He kind of left it at that." Jax also said that Schwartz "tried to tell [Sandoval] to come forward with it." That didn't happen, though, with Ariana instead discovering it on her own.
Jax also suggested that he wasn't the slightest bit surprised that Sandoval had cheated on Ariana, claiming that it wasn't the first time. "I was there for the first week during the Miami situation," Jax told Andy Cohen. "I was there the week they started dating when this happened."
This was in reference to a long-standing rumor that Sandoval may have hooked up with a girl in Miami at the start of his relationship with Ariana. According to Jax, it absolutely happened because "I was there. I was in the room next to them."
He also said unequivocally, "There's been other times." When Brittany asked him to explain what he was talking about, Jax said simply, "It doesn't matter if he did it one or ten times, he did it." He also said that it had happened "within the last couple of years," suggesting he meant before anything had started with Raquel.
Speaking of Raquel, Jax echoed sentiments he's been saying everywhere in the past few days about why Sandoval would have been drawn toward Raquel and away from Ariana.
"Here's the thing. I think Ariana is a very strong, independent woman," Jax explained. "I think it's come to the point where he can't control her. He can control Raquel, she's easily manipulated and she's very codependent, so he can do that. He can't do that with Ariana, so I think he's kind of moving that way."
At this point, he did take a moment to emphasize and point out that he's fully aware that he "doesn't have a leg to stand on on this topic." When it comes to cheating, almost no one in the "Pump Rules" cast does (Jax thinks only Brittany and Ariana have been faithful).
During the "Aftershow," Brittany and Jax shifted gears to talk about their strained relationship with Katie Maloney, Stassi Schroeder and Beau Clark, all stemming from when Brittany and Jax were unable to attend the latter pair's wedding.
The couple broke down all of the complicated circumstances as to why they'd been unable to attend, from their son Cruz being unable to get his passport in time to Brittany's mother's -- who'd been then going to go with her while Jax stayed home with the baby -- best friend's husband dying.
"I just don't understand, to end a relationship over something like this," Jax said. "There was so much going on during that time."
For her part, Stassi took issue with the fact that Jax had reached out to Beau's best friend about the fact they might be unable to attend rather than the couple directly. She saw it as them talking crap about the wedding behind her back while telling her they were coming.
"To our faces, they are telling us that they are coming, but behind our back, the dude is texting Beau's best friend that they're not," Stassi said on her podcast, per Us Weekly. "Good friends don't do that. They don't talk s—t about your wedding behind your back or pretend that they're coming and give a list of reasons why they're not coming to other people. Friends don't do that to each other."
Brittany told Andy that it was so bad that Stassi tried to send the $500 gift they'd sent back, but she blocked the return. "I get them being upset over it," she conceded, noting that she regretted not going and felt bad about it.
"I get it, too, but can we move on from it?" Jax said. "Let's squash it. We're good friends. Life's too short."
Brittany said they haven't given up on the relationship, either, and would keep working at it. It appears there's hope, too, of a mending in the future, as Brittany earlier had noted that Stassi did reach out to her when her dog passed away recently.
"That was the first break for us," Brittany said. "It kind of opened the doors and we actually gave each other a hug at Ocean's birthday party and we talked for a minute. I told her how happy I was for her that she's having a boy now. I just want the best for them, so, it was a really good moment for us."
Finally, and just for funsies, Andy asked Brittany if she could really defend a list of "offenses" Jax had committed over the years. He covered everything from having multiple nose jobs, leaving Laura outside of an AA meeting and so much more -- even Jax offering to pay for Brittany's boob job, so long as he could pick the size!
You can check out what she defended and where she definitely did not have his back in the clip below.