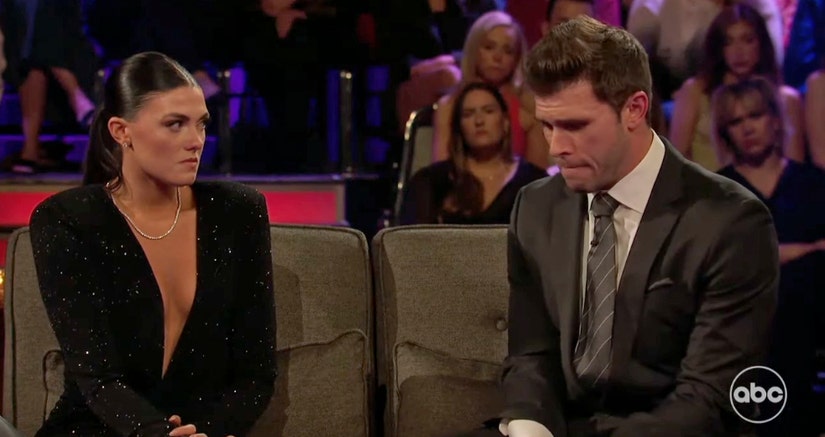 ABC
"It's extremely violating that the entire nation knows everything," said Gabi, before letting her feelings known to Zach.
Before spending the evening with each of them, Zach had made it clear to all three women he wouldn't get sexually intimate with any of them during their overnight dates. But that plan then backfired when he did just that with Gabi, following his date with Ariel Frenkel and before his overnight with eventual winner Kaity Biggar. Feeling guilty, he told Kaity what happened.
Speaking with host Jesse Palmer on the "After the Final Rose" special, Gabi said that Zach's confession really affected her negatively. "That's something that, for me, it's a part of me that I'll never get back that I shared with him. It's extremely violating that the entire nation knows everything," she said, before Shallcross was then brought out on stage.
Addressing him directly, she said she was "disappointed" by what aired because the two had "so many positive moments that day" that left her feeling "protected" by Shallcross.
"The conversation around intimacy was 5 seconds of it but we spent so much time talking about emotional health, mental health, therapy, our own insecurities and how we both connected on that and it was a moment that we shared together and we both were happy about that," she continued, "and it was consensual and it was what we wanted and we decided it was going to be between us. We said that that night. You said, 'This is just between us.' I said, 'Yes, this is just between us.'"
She said she was "blindsided" when he later came to her and said he planned to tell Kaity what happened -- but said she understood he was also just "trying to be honest." She added, "You were trying to think of everyone's feelings and I can see your point of view there."
"What I wish would have happened was that you warned me that you were going to use my name and you were going to tell everyone what had happened," she then said, through tears. "I didn't know when you were going to do that. I actually didn't know you had told everyone until I watched it last week," she added, as the studio audience reacted in shock.
"So for me to see that ... it was beyond a TV show for me. I feel ashamed from a moment that felt like love to me," she concluded. "I thought it was between us. I thought it was love. I thought it was more than a TV show. And I get it, sex sells, but now I've become a narrative. It's really painful."
Zach was only given a few moments to respond to Gabi, admitting that the way he "handled things was extremely wrong."
"There's no excuse for the way I handled things. Bringing it to light and I felt like I needed to let everyone know I went against my word. In reality, it hurt you. In my mind, it was just a secret I had to not have," he continued. "There's nothing I can do to right that wrong but I want you to know the last thing I wanted to do was hurt you like that. It was just me purely trying to be honest. That doesn't matter because it hurt you more and my actions have consequences."
He concluded, "From the bottom of my heart, I'm sorry, my relationship that we shared, that's nothing I will ever forget."