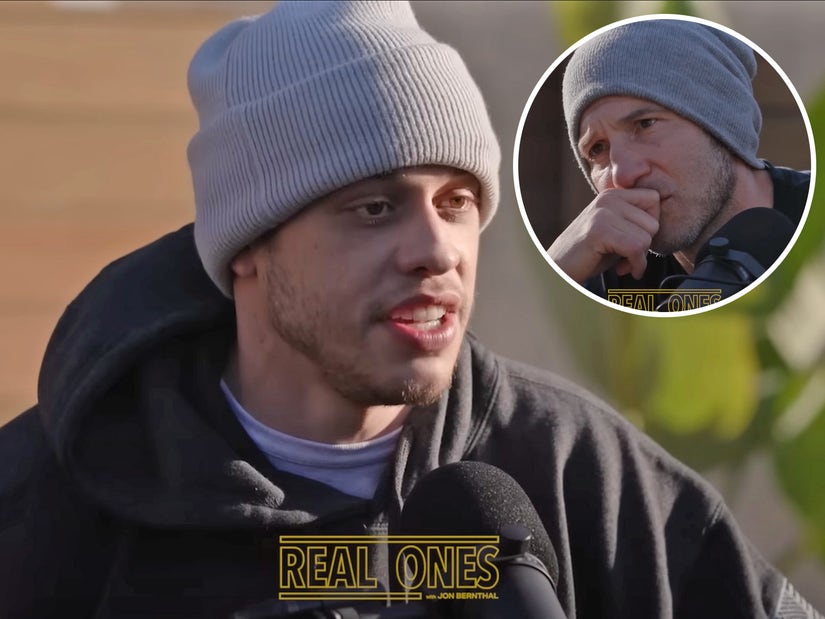 YouTube
"Whether or not it's right or wrong, it still f---s a kid up," Davidson says of the way he found out his father died on 9/11 in an interview with Jon Bernthal.
Pete Davidson is still getting used to feeling happiness, after learning over time how to address the way his father's death on 9/11 impacted his mental health.
In a new interview with Jon Bernthal's Real Ones podcast, the former "Saturday Night Live" star opened up about his desire to be an actor to overcome this perception that he's a "big idiot with a dick that smokes weed," leading to a broader discussion with the "Walking Dead" alum about his experience with PTSD, self-harm and borderline personality disorder.
He compared that prior perception with people who believe he's always "talking about his dead dad all the time." Davidson's father, Scott Davidson, was a firefighter who died in the World Trade Center on 9/11; Pete was only seven at the time.
"It's like, I made 2 jokes about my dad in a span of like 15 years. To act like I'm like this, 'feel bad for me,' it's such bulls--- and it makes me feel so small and s----y," he explained. "I'm trying to share little jokes here and there about him because I like to keep that memory alive. My dad was a great dude. I get defensive, that's my family."
He went on to explain that he's "getting better" at realizing he can't please everyone or fix every misconception out there about him and can only control "who you have around, who loves you and who loves you back" -- adding that he's finally in a place where he has "people around me that love me and it's weird and that's a whole new thing." After adding that "it's weird being happy," Davidson said he's felt for years like "the walls are gonna close in or something's gonna be ripped out."
He said that there are "obvious reasons why" he feels that way, adding that he's been doing a lot of trauma therapy and addressing PTSD from childhood. Davidson explained that he and his therapist agreed that a lot of it stems from the fact that his father "told me he was going to pick me up on 9/11," and then the worst happened.
"I got picked up by my mom. She didn't tell me what was going on for like 3 days. She kept telling me dad's at work, I had no idea. My mom's like, 'You're just grounded, you're not allowed to watch TV,'" he recalled. "I was like, what? I didn't do anything. One night I turn on the TV and I saw my dad on TV. They're like, 'These are all the fireman who are dead.'"
He said it was a very "weird" time for their family, who didn't know for weeks whether his father was dead or not.
"There was some sort of hope," Davidson continued, pointing out that his mother was just 30 -- almost the same age he is now -- when it happened. "I wouldn't know what the f--- to do. Nobody knew the right way to deal with it," he added. "Whether or not it's right or wrong, it still f---s a kid up."
Davidson told Bernthal that, in addition to PTSD, he also has borderline personality disorder, and struggles with a fear of abandonment.
"Dad says he's going to pick you up, he doesn't, so for life I don't believe anyone and I'm trying to learn how to believe people and Hollywood isn't the best place to learn that skill," he continued. "I went from traumatic life to [...] high school traumatic life, because Hollywood's like high school."
In addition with his trust issues, Davidson said he's also been finding ways to overcome self harm, which he's been doing since childhood.
"I used to like cut, up until like a year ago, I used to cut. I used to bang my head against walls. If I couldn't deal with something -- if someone told me something sad or something I couldn't deal with -- I would bang my head against the wall, hoping I'd pass out because I didn't want to be in that situation because I couldn't handle that," he told Bernthal.
He explained that those feelings become less and less over "years and years" with the help of skills derived from dialectical behavior therapy (DBT), like taking cold showers, listening to your favorite music or basically doing "anything else" when experiencing the urge to self-harm. "That feeling most of the time goes away after 15-20 minutes," he said -- adding that, "I had to learn that if one little thing isn't going the right way, that doesn't mean the whole ship sinks."