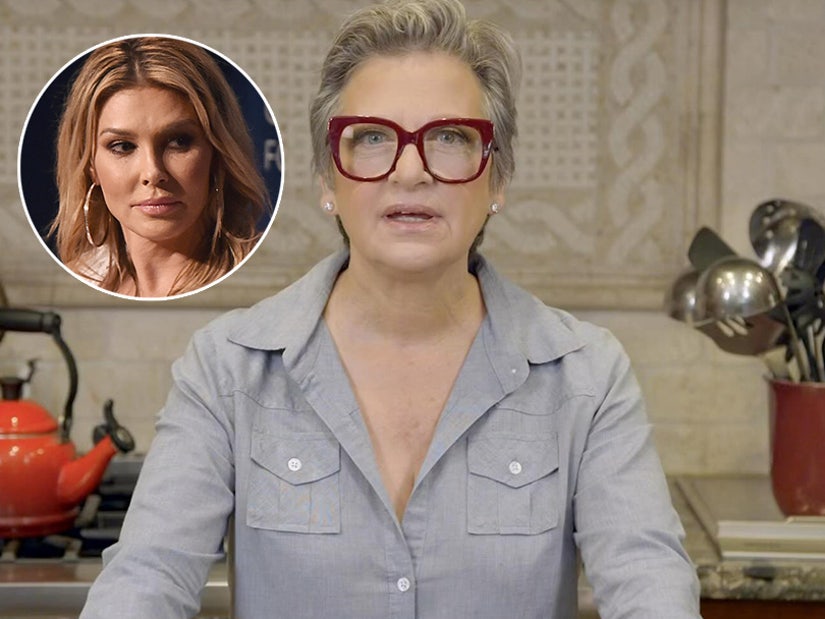 YouTube/Getty
Caroline Manzo speaks out after Brandi Glanville's latest tweets saying she felt "set up" and the alleged "Girls Trip" incident that triggered a sexual assault investigation and her own early exit was "BS."
Teddi kicked off the discussion by reading Brandi's latest tweets regarding the as-yet-unseen situation that resulted in allegations of sexual assault and an investigation. Caroline said the investigation is complete, adding that she's not spoken to Brandi since it happened.
"This is very traumatic for me," she told the co-hosts. "This is a really large onion with a lot of layers and I guess it will play out."
As for Brandi's specific comments, Caroline said, "That statement is disappointing to me. I don't want to talk too much about because I'm going through a lot with it and I'm processing it all."
When asked if she really meant never in saying she would never return to "Girls Trip," Caroline said, "Never, never, never." She then added "RHONJ" to that emphatic statement, suggesting that she's done with the entire franchise for good.
"For me to go back it would have to be a number that was financially irresponsible to walk away from," she said, indicating that it would take a hefty payday to lure her back. "I've been offered a lot of money in the real world, but it was never anything worth it to me to go back to that. So now, no."
Brandi's comments date back to March 30 where she wrote a series of tweets, starting with an insistence that she's not suing anyone over what happened on "Girls Trip."
She then followed up that tweet by talking specifically about the situation with Caroline, saying she'd "like to see footage on it before hand as both myself & Caroline were very intoxicated." Finally, she insisted she was just doing what she'd been paid to do, "bring the party," and feels like she was punished for it.
I can speak on anything I want to speak on-it was at the end of an 18 hour Wrk day at our belly dancing party & I'd like to see footage on it before hand as both myself & Caroline were very intoxicated.

— Brandi Glanville (@BrandiGlanville) March 30, 2023 @BrandiGlanville
"I'm f---ing sick of this narrative," she wrote in a follow-up tweet. "I was hired for a 2nd season of girls trip cuz they LOVED what I did on 1st season I was told to bring the party just like before & that's exactly what I did & Iwas punished for it. It feels like a f---ing set up. It's BS & Caroline was fine."
"Those are my statements," Brandi concluded her thoughts in one final tweet. "Yes I'm p---ed off. Yes, this is been life f---ing ruining and I'm not gonna be responding to anyone commenting."
Nine days prior, on March 21, Caroline made her first comments about whatever did or didn't happen between her and Brandi on "New York Live" where she insisted she agreed to join the show with "the highest of hopes to do something fun."
"Unfortunately, it didn't work out for me that way," she continued, adding that she "came home early."
"At this point, I just truly don't have the space in my head to talk about it, so I'd rather not," Caroline said, "But I would imagine it would unfold on the series when it airs, and there'll be a lot said then."
When "New York Live's" Sara Gore suggested that her experience on "RHUGT" "didn't turn out to be the positive experience" she hoped it would be, Manzo confirmed, "It didn't. It didn't."
Per People, Glanville was removed by production, before Manzo later decided to leave on her own -- though neither party addressed the alleged incident themselves at the time.
Late last month, Brandi spoke out on the allegations or the first time, stressing that she "vehemently denies any wrongdoing."
"Brandi has been prohibited from sharing her side of the story and in turn, people have only heard unsubstantiated versions," the statement continued. "Brandi maintains her innocence and vehemently denies any wrongdoing."
At the time of the alleged incident, representatives for Peacock and Shed Media told PEOPLE in a statement: "The safety and security of cast and crew while shooting is extremely important and we take all reports seriously. In this situation, production immediately launched a comprehensive review and is taking appropriate action."
New episodes of "The Real Housewives Ultimate Girls Trip" are currently dropping Thursdays on Peacock.