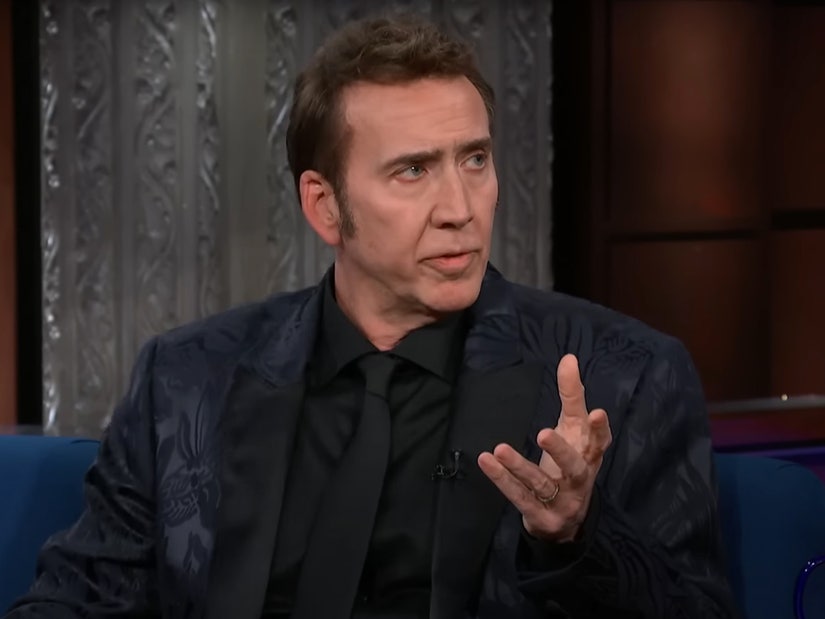 YouTube
"I don't want to be thought of as a hypocrite," Cage explains. "I'm sorry if that sounds pretentious."
Nicolas Cage is staying true to himself — whether that be how he self-identifies or what films in his impressive oeuvre rank among his favorites.
"Okay, I'm gonna start with 'Pig'," responded the actor quickly, not needing much time to make his decision. "That's my favorite movie I've ever made."
"That's fairly recent," responded Colbert, who was writing this list down fervently.
"I love 'Mandy'," continued Cage, "which Panos directed. I love 'Bringing Out the Dead', Martin Scorsese directed. I loved a movie called '[Bad Lieutenant: Port of Call New Orleans], Werner Herzog. I loved a movie called 'Joe', that David Gordon Green directed."
"There you go," responded Colbert. "I go 'Face/Off', but that's okay."
"Oh, I like that one a lot!" responded Cage. "I love 'Face/Off'."
"You know, what was interesting about Face/Off — and I could've mentioned Vampire's Kiss," he elaborated. "Vampire's Kiss was a little movie I made where I was able to explore my more abstract dreams with film performance. I was sadly playing a character who was losing his mind that he was beginning to think he was the vampire from the original Nosferatu movie. And when you're playing a character whose losing his mind, he can believe he's Nosferatu. So I got to act like a German expressionistic silent movie star."
"And that was cool, these facial expressions and what not. But Face/Off was a big studio movie that I made at Paramount and I was able to use what I learned from this little Vampire's Kiss movie and put it in this giant movie and it worked. I was like, 'People really dig this.'"
Colbert also brought up an interview in which the "National Treasure" actor said he preferred being called a "thespian" as opposed to an "actor."
"I'm curious why being pretentious is appealing to you?" joked Colbert, who added that he doesn't pronounce the 'T' in his name because he is also pretentious.
"OK, that's a great thing you brought that up. What I was saying was, of course you can call me an actor. By the way, I never said, 'Don't call me an actor. Call me a thespian.'"
"That's what clickbait universe was putting out there and somehow got picked up by CNN. I'm not sure how it got picked up by CNN – I'm sure they have more important things to report on."
"I see acting as storytelling and what it is is trying to get to the truth of a character and the first actor in Europe was someone called Thespis and what happened there in Greece was that he broke free from the chorus and started narrating and started telling a story truthfully."
"So to me, acting is trying to find the truth of a story."
"Now what's interesting, literally the word 'actor' in Greek means 'hypocrite.' Well, I don't want to be thought of as a hypocrite," continued Cage. "I'm sorry if that sounds pretentious."