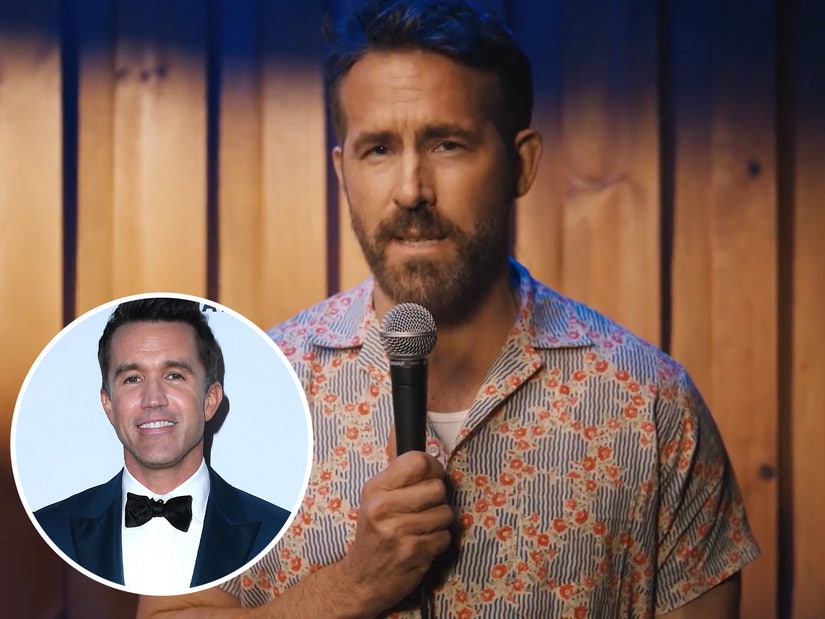 Twitter / Getty
"Ways to massacre and mispronounce it are many," admits his Wrexham partner in the bizarrely sweet tribute
The song is an ear-worm worthy tribute to the "It's Always Sunny in Philadelphia" star, which features many cameos (including his co-star and wife Kaitlin Olson).
The song teaches viewers how to say McElhenney's somewhat tricky last name.
"While ways to massacre and mispronounce it are many," the song goes, "It's Mackle-henny."
McElhenney responded to the thoughtful song on Twitter, writing, "This is…. I mean… I don't…. Wow."
"Would be a real shame if this became a @wrexham_afc Racecourse chant," Reynolds added.
In 2020, Reynolds and McElhenney became co-chairmen of Wrexham AFC when they purchased the soccer team for an estimated $2.5 million.
It was originally Rob's idea to invest in the team and he eventually asked Ryan to come on board -- despite never having actually met him in person. Ryan agreed to go all in with Rob and since then, he admits he's become addicted to watching the team succeed.
"I've only been the owner of a football club for a very short time. So far I've found it to be very time-consuming, emotionally exhausting, financially idiotic and utterly addictive," Ryan joked to The Guardian back in October.
Reynolds is also known for poking fun at his celebrity friends. At the end of the music video, Reynolds approaches a chalkboard with two tally marks, each under "RR" and "RM". He marks under "RR", implying that he gained a point against his business partner.
Reynolds also has a supposed "feud" with Hugh Jackman, and the two often riff back and forth on Twitter with their rivalry going back to the time they worked on 2009's "X-Men Origins: Wolverine". Most recently, the two "feuded" after Reynolds was shortlisted for a Best Original Song Oscar.
"Ryan Reynolds getting a nomination in the Best Song category would make the next year of my life insufferable," he said with mock sincerity. "I have to spend the year with him shooting Wolverine and Deadpool and trust me, it would be impossible. It would be a problem."
Thankfully, for Jackman, Reynolds did not go home a winner at this year's Academy Awards -- instead the gong went to "Naatu Naatu" from "RRR."