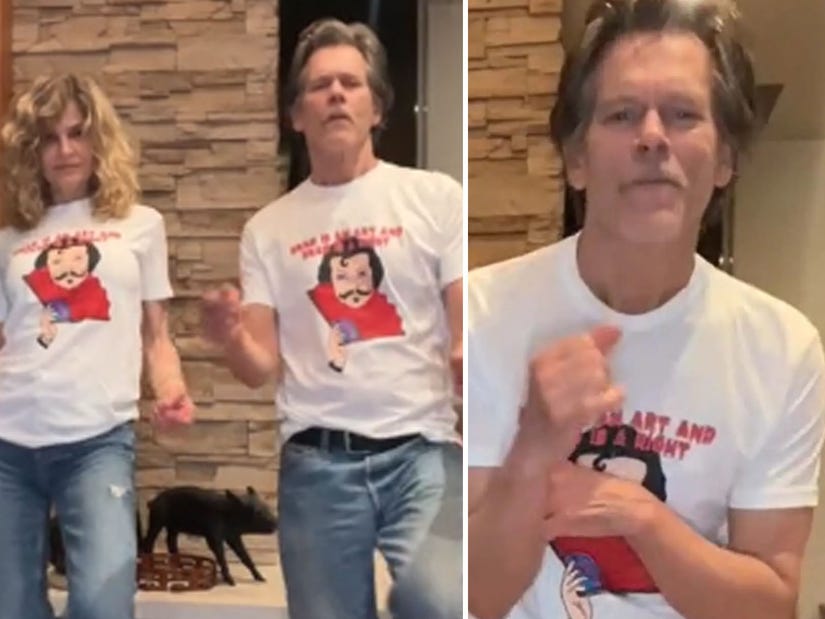 TikTok
The pair are the latest celebrities to call out recent conservative legislation barring public drag performances.
The 64-year-old "Footloose" actor went viral on Sunday after he shared a video show himself and wife Kyra Segwick dancing to Swift's "Karma" on both Instagram and TikTok, in support of drag culture amid a recent wave of anti-drag and anti-trans legislation sweeping the U.S.
Wearing matching t-shirts that read "drag is an art and drag is a right" with an image of drag performer, the two danced to the lyrics, "I keep my side of the street clean/ You wouldn't know what I mean."
"Drag Bans are bad karma. Right now, drag performers and the LGBTQIA+ community need our help," Bacon explained in the caption, before urging his fans to support the ACLU's Drag Defense Fund. He added the hashtag #DragIsARight.
Bacon previously showed his support for the art of drag during the most recent season of "RuPaul's Drag Race," sending a video message to one of the show's stars following a "Footloose"-themed musical episode. He also appeared via video in the show's finale to again support its stars.
The "X-Men: First Class" star and his wife are the latest celebrities to call out recent conservative legislation that has been passed or forwarded in multiple states like Tennessee, Kentucky and Montana. Many of these potential bans will keep drag performances from occurring in public places and will require them to be branded as adult-only.
Back in early March, Tennessee passed its drag ban before a federal judge placed a temporary restraining order until May 26 with the defense that the statute was "both vague and overly broad." The state's Governor, Bill Lee, also signed into law another bill that will bar gender affirming health care for minors.
At the time, RuPaul took to Instagram to share some thoughts on the recent bills introduced by Republican lawmakers and called them "a classic distraction technique," before urging citizens to vote.
"Hey, look over there!" the "Drag Race" star explained. "A classic distraction technique, distracting us away from the real issues that they were voted into office to focus on: jobs, healthcare, keeping our children safe from harm at their own school."
The television personality then called the officials "bullies" and said they were "incompetent at solving real issues."
"They look for easy targets so they can give the impression of being effective. They think our love, our light, our laughter and our joy are signs of weakness. But they're wrong because that is our strength."
The 62-year-old said that "Drag queens are the Marines of the queer movement" and reiterated that republican politicians were declaring a false war on drag performers to divert Americans from real problems.
Other artists to recently show their own support during performances include Lizzo, Kelsea Ballerini and Maren Morris.