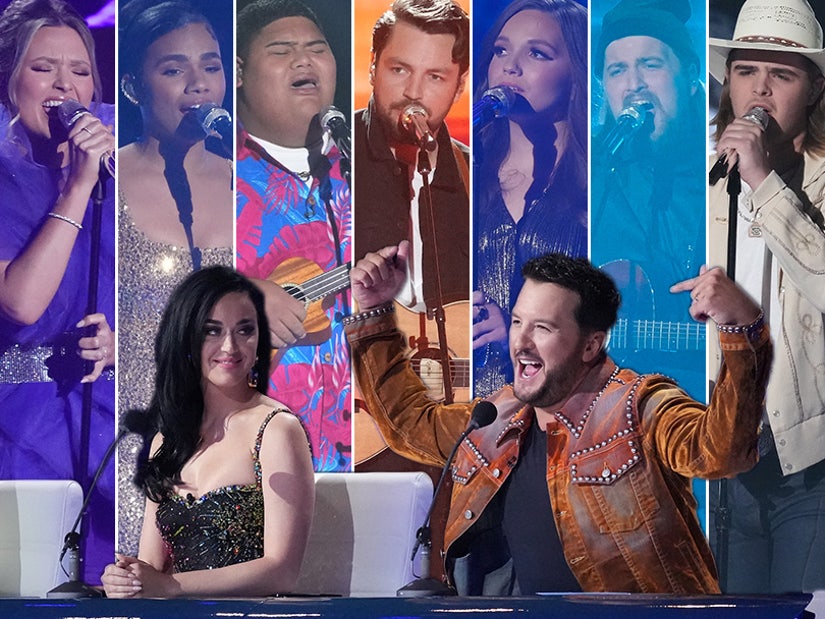 ABC
After a particularly off-color comment, Luke Bryan is expecting a visit to HR, Katy Perry literally gets lost and an early fan-favorite is a shocking elimination -- plus, a surprise twist changes the competition!
This week had another fun layer of competition as the judges competed against each other to pick songs for the "American Idol" Top 10. We also saw the return of former winner Chayce Beckham, who was almost unrecognizable!
The Judges Song Contest is kind of a fun twist on judge's choosing the songs as contestants are given one song choice from each judge, only they don't know who selected which song. That makes it a bit of a game for the judges, too, as they can compete to hope they picked the best songs and had the most contestants choosing their picks (we're showing all three picks below just to tease what could have been).
It was a tight race, with the judges all knotted up at three apiece when the final singer hit the stage. Who won the Contest -- and what huge power did they get for winning? Let's just say, it changed the competition!
It was a wild night, too, with Katy Perry kicking it off by getting lost on the stage and basically wandering out into the crowd looking for the path to the judges' table. Once they got her sorted out, things took a "nasty" turn, to quote Lionel Richie, when Luke Bryan put his foot deep in his mouth with a filthy innuendo that left Katy's jaw hanging open and Luke expecting a trip to HR.
Live television, ladies and gentlemen!
Speaking of live television, with both Lionel Richie and Katy Perry off to the coronation of King Charles III next week, the show was in need of not one, but two guest judges. They got them by combining them with the week's theme.
First up, Alanis Morissette will be mentoring the remaining singers on her catalog of music, and joining Luke Bryan behind the desk. Then -- and this one had the Top 10 on their feet -- Ed Sheeran joins for a special duets round, and his own turn behind the desk. It should make for a lively night of fresh perspectives.
Fair warning, since I'm safe at home, I'm probably going to be a little harsher than my colleagues Lionel Richie, Katy Perry and Luke Bryan. But I might be nicer, too. Maybe.
And just for fun, I'm going to rank the performances from worst to first to see who my favorites are in each round. That way I can see who's the best and then see if you get it right with your votes - i.e., agree with me.
("Till the Day I Die," Chayce Beckham) Three years after he won the show, Chayce is almost unrecognizable with his new glam-up and style. Vocally, though, he's got that same raspy, bluesy grit that's dominating the male side of the competition this season. It's definitely a winning combination. This was a catchy song with a great sound and Chayce sounded so comfortable, which was nice to see. Luke Bryan is taking him under his wing on tour and presented him with a plaque for his original "Idol" winning single "23" going gold.
"Heartbreak Warfare," John Mayer
"Bigger Than My Body," John Mayer
"High and Dry," Radiohead
("High and Dry," Coldplay - 25, Mount Juliet, TN) Oliver pushed himself by choosing the Radiohead track. The problem for us is that Oliver's performance was a little sleepy last week and Coldplay can be a little sleepy, too. It didn't feel like a huge stretch for him vocally through most of it, but we were glad to see him punch it up a gear toward the end, even holding out one note to the point just beyond expectation. This wasn't a command performance that makes you stand up or break down, but it was a strong performance with beautiful vocals … and so far, that's been working for him. Oliver's guess was that Katy picked that song for him -- and she did! In fact, he got all the picks right. He then teased that if he makes it through, his dad is going to try and make it out for a show next week.
"'Til You Can't," Cody Johnson
"Starting Over," Chris Stapleton
"It's Been Awhile," Staind
("It's Been Awhile," Staind - 18, Amory, MS) We were honestly hoping for more out of this performance and song choice. It felt like we got some good moments, but a lot of shaky ones, as well. He delivered it pretty straight up and managed only a few moments that gave us any real sense of enthusiasm. He also shouted out his mama at the end. The problem for us is that it feels like this is the second night in a row Colin has been off his game a bit after turning in one of the season's overall strongest performances. This was respectable, but this Top 10 is incredible this year. We expect his journey to this point will be enough to save him, but we're hoping he finds the Colin we fell in love with again, and soon. Colin's guess was that Katy picked that song for him -- and she did!
"Crocodile Rock," Elton John
"Wanted Dead or Alive," Bon Jovi
"Ain't Too Proud to Beg," The Temptations
("Wanted Dead or Alive," Bon Jovi) Shaky in just a few spots, this was nevertheless a consistently strong performance and a good choice for Zachariah. It kept his rock edge, but showed a bit of a softer side. On top of that, he's a great fit for Jon Bon Jovi's vocal styling, masterfully handling all the different elements to this song. It helped that it's a song he's got some history with as it was clear he was feeling a real connection to it. He's just a natural performer with an incredible gift and this was another stellar statement about who he could be after this. Zacharia's guess was that Luke picked that song for him -- but it was Lionel.
"The Only Exception," Paramore
"River," Bishop Briggs
"Cuz I Love You," Lizzo
("The Only Exception," Paramore - 17, Clarksville, TN) It was adorable to see Haven's teen come out when she revealed in the package that there was someone she caught feelings for (and might even be feeling the l-word), but she was awkwardly determined not to say more. That sweet innocence carried right into her performance, which was heartfelt and right in her lane for most of it. We appreciated that she did push into the harder edge for a few lines because it's the reminder we need that she has more in her toolshed vocally, she just knows the lane she's comfortable and happy in. The whole performance was well conceived and executed; simple and sublime. Haven's guess was that Katy picked that song for her -- and she did!
"Free Bird," Lynyrd Skynyrd
"Colder Weather," Zac Brown Band
"Blue Side of the Mountain," The SteelDrivers
("Colder Weather," Zac Brown Band - 24, Bamberg, SC) Warren showed more layers to his voice on this one, starting in a gentle, softer tone and allowing the track to build to his signature grit and growl. It was a beautifully pieced together vocal, with a lovely emotional resonance that permeated the screen and left us a little bit breathless, unexpectedly. There's an authenticity and passion that Warren brings to the stage that still manages to surprise us a little bit. He's so humble and real and it's a beautiful thing to be reminded of time and again. Warren's guess was that Luke picked that song for him -- but it was Lionel.
Things went off the rails during this one when Ryan said that if Luke had picked this song, he'd "tie up" Katy at 2 points each, with Luke replying, "I will not be tying up Katy right now." Katy's face contorted, the panel lost it and when it was Luke's time to talk, he thanked everyone for his run on the show and anticipated a meeting with HR immediately after.
"When I Was Your Man," Bruno Mars
"Someone Like You," Adele
"Someone You Loved," Lewis Capaldi
("Someone You Loved," Lewis Capaldi - 17, Vancouver, BC) This song was about pushing Tyson to get emotionally connected to a lyric and express that through the audience. Lewis' take on this is almost pure emotion, breaking your heart with a single cry (that's a gift Lewis has in his voice), so could Tyson even come close to that? It took him about halfway through the song, but he finally got there. It wasn't a full connection, but enough that it got us a bit, too. Then, there's the fact that he just has this stunningly gorgeous tone that is so effortless, we could listen to him sing all day long. This kid is a born singer with an incredible gift. Pushing himself even further artistically is so great to watch as it's only making him stronger and stronger. Tyson's guess was that Katy picked that song for him -- and she did!
"Wasted on You," Morgan Wallen
"Here You Come Again," Dolly Parton
"Don't It Make My Brown Eyes Blue," Crystal Gayle
("Wasted on You," Morgan Wallen - 22, Armorel, AR) Marybeth, the radio DJ, did not know any of these songs -- which is certainly an interesting discovery. She it was going to be a challenge no matter which way she went. Ultimately, she felt an emotional connection to Morgan and it made a huge difference in how she delivered the song. There was some palpable grit in her voice coming through in genuine frustration. For the first time, we really felt like we were coming to understand her heart through a performance. It also came at the perfect time, as she needed to make an impact statement to put herself in the conversation toward the top of this season's crop of incredible talent. By the end, she had reduced herself to tears, but she channeled all those feelings beautifully in the piece. Marybeth's guess was that Luke picked that song for him -- but it was Lionel. He did this because he knew she needed to fight for her spot in this competition, encouraging her to leave her emotions on the stage -- which she finally did.
"What a Wonderful World," Louis Armstrong
"Consider Me," Allen Stone
"More Than Words," Extreme
("What a Wonderful World," Louis Armstrong [as performed by Israel Kamakawiwo'ole] - 18, Kahuku, HI) Iam was hesitant to touch this song because "IZ" had done it such justice representing the islands already, but he was swayed by just how beautiful it is. His rendition was just as beautiful but wholly his own. Iam has this beautiful slow vibrato that just settles into your eardrums and thrums. The few moments where he pushed into a higher register were just as magical as his lower delivery. His voice is so buttery and smooth, and then he emotes incredibly on top of that. He can be whispering and we are fully enraptured. Iam's guess was that Lionel picked that song for him -- but it was Luke!
"Go Rest High on That Mountain," Vince Gill
"Rescue Story," Zach Williams
"Make You Feel My Love," Bob Dylan
("Go Rest High on the Mountain," Vince Gill - 21, Douglasville, GA) As it turns out, Megan sang this song at her grandfather's funeral (which the judges did not know). As such, it was an extremely emotional choice for her, but one she felt deeply connected to. She said she had turned away from it since then, but if she can use those feelings as fuel, she can have a magical moment. It was palpable in the room and through the screen just how heartfelt this performance was from the very first note. We applaud her for facing this emotional challenge and stepping through it so gracefully and beautifully. Her voice soars so beautifully, with that delicate rasp adding a little hurt, you can't help but fly with her. Once again, she delivers. Megan's guess was that Lionel picked that song for him -- but it was Luke. And she got her hug after saying she wanted to hug whoever picked it.
"Don't Watch Me Cry," Jorja Smith
"I Have Nothing," Whitney Houston
"I Try," Macy Gray
("I Have Nothing," Whitney Houston - 24, Harlem, NY) She knew she nailed it when she got to the end of it. What a huge song to choose and what a testament of faith that it was chosen for her. Wé's voice is a surprise over and over again. We know it's stellar, but we're not sure we've seen it so pure and angelic as she was here. Whitney is no joke and Wé took to it like it was just another Monday night. With every new facet of her talent displayed, she's pushing her way just one more step closer to finale night. Wé's guess was that Lionel picked that song for him -- but it was Luke. Katy told her that she was wrong about her. Katy had one idea of what kind of singer Wé could be, but she just proved here that there are no limits on what kind of singer she is.
If there's one thing tonight showed, it's that the contestants who had yet to show up -- or become butterflies, as Katy put it -- showed up tonight. Suddenly, we may legitimately be looking at the strongest Top 10 this show has ever put together. It still might seem obvious that Iam Tongi is going to win, based on crowd reactions and his audition video numbers, but it's not a foregone conclusion.
It also doesn't take away from the incredible, incredible talent lined up behind him. That's why our nightly rankings almost mean nothing at this point, because the margin between these acts is so very slim. Plus, we know America loves a story and a whole journey, so it may not necessarily be what happened tonight that dedicated who went home.
We say that because we know Colin Stough is a favorite, and we have him in ninth place. We definitely don't think he's going home, though. We do, however, think (again) that Oliver Steele -- in tenth place for us -- could be in trouble this week.
Three artists are going home and if Oliver is likely to be one of them, who would join him? Zachariah Smith had a great week, but he ranked lower for us because we felt some others were just marginally greater. But we also think he's safe.
Meanwhile, Marybeth Byrd had a breakthrough night, but we have a feeling it won't be enough to save her. So if Oliver Steele and Marybeth Byrd are two of our picks, who is the third? We'll go with our final Platinum Ticket winner, Tyson Venegas. It's either him or Haven Madison, for us, and we don't think America is really going to leave only two women in the competition.
The first person heading into the Top 7 was no surprise at all, as Megan Danielle broke the line and headed to safety. She was followed by Haven Madison, meaning America was not ready to knock it down to just two women left. Warren Peay was next, with Wé Ani heading over to safety right behind him. The next singers heading into next week's show were Colin Stough and Iam Tongi.
That left Zachariah Smith, Tyson Venegas, Marybeth Byrd, and Oliver Steele. Did we actually get one prediction completely right this season? Proving that it's the whole season that matters the most, we got this one right as Zachariah Smith indeed took that last spot.
That meant it was time to say goodbye to Marybeth Byrd and Tyson Venegas, who will hopefully grow from tonight's breakthrough performances where they emotionally connected more than we've ever seen before, and Oliver Steele, who still needs to challenge and stretch himself more as a vocalist.
We stand by our claim, though, that this is one of the most incredible Top 10s this show has ever put together -- which made it even more exciting that the winner of the judges contestant actually got more than bragging rights; they got to save one of the eliminated contestants. That judge was Katy Perry, but she invited Luke and Lionel to help her make this decision.
In a huge and shocking move -- at least to us -- it was Oliver Steele who got the save. We'd have honestly picked either of the other two over him as they've both been showing such incredible growth on this journey, and we've not been seeing that as much from Oliver.
Last week, the judges saved Lucy Love and Nutsa only for America to boot them out again the next chance they got. Oliver is going to have his work cut out for him to convince America he's deserving of this second chance. He came in dead last in our rankings both nights this week, so he's going to have to work hard to impress us, too.
"American Idol" next cuts to a Top 5 (unless they pull another stunt like this one) as the show continues Sundays and Mondays at 8 p.m. ET on ABC.