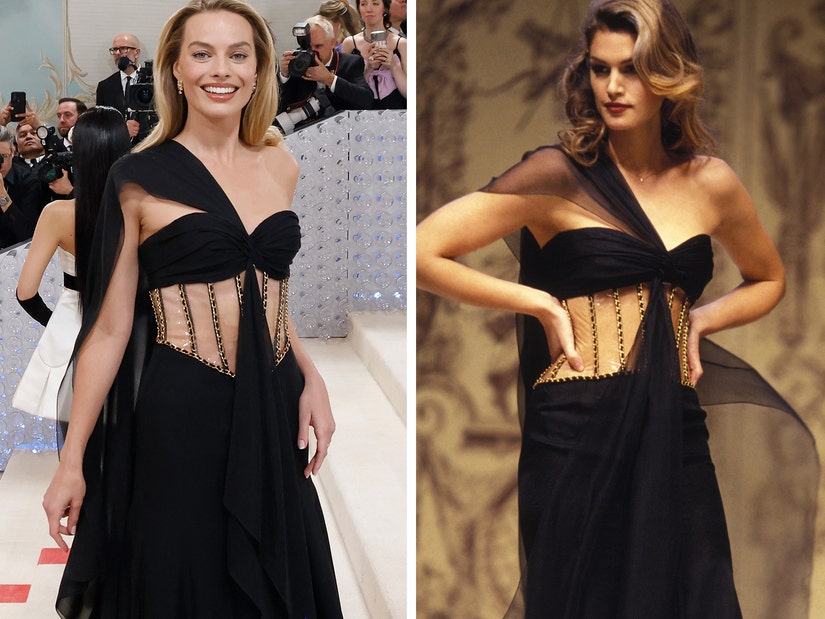 Getty
"They remade it for me and it's obviously a Karl design," the Barbie star said of the iconic gown
Margot Robbie is all for reboots...particularly when they have to do with iconic fashion.
The "Barbie" star found a way to pay tribute to two fashion legends at the Met Gala on Monday night: Cindy Crawford and the late Karl Lagerfeld, whom this year's costume gala was dedicated to.
The choice of attire for Robbie was a black Chanel gown with a sheer corset bodice -- a look previously etched into the annals of fashion by the '90s supermodel.
"I'm wearing Chanel, this dress was worn by Cindy Crawford in 1993," the actress told La La Anthony for Vogue. "They remade it for me and it's obviously a Karl design. I feel really great in it, actually."
The piece was originally featured in the Spring/Summer collection three decades prior.
"I had the great privilege of getting to know Karl to an extent," Robbie continued. "I was the last Chanel ambassador that he picked, actually. It is an honor. I'm thrilled that they're honoring him tonight because he was exceptional."
The theme for this year's Costume Institute exhibition was "Karl Lagerfeld: A Line of Beauty," dedicated to the late fashion designer. The dress code was both a simple prompt and a challenge to realize, asking guests to come dressed "in honor of Karl." During his long career, Lagerfeld headed his own eponymous brand as well as designed for Patou, Balmain, Chloé, Fendi, and Chanel.
Penélope Cruz, Michaela Coel, Roger Federer, Dua Lipa, and of course Vogue's Anna Wintour were co-chairs for the star-studded gala this year.
Meanwhile, fans can experience the exhibit at The Metropolitan Museum of Art in New York City from May 5 to July 16.