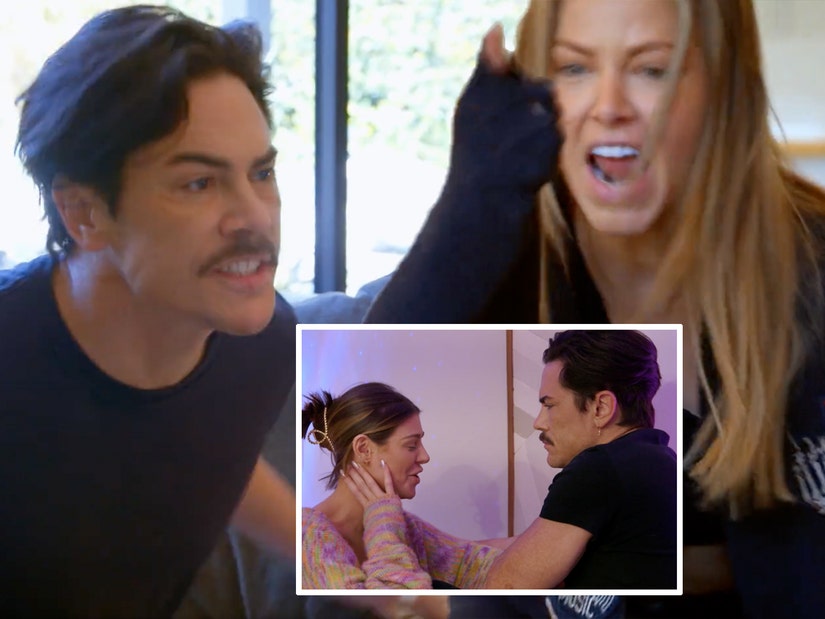 Bravo
"It turned out so horribly wrong," says Raquel, after both Ariana and Scheana are seen confronting Sandoval over the affair.
It's all come down to this.
On Tuesday, Bravo released a teaser for the upcoming season finale of "Vanderpump Rules." Much of the footage for the episode was filmed after the current season initially wrapped ... with the show going back into production immediately after Tom Sandoval's affair with Raquel Leviss blew up big time in public.
The teaser shows some of the fighting between Tom and Ariana Madix after she learned he was cheating on her, as well as the rest of the cast's reaction to the shocking scandal.
"I was going to break up with Ariana, regardless," Sandoval is seen telling Scheana Shay at the top of the teaser. "But you didn't, you f---ed her best friend instead," she shoots back, before exclaiming "Come on" after he appears to tell her he and Raquel hooked up more than once.
Tom Schwartz, meanwhile, lets it be known he knew something was going on between Sandoval and Leviss for about a month ... but also reacts with shock and disappointment when his business partner tells him, "I felt something I haven't felt in a very long time."
"Jesus Christ, man," he tells Sandoval, before the two have a tear-filled embrace.
There's also some fiery footage of Tom and Ariana, with Sandoval telling his longtime love how he and Raquel "became really good friends." Madix is livid, however, and exclaims, "I don't give a f--- about f---ing Raquel. Your friendship is f---ing bulls---!"
After he shouts back, "No, it's not!", Madix tells him, "I regret ever loving you."
The short teaser also shows Madix being comforted by Lisa Vanderpump, Lala Kent expressing skepticism that this is the only time Tom's been "creeping around" on Ariana and Raquel denying she and Sandoval are "an item" after being asked about their relationship by James Kennedy.
The promo ends with Raquel and Tom sitting together, as she says, "It turned out so horribly wrong" -- before Kristen Doute makes her big return to the show.
"Vanderpump Rules" airs Wednesdays on Bravo.