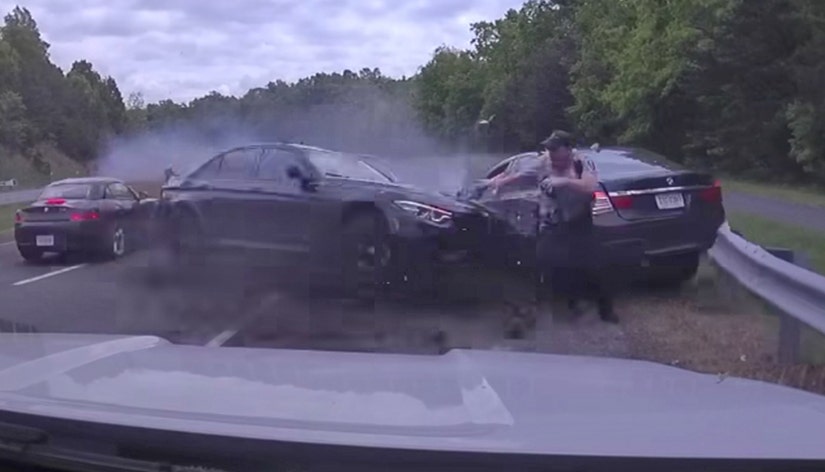 Fairfax County Police Department
The vehicle was going "well over 120MPH" when the driver spun out of control, crossed the highway and careened straight toward an officer on the side of the road.
A police officer from Fairfax County, Virginia is lucky to be alive after wild dashboard footage from his patrol car shows the terrifying moment an out-of-control vehicle nearly took him out.
The Fairfax County Police Department released the video earlier this week, showing the incident that went down around 11:38am on Monday, May 1 on a local highway.
According to cops, the patrol officer in the video was making a routine traffic stop when a 2018 BMW M3 sped around the corner in the opposite direction, before losing control and careening across the parkway straight into the officer and the car he pulled over.
Waiting for your permission to load the Facebook Video.
As the car slammed into the side of the pulled over vehicle, the officer made a run for it, before he was -- as a release put it -- "struck and nearly killed" as well. He quickly jumped to his feet, however, and called for backup, before checking for injuries.
The driver of the car involved in the traffic stop was taken to the hospital with minor injuries, treated and released. The officer, driver of the speeding car and two additional passengers of that vehicle also sustained minor injuries.
Police Chief Kevin Davis said the 17-year-old driver was going "well over 120mph" when they lost control. The driver was charged with reckless driving.
"We are relieved this crash did not result in a tragedy. This is an important reminder that life can change in an instant. It is the driver's responsibility to drive safely and arrive safely," said police, adding that parents should use the accident video "as an opportunity to have a conversation with their teen drivers about how their driving behavior can affect the lives of others."
They concluded, "We are committed to traffic safety and will continue to enforce traffic laws and educate drivers in an attempt to curb the senseless loss of life that occurs during preventable fatal crashes."