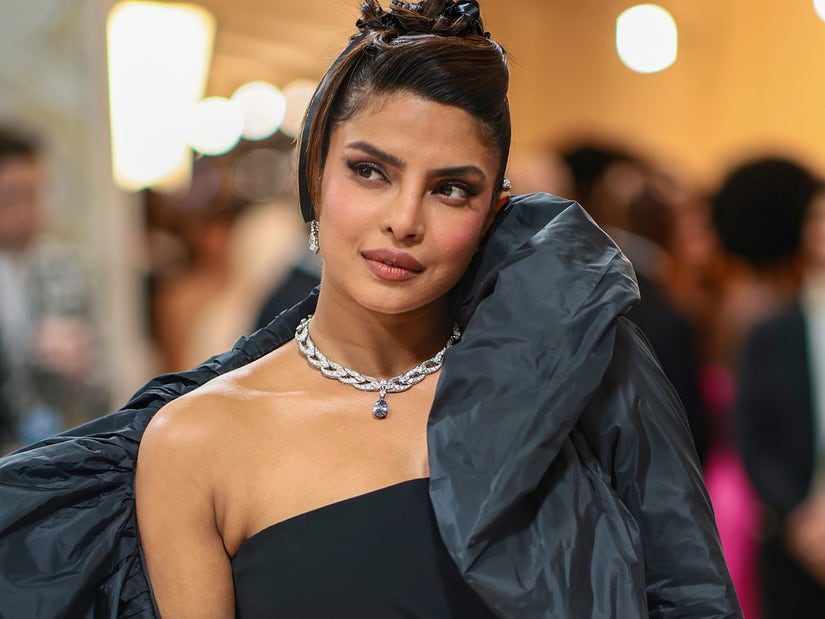 Getty
Priyanka Chopra says that after returning from America as a teenager "after all of these American hormones," she was "arrogant" and "vain," leading to her father putting bars on her windows out of paranoia.
Priyanka Chopra may have settled down as an adult, but admits she was perhaps more than her father knew what to do with as a young teen in India. The "Citadel" star said it got so bad at one point, her father put bars on her windows.
According to Chopra, things took a turn after she spent four years in America, returning at 16 years old. Like most teenagers, she described herself then as "arrogant, vain" and feeling "invincible."
"My dad was super paranoid because he sent to America a 12-year-old with braids," she told Stern of the late Ashok Chopra. "After all of these American hormones and the food, I come back a little bit more woman than my dad would have anticipated at 16."
She was apparently feeling her transformation as well, albeit in a very different way, telling Stern that she was "peacocking like I peacocked in my American high school." And it worked, with her admitting that boys would follow her home.
"One of them jumped into my balcony at night," she admitted, which is what triggered her father's extreme decision to put up bars. For clarity, this wasn't a boy she'd invited, either.
"He was outside my balcony and I saw him and I screamed and went to my dad. My dad came, he jumped and he went away," Chopra recalled. "The next day my dad was like, 'You need rules.'"
And so he created some. "My dad was like, 'F--- this, bars, all your jeans are confiscated, you are going to wear Indian suits, nothing happening. I had a driver drive me everywhere, he was freaked out."
She said that her father asked her to "wear loose clothes or Indian clothes" after the balcony incident, which led to her borrowing his clothes, as she didn't have any loose clothes of her own. But she still found ways to glam up.
According to Chopra, she would pair his shirts with jeans, tied with open buttons with her style becoming the talk of her small community. "I didn't understand the gravity of it," she said. "I think about it now. How did I get away with this s--- that I did?"
She said that part of it was this transformation in how she was being treated by her peers. In America, she said she was bullied in high school. Back in India, though, "suddenly there was this equity on me."
It was during this time that Chopra won her first beauty pageant and continued into the Femina Miss India and Miss World pageants, which she won in 2000. Just two years later, she landed her first role in the 2002 romantic thriller, "Humraaz," and the rest is history.
Elsewhere in her chat with Stern, Chopra talked about the surgery mishap that nearly caused her whole career to come toppling down almost "before it started."
She called it a "dark" time after a surgery to remove a polyp in her nasal cavity left her looking completely different. Chopra said she quickly started losing movie roles, per InStyle, with three different projects firing her.
"This thing happens, and my face looks completely different, and I went into a deep, deep depression," said Chopra. Luckily, her father, who was also a doctor, agreed to hold her hand and be in the room with her during corrective surgery.
She also credits Bollywood director Anil Sharma for helping to keep her spirits up, even though she was "shifted to a supporting character" from a lead in one of his projects. "He, while the tide was against me, said, 'It will be a small part but give it your all.' And I did."
Today, Chopra is one of the most famous and successful Indian actresses, and has expanded into music and even penned a bestselling memoir. Chopra married Nick Jonas in 2018; the two welcomed a daughter in January 2022.
You can hear her open up all about their "meet-cute" in the clip below.