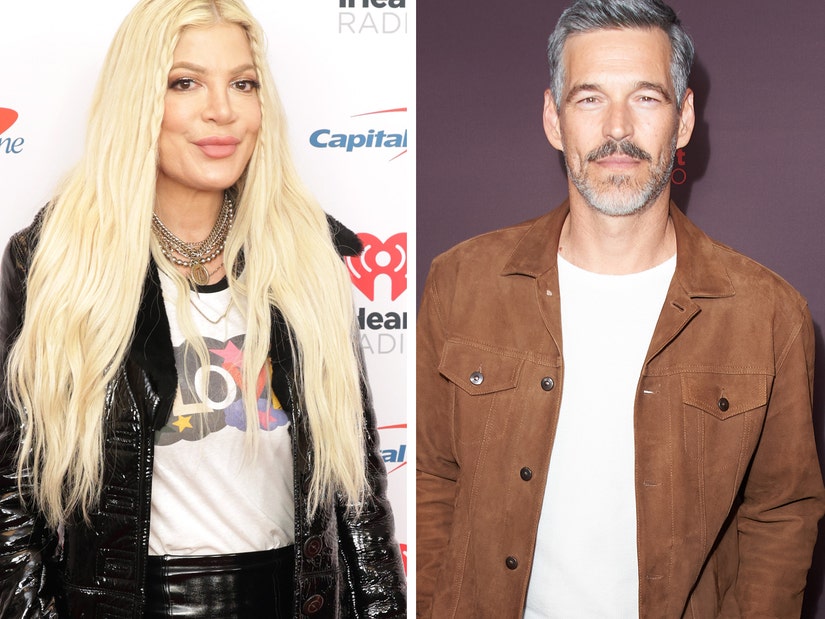 Getty
The Beverly Hills, 90210 star worried about her "puke breath" when kissing Cibrian after throwing up midway through the date
During an appearance on the "ReWives with Bethenny Frankel" podcast, the 49-year-old "Beverly Hills, 90210" alum revealed she once went on a date with the "Sunset Beach" star that ended with her literally spilling her guts.
According to Spelling, the date went wrong from the start when the actor suggested the pair skip the entrees and go straight to drinks.
"We go to sit down and I'm looking at the menu, nervous, and then he says, 'I'm not really hungry. You're not hungry, are you?' So, I was like, what do you say to that?" She recalled. "A young girl, this hot young actor guy. I was like, 'Okay, sure,' and he's like, 'Let's just get drinks.' I was like, 'Okay.'"
"I ended up getting wasted," the "Scary Movie 2" star explained. "So wasted that I went to go to the bathroom and walked into the kitchen by mistake and threw up in the back of the kitchen."
Despite over indulging, Spelling said that the night ended with a kiss.
She continued, "He took me home. I think he did kiss me and I was like, 'Ugh, I hope I don't have puke breath.'"
The "Love at First Lie" host said that the couple "weren't a match, which was fine," but admitted she questioned Cibrian's intentions when he allegedly asked her to "get him an audition" on one of her father Aaron Spelling's TV shows.
"So that always put a bad taste in my mouth," Spelling noted "But [he's a] super seemingly nice guy. I have nothing against him aside from that, and we didn't hit it off anyway."
Tori went on to marry Charlie Shanian in 2004 but called it quits just 15 months after their wedding. She eventually tied the knot with Dean McDermott in 2006 and now the couple share five children: Stella, 14, and Hattie, 11, Liam, 16, Finn, 10, and Beau, 6.
As for Cibrian, in 2001 the actor married Brandi Glanville and welcomed two children Mason Cibrian, 19, and Jake, 16 before filing for divorce in 2009.
The "Third Watch" star then went on to tie the knot with LeAnn Rimes in April 2011.