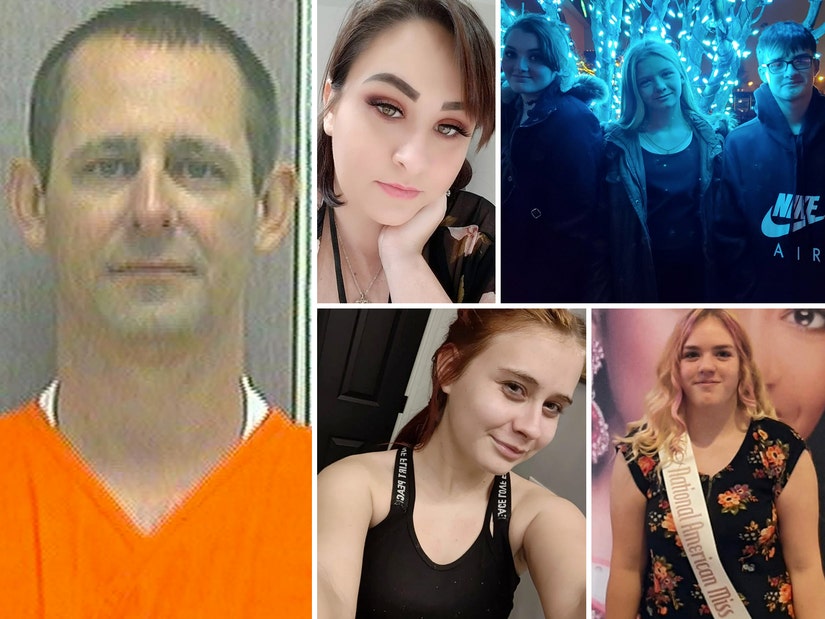 Oklahoma Sex Offender Registry/Facebook
Police made the grisly discovery when the suspect failed to show up for his trial on solicitation of a minor charges -- and reportedly sent the victim in that case disturbing texts the night before all seven bodies were found.
A convicted sex offender is accused of murdering his wife, her three teenage children and two other teenage girls at his home for a sleepover before turning the murder weapon on himself this week in Oklahoma, according to police.
On Monday, authorities discovered seven bodies strewn about the property of the home Jesse L. McFadden (pictured above left), 39, shared with 35-year-old wife Holly McFadden and her children, 17-year-old Rylee Allen, 15-year-old Michael Mayo and 13-year-old Tiffany Guess (pictured above, top row). Holly's body was found beside Michael and Tiffany's outside the home, while the bodies of Rylee and two teenage friends who were staying at the house for a sleepover -- 16-year-old Brittany Brewer and 14-year-old Ivy Webster (pictured above, bottom row) -- were reportedly found separately.
The victims were all fatally shot, as was the man police believe is responsible for the murders, McFadden himself.
"I follow the evidence ...and the evidence is that Jesse McFadden murdered six people and then killed himself," Okmulgee Police Chief Joe Prentice said during a press conference on Wednesday (via CNN). "I don't have any evidence to indicate what the actual motive was."
He added that the crime scene appeared to be "staged," suggesting the bodies of all the victims were moved after they were killed. The gun used in the murders was registered to Holly, said Prentice.
The grisly discovery came hours after McFadden failed to show up at court on Monday morning, where he was set to stand trial for soliciting sexual conduct with a minor and possession of child pornography charges. In 2017, McFadden was accused of communicating with a then-16-year-old girl when he was in prison serving time on a first-degree rape conviction from 2003.
While McFadden's name and address were reportedly on the Oklahoma Sex Offender Registry, the parents of Webster said they had no idea about his criminal history and only learned about it on Monday, after they reported their daughter missing. An Amber Alert for both Webster and Brewer went out early Monday using McFadden's mugshot and that's when they started piecing it together, they told News Nation.
"All the kids spent time together. We never had any issues with the family. His wife seemed nice and would even drop off anything she baked," Ashleigh Webster, Ivy's mother, told CNN. Webster's parents reportedly believed the girls were spending the weekend with McFadden's family at a ranch and reported their daughter missing when she failed to return home on Sunday night. The parents also believe Jesse was using their daughter's phone to communicate to them, pretending to be their daughter after the murders.
"We think Jesse wrote that and probably had already happened at that point," Ashleigh told NewsNation. "It was just different but I also didn't think anything of it because they were maybe in a hurry."
"I did exactly what I promised I would do when I got out I got a marketing job making great money and was being advanced been there 2 years now and made a great life like I promised I would do with you," he allegedly wrote to her. "Now it's all gone. I told you I wouldn't go back. This is all on you for continuing this."
Webster's father told KFOR he was "angry with the system" that allowed McFadden to be granted an early prison release for his rape conviction. Though he pleaded guilty and was sentenced to 28 years behind bars, he was released in 2020 after serving 17.
"This is a man that had priors. He was a sex offender, and he was let loose on a sentence that he should have been in there longer," said Webster. "And if you ask me if you messed up one time, you should be in there for life."