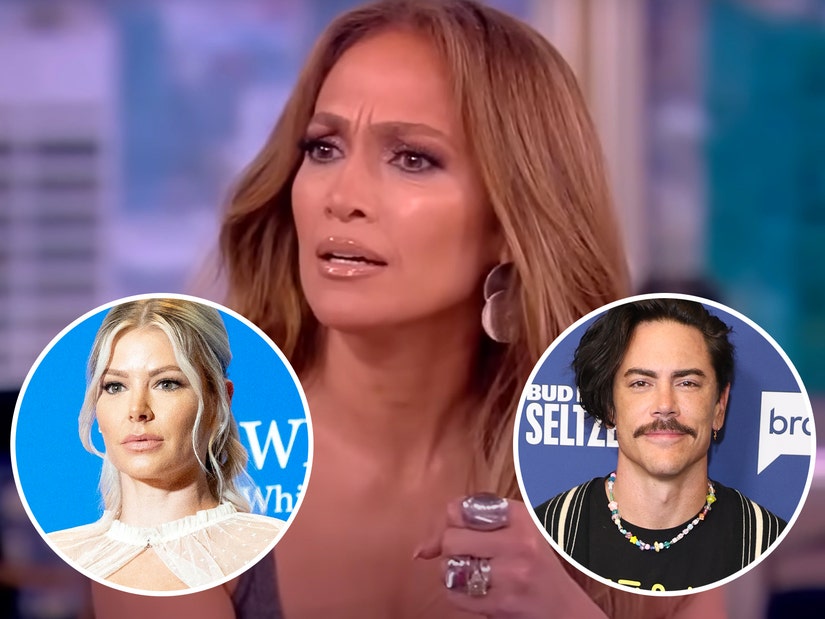 ABC / Getty
The pop star -- who married Ben Affleck in July 2022 -- was asked if she'd be "violent" or "rational" if she discovered that a longtime partner was cheating on her with her best friend.
For those who may have been living under a rock, back in March, "Vanderpump Rules" stars Tom Sandoval and Ariana Madix split after nine years together following the discovery of his months-long affair with co-star -- and Ariana's best friend -- Raquel Leviss.
On Thursday's episode of "The View," J.Lo shared her thoughts on Sandoval and Raquel's secret affair, revealing how she'd react if she were in Ariana's shoes, and learned of her longtime partner's infidelity.
When Whoopi Goldberg asked the superstar if she watches "Vanderpump Rules," Lopez said she's "seen" the Bravo series before, but she doesn't "watch it regularly or anything like that."
"So what would you do if your best friend was sleeping with your husband?" Joy Behar asked, to which J.Lo -- who married Ben Affleck in July 2022 -- expressed her shock. "Is that what's happening on 'Vanderpump Rules?!"
As for whether she thinks she'd be "violent" or "rational" if she were in Ariana's situation, Loez said, "I think I'd just walk out."
"That's what Whoopi said!" Sunny Hostin noted, to which Goldberg added, "Why waste time?"
"You know everything you need to know. What else do you need to know?" J.Lo asked, adding, "That's all the info that you need!"
Before Lopez joined the panel, "The View" co-hosts discussed the now-infamous cheating scandal, with Alyssa Farrah Griffin and Sara Haines breaking down the drama to Goldberg, Hostin and Behar.
Whoopi and Joy's lack of knowledge -- and the former's apparent disinterest -- on the subject made for a hilarious segment.
"Who's Tom Sandoval?" Behar asked, before Farrah Griffin continued to explain the scandal.
The group also shared their thoughts on Ariana and Sandoval's home situation as the now-exes still live together in the house they own.
"She should make it so uncomfortable for him in that house that he would never want to be there," Hostin said, adding, "I might go full-on War of the Roses on him ... I would be a beast. He just wouldn't want to be in the house with me."
In March, TMZ broke the news that Sandoval and Ariana had split after nine years together amid the latter's discovery that the former had been cheating on her with Raquel.
The scandal has made headlines ever since, with fans -- old and new -- as well as celebrities all across entertainment have been weighing in.
The drama was even mentioned during the White House Correspondents' Dinner last weekend -- which Ariana, Lisa Vanderpump and Lala Kent attended -- with comedian Roy Wood Jr., who hosted the event, making a joke about the scandal.
Check out all of the stars who have reacted to the Scandoval in the gallery, below.