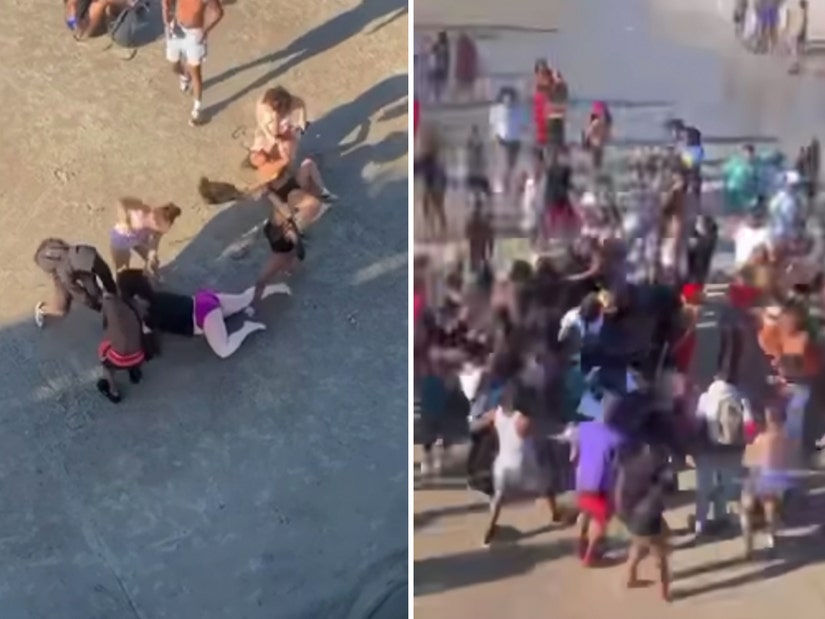 Tybee Island Police Department
Police say the suspect implicated herself by posting video of the attack on social media -- and saying she had left "her footprint on Tybee Island."
An Atlanta woman has been arrested following a brutal beating caught on video during Tybee Island's unofficial "Orange Crush" event last month.
According to the Tybee Island Police Department, officers responded to call about a fight and found a woman with "significant injuries to her face" who "appeared to have been badly beaten." The woman told police she and her adult daughter were "attacked" while on the beach, adding that her purse was stolen during the incident.
Video shared by the department shows the truly chaotic scene, as a group of people are seen punching, stomping and kicking the two women on the sand -- grabbing a purse from one of them and running off. As one of the victims follows a suspect, the other is surrounded by even more people -- many who pulled out their phones to start filming -- as her beating continues.
Two days after the April 22 altercation, authorities say they learned a 22-year-old woman named Jasmine Murphy was "sharing videos of the brutal attack" on social media, seemingly boasting about her own involvement.
"In those posts, Murphey implicated herself as a suspect while making a statement to the effect of 'leaving her footprint on Tybee Island,'" said police in a press release. "Warrants were subsequently secured for her arrest, and one of the videos was posted to the Tybee Island Police Department Facebook page in an attempt to identify other suspects. That post has since been shared over 6,000 times."
Murphy was located and apprehended on May 4 and arrested on charges of aggravated assault and robbery.
The investigation is ongoing, as police continue to look for more information on other suspects involved. Anyone with information is asked to contact the Tybee Island Police Department at (912) 786-5600.