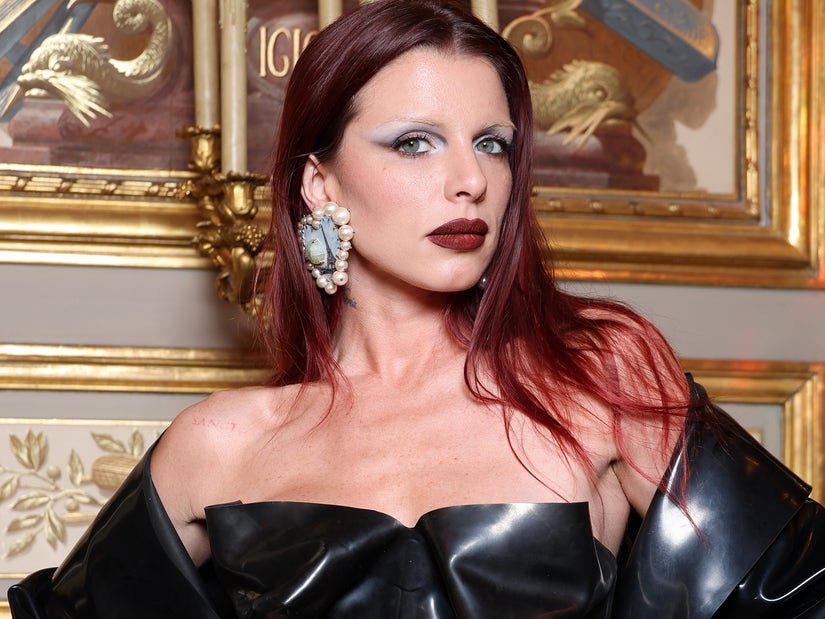 Getty
Actress and model Julia Fox says she's never been invited to the Met Gala while calling for "gatekeeper" Anna Wintour to step down and slamming this year's event for honoring controversial designer Karl Lagerfeld.
Never one to mince her words, Julia Fox had a few choice ones selected to talk about the Met Gala, its coordinator Anna Wintour and the controversial theme honoring designer Karl Lagerfeld chosen for this year's event.
She also acknowledged that she's never received an invitation, while insisting that even if she were to receive one, she would not go because she wouldn't want to supporting such a display of wealth and privilege.
"If it was about fashion I'd be there but it's not," Fox told The Daily Mail, who's become a bit of a fashion icon for her unique and often self-made styles in the past few years. "It's about politics, privilege, who your parents are and how much money you make."
She took aim at Anna Wintour, who has headed the event since 1995, saying it was time for the 73-year-old Vogue editor to step down. "She just won't quit," said Fox. "how long is she going to keep going?"
In fact, she said that the Met Gala has "never spoken to me," with the added note, "I mean, look at who is running it."
One of Fox's criticisms of Wintour's tenure in general, which has seen the Met Gala rise to be one of the top social events of the year, is that she feels Wintour has pivoted Vogue and the Met Gala to be "more about commerce than the art."
"There is a disconnect," she explained. "American Vogue is not my favorite: it needs to be more fun and fresh and new energy." One of Fox's solutions is to cut big celebrities and "nepo babies" at the Met Gala, replacing them with designers and artists who should be celebrated, instead.
"The Met Gala has a gatekeeper vibe," she explained. "I don't rank people in my head based on who their parents are or how much money they have: the Met is not exclusive it is exclusionary."
In hopes of heading off likely naysayers to her comments who will grumble that she's just upset she wasn't invited, Fox said, "I don't want to sound like I'm butt hurt -- I love the Met -- but I want to do more for more designers and people that don't have the same privilege so they can be seen and heard."
To that end, Fox said she is actually working on developing a counter-gala of sorts that will support fashion designers and "help fund disadvantaged people and single mothers."
She also had a message for anyone tuning into the event and feeling any sort of way about the celebrities in attendance or the evening oerall. "I just want to tell people don't aspire to be like these people," she said. "Aspire to be yourself. There's a little boy or girl our there will look at me and not be ashamed-fashion and art is about vision."
While Fox was not shy in sharing her grievances about the event in general, she also took specific aim at this year's theme, which was a tribute to late designer Karl Logerfeld.
Lagerfeld -- who died in 2019 at 85 -- was met with criticism over several of his controversial comments and beliefs, including those regarding the #MeToo movement, sexual assault, migrants and LGBTQ rights. He also was accused of Islamaphobia, and most notably, fatphobia.
Fox called out the Met Gala for honoring someone who "upheld supremacy and imperialism ideals." She then called out the lack of diversity on display at this year's event, noting, "There were no trans people of color or even trans people there."
Fox's comments come after Jameela Jamil also took aim at this year's Met Gala event and it's Lagerfeld theme during a sit-down interview on "The View."
"Last night Hollywood and fashion said the quiet part out loud when a lot of famous feminists chose to celebrate at the highest level, a man who was so publicly cruel to women, to fat people, to immigrants, and to sexual assault survivors," she posted via Instagram on Tuesday.
"And all the women's publications, and spectators online, chose to gleefully ignore it," she continued. "Suddenly your appetite to find someone's tweets from when they were 12 has gone."
"Nobody has perfect morals, least of all me, but Jesus Christ we had a year to course correct here, and not award the highest honor possible to a known bigot," she added, "And everyone just decided all of a sudden we can separate the art from the artist when *convenient*."
Her message concluded: "It's one rule for us and another rule for everybody else. Last night we relinquished our right to be taken at all seriously about anything important."
In her caption, she further expanded on her decision to speak out -- saying her post wasn't really about "cancel culture" or Lagerfeld himself, but was instead meant to point out how "selective cancel culture is within liberal politics, in the most blatant way so far."
"It's about showing why people don't trust liberals. Because of slippery tactics and double standards like this," she continued. "And it's not just Hollywood here, the general public online participated and were entirely complicit in the erasure of the truth last night. They replaced their pitchforks with spoons last night, to lap that shit right up."
She ended her post with a warning: "If we carry on like this, don't be shocked when we lose the next election."