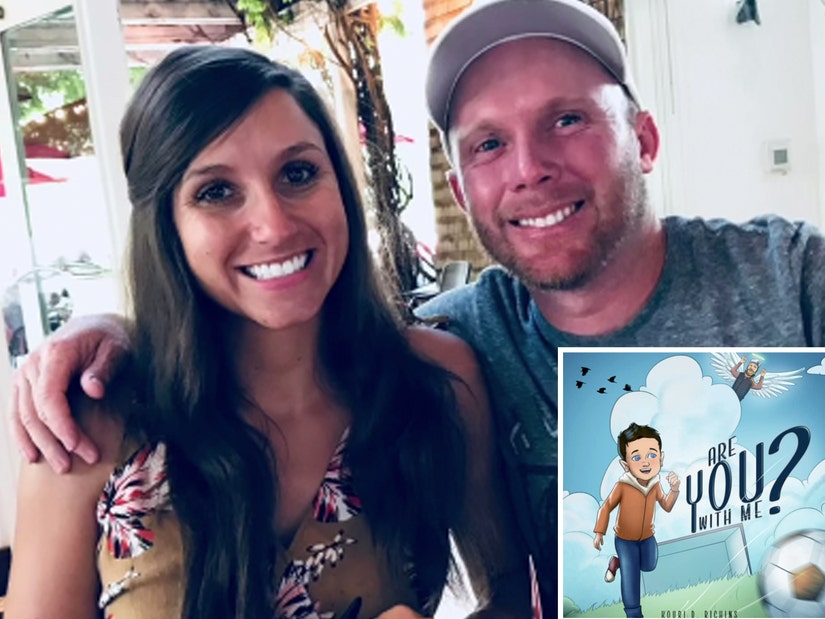 Facebook
She allegedly asked a drug dealer for "some of the Michael Jackson stuff," before her husband died of a fentanyl overdose after telling friends he feared she would "kill him for the money."
A Utah woman who just released a children's book about dealing with grief following the sudden death of her husband is now being charged with his murder.
Kouri Richins, 33, was charged with aggravated murder and possession of a controlled substance with intent to distribute on Monday, more than a year after her husband Eric was found dead in his bed at the age of 39.
According to court documents filed yesterday (via Law&Crime), police responded to the Richins' residence on March 4, 2022 at 3:22am after a call about an unresponsive male. At the home, paramedics attempted to revive Eric, but he was pronounced dead at the scene.
In interviews with police, Kouri -- a realtor -- claimed that while celebrating the closing on a new home, she made her husband a Moscow Mule, which he drank in bed. She said that she then went to sleep with one of the couple's children due to them having a "night terror," returned to the bedroom she shared with Eric around 3:00am and found him "cold to the touch." She then called emergency services.
As the investigation continued, however, a more sinister version of events began to emerge.
Police claim Kouri told them she left her phone in her bedroom when she went to sleep with the couple's child -- but records show it was "locked and unlocked multiple times" during that time. She also allegedly sent and received messages in that same window, but they were deleted. An autopsy then confirmed Eric died from a fentanyl overdose -- with the medical examiner saying the levels in his system were "five times the lethal dosage."
This led to a search warrant of the couple's home, including computers and phones. On her cell, authorities reportedly found communications between Kouri and an "acquaintance" with a background in drug possession in which she first asked about obtaining "prescription pain medication for an investor who had a back injury." According to the docs, after he procured some hydrocodone for Kouri from a dealer, she followed up with them two weeks later asking for "some of the Michael Jackson stuff" -- and requested fentanyl. She allegedly dropped $900 for 15-30 pills on February 11, 2022.
On February 14, Valentine's Day, Eric then allegedly "became very ill" after a dinner with his wife. At the time, he reportedly "believed that he had been poisoned" and even "told a friend that he thought his wife was trying to poison him." Kouri is then said to have reached out for even more fentanyl pills on February 26, 2022 ... before Eric was found dead of an overdose six days later.
According to search warrants (via KPCW), Eric's sister said he believed his wife also tried to kill him during a trip to Greece -- after he became "violently ill" from a drink she gave him. In January 2022, Kouri's also accused of making herself the only beneficiary on the joint life insurance policy Eric had with his business partner. The men, however, changed it back after being notified by the insurance company.
Eric also made his sister the beneficiary of his will shortly before his death, as he allegedly believed his wife might "kill him for the money" -- and warned family members "if anything happened to him, she was to blame." He reportedly was also planning to file for divorce.
Kouri reportedly only learned she had been cut out of the will after his death; she later sued for control of the estate.
In the months leading up to her arrest, Kouri has been busy promoting her children's book, "Are You with Me?", which came out on March 6, 2023 and -- according to the Amazon listing -- "gently guides children through the difficult experience of losing a loved one." In a post about the book Kouri herself shared on Facebook, she wrote, "I lost my husband unexpectedly last year and we have 3 amazing young boys! As I was trying to find books for my kids that would help comfort them at nights, I really couldn't find anything! So I wrote my own."
"If anyone has young kids or knows someone that has lost a parent or a loved one, I hope this book brings them a little comfort and peace," she added.
Just days before she was arrested, she also shared a video to Facebook of the couple and their children. She captioned the post, "Life is just so damn hard without you here! The cards I have been dealt seems like a game that just cant be played."
In his obituary, Eric was remembered as "a family man, who always strove to be the absolute best father and husband." It added, "He was an attentive and loving father to his three sons Carter (9), Ashton (7), and Weston (5), and a devoted husband to the love of his life, and wife of nine years, Kouri (Darden) Richins"
Kouri will next appear in court on May 19 for a detention hearing.