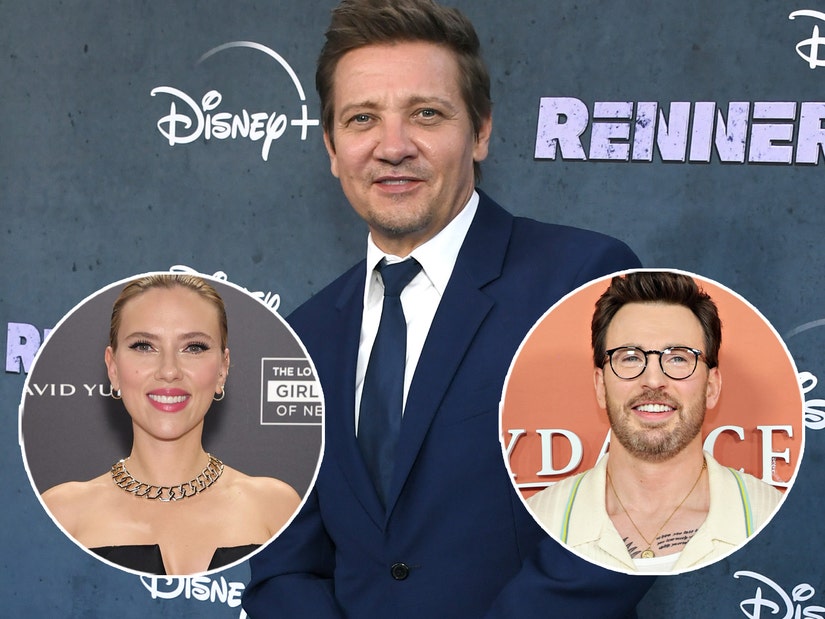 Getty
The Black Widow star also shared what it was like being "really heavily pregnant" amid her legal battle with Disney
In an interview with Variety, the 38-year-old "Black Widow" star said she was "very upset" after hearing of the incident that gave her friend more than 30 broken bones and multiple surgeries.
On January 1, the 52-year-old "Hawkeye" actor was run over by his industrial snow plow after the emergency brake system failed and began to slide towards his nephew in the direct line of impact. In an attempt to save him, Renner tried to step up on the track of the plow in order to stop or divert its path.
"I was honestly so f---ing happy to see him," Johansson said of their reunion. "I didn't know if I was ever going to see him again. To not only see him again but to see him thriving and in such an amazing space, mentally."
She added, "He's a very spiritual person in general and a very soulful person. And you can see that in his work. It comes through. He has such a depth to him. And I just was so happy to see that he is full of life and light, and he's also hilarious. We laughed a lot."
Evans said that the visit consisted of "laughs and smiles and hugs."
"Leave it to Jeremy to take something this potentially tragic and turn it into something so inspiring," the "Captain America" star laughed.
"On the Avengers text chain, we're like, 'Okay, you beat us all. That's it. You won.' That's like real superhero stuff. It's unbelievable," she said.
Elsewhere in her interview, the actress opened up about her legal battle with Disney when she sued the entertainment giant for allegedly breaking her contract for "Black Widow" by releasing it in theaters and on Disney+ with Premier Access simultaneously. At the time, she claimed the decision to drop it on streaming cost her backend profits she would have earned had the movie only been given a theatrical release.
Following the suit, Disney dropped a statement that accused the actress for having a "callous disregard for the horrific and prolonged global effects of the COVID-19 pandemic."
"I was sad and disappointed. But mostly sad," Johansson said of Disney's response. "It was such a surreal moment because we were all isolated and just sort of emerging a little bit."
"I was also really heavily pregnant, too, which in a weird way was amazing timing," she continued, she and husband Collin Jost welcomed their first child in August 2021. "Suddenly, your entire attention is drawn to this miracle of life. So, I had the most wonderful distraction in the world and soon after had a beautiful baby."
The star went on to share how the public reacted to her suit.
"I couldn't even walk through a restaurant without somebody saying, 'Good for you. Stand up for yourself.' I could see that it had a bigger impact. I got support from strangers that have no skin in the game at all."