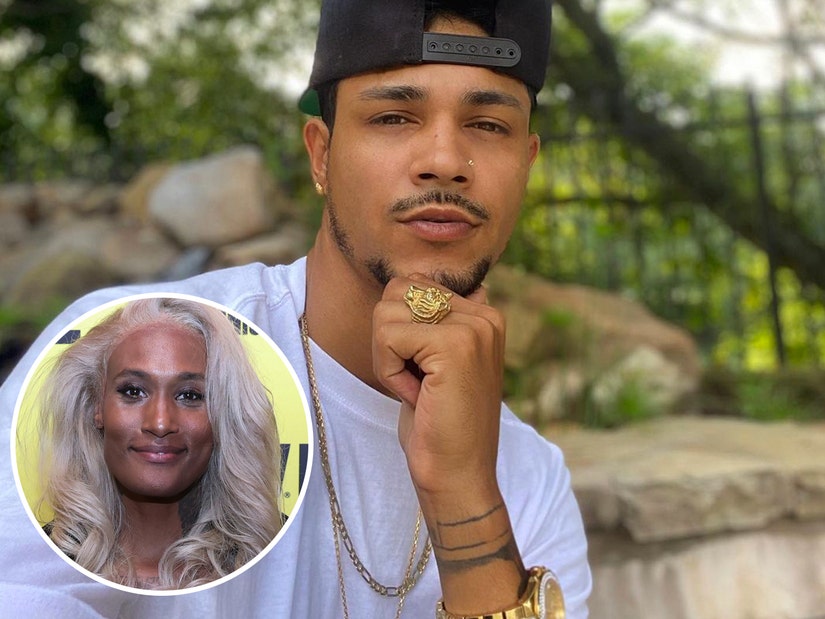 Instagram / Getty
"I don't want to be one of those men benefiting from a trans woman in private and, you know, and not celebrate her publicly," the R&B singer said of his girlfriend, D. Smith, in a new Instagram video.
B5 member Dustin Michael has revealed he's dating film director D. Smith, a transgender woman.
On Tuesday, the 35-year-old R&B singer shared a video on Instagram, in which he opened up about his relationship with D. Smith, and shared that he's decided to speak out about it following the tragic death of Koko Da Doll (aka Rasheeda Williams), a transgender woman who fatally shot in Atlanta last month.
Koko was featured in D. Smith's documentary, "Kokomo City," which premiered at Sundance Film Festival in January, and won two awards.
"I've felt different and like a loner, like I was a black sheep of the family type thing," Dustin began in the black-and-white video.
"Recently, I saw the horrible news of a transgender woman named Koko Da Doll being murdered in Atlanta, Georgia, like a week or two ago," he continued. "This particularly hit me close to home because I feel as men -- Black men -- we're not allowing ourselves to love who we wanna love openly without fearing being judged and shamed publicly."
Dustin added, "I feel that we're taught as children that being emotional or sexually ambiguous is wrong and that, you know, we learn to suppress certain feelings, but we don't never grow up and really learn to deal with them."
The "All I Do" singer went on to say, "As you come into adulthood, I find it as men, you know, we get frustrated that by what we're basically feeling in our hiding and take this frustration out on others. And, you know, sometimes that emotional trauma can basically lead to violence or, you know, death, which brings me to why I'm doing this video."
Waiting for your permission to load the Instagram Media.
Dustin then revealed he's dating D. Smith. "I'm in a very beautiful relationship with someone who makes me very happy," he shared. "She's very sexy, very talented, and most of all, she has a beautiful kind spirit, which I love. My girlfriend, she is transgender. Her name is D. Smith."
The musician added that after Koko's death, he "wanted to make it very clear" to D. Smith that "she has a place that she can feel safe and free" and "feel seen and loved without any conditions."
"I don't want to be one of those men benefiting from a trans woman in private and, you know, and not celebrate her publicly," he continued, adding that he's known D. Smith for "over 10 years" and since "Day 1" they've had a "very special connection."
"I feel like it's time for, you know, just men in general to step up and own who we are as men," Dustin said, before signing off with, "Love who you love."
D. Smith posted Dustin's video on her own Instagram account, writing, "I'm so proud of you. We've known each other for almost 10 years now and every moment with you was always validating. So many men only dream of being as brave as you are."
"Thank you for being the example of a human just loving a human," she added. "I'm so grateful for your heart, ambition and spirit! I love you 💖."