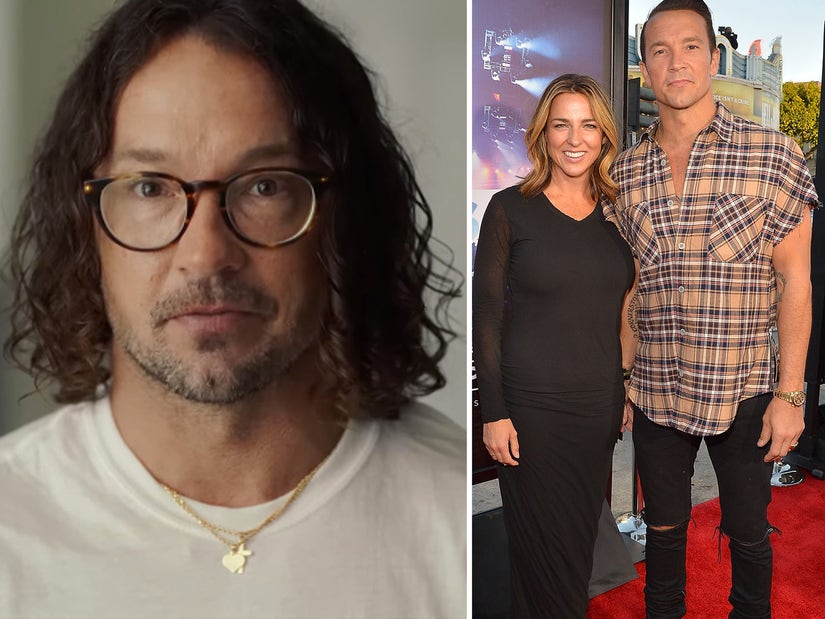 FX/Getty
The celebrity pastor reveals why he participated in the upcoming "Secrets of Hillsong" documentary and his sobriety and "healing" journeys following the affair that blew up his life.
Carl Lentz, the celebrity pastor who was fired from his position at Hillsong megachurch's New York location after cheating on his wife in 2020, is in a much better place now than he was three years ago.
Taking to social media for a rare update on his and his family's life in the time since the scandal, Lentz opened up about how they've all been processing his misdeeds after celebrating his 20th wedding anniversary with his wife Laura, who stayed by his side following the affair. He also shared why his family decided to participate in the upcoming FX docuseries "The Secrets of Hillsong," based on Vanity Fair's reporting on a number of the church's controversies.
"For the last 3 years my entire focus has been fighting for my wife and my kids, my family has been my only priority. In order to do that, seeking sobriety and healing had to run parallel with those goals," Lentz shared in a lengthy Instagram post on Tuesday.
Waiting for your permission to load the Instagram Media.
"Honestly nothing else mattered. None of the noise, the lies, none of the half truths that were said about me and or us, mattered. All I wanted was to prove to my wife and kids that I could show up for them like I had never done before," he continued. "Although we have a long way to go, with a lot of work, a lot of honesty and a lot of prayer, we have found ourselves in a beautiful, happy and deliberately honest place."
He said they're in such a good place, that he and his wife not only celebrated their 20th anniversary last week, but did it "in the purest way." He added, "Unfortunately that came through a lot of humiliation, embarrassment and heartache."
"Part of the healing from that heartache led us to the decision to be a part of a documentary that we do not control, that we don't have any say in and that we haven't even seen yet," Lentz continued, telling his followers that his family will be seeing the series when the rest of the world does on FX. He added that their aim with participating was to "focus on my mistakes and the context for what transpired" and not to shift blame or deflect responsibility.
A trailer for the docuseries -- in which Lentz rocks much shaggier hair than the clean-cut 'do he used to sport -- can be viewed below.
"I can honestly tell you that when you get to a place of honesty and freedom in your life, when you've gone through hell and you realize God is still with you ... it is so freeing," his post went on, adding that the "feeling of not being worth" led him to "some dark places" in the past.
Lentz then clarified that while he's now part of "an amazing church," he's no longer part of the ministry, preaching or overseeing anyone. "What gives me joy and hope is knowing that what I have been through, what I have made it past can help so many others," he continued, acknowledging he's "not the first man to be in this situation and I won't be the last."
"But I can promise you I'll be the guy standing with his arms open wide for anyone who's been on this path of addiction and destruction," he vowed. "Repentance and life change is proven over time with consistent choices and that's a road I look forward to."
"It truly makes me wonder if this is what all of this pain was all about. From the lows of where I've been, to the grace and forgiveness that God has granted me, I have something to share and so does Laura and my kids," he concluded.
Laura also shared his post to her page.
Lentz was terminated from his position at Hillsong for "moral failures" and "breaches of trust" in 2020. In a lengthy post shared to his Instagram page at the time, the disgraced pastor confessed to cheating on his wife and confirmed that's why he was let go.
After his confession, a woman named Ranin Karim appeared on "Good Morning America" and claimed to be the other woman. According to Karim, the two met at a park in New York City and continued to see each other there before he eventually took down her number. She said he refused to reveal his last name and told her not to Google him -- simply telling her he worked with, managed and traveled with celebrities.
After she did look him up, she allegedly confronted him about being married. Karim told GMA she tried to break off her relationship with Lentz numerous times, but he kept coming back for more. In October, their affair was discovered by his wife, she claimed.
"Woman to woman, I don't think she deserved to be hurt the way that she did," she said. "I never meant to hurt her."
While Lentz admitted to having an affair, he did not disclose or confirm the other woman's identity. He also didn't respond to ABC News' requests for comment at the time.
"The Secrets of Hillsong" premieres May 19 on FX and Hulu.