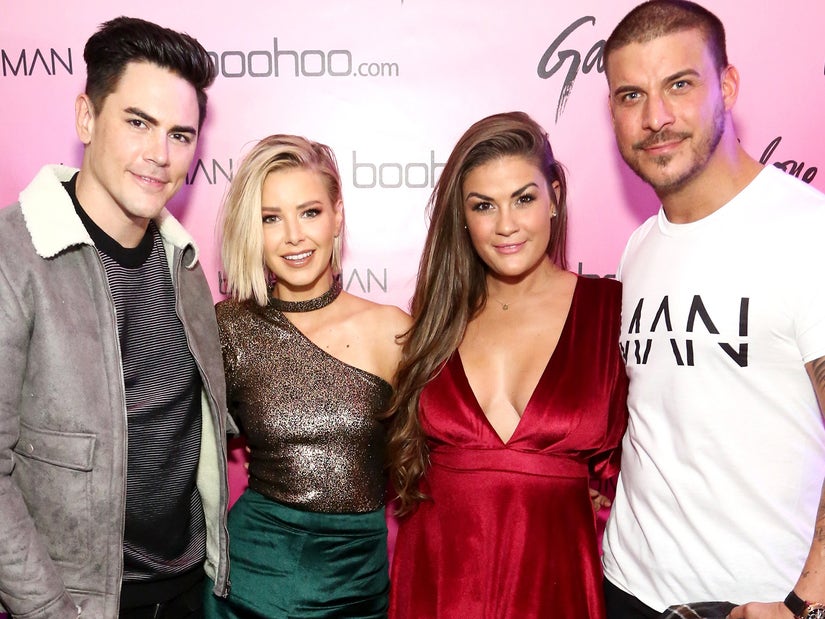 Getty
Reality star Jax Taylor says his "mental health was taking a huge hit" after eight years as the "villain" on "Vanderpump Rules" -- he and wife Brittany Cartwright have grown closer to Ariana Madix since the "Scandoval" and believe she's in a better place now.
Jax Taylor feels he's in a much better place now that he's no longer a part of the craziness that is "Vanderpump Rules" -- and as that show is going through its craziest drama yet, he actually believes Ariana Madix is in a better place, too.
Taylor, who was reportedly fired from the show in 2020 alongside wife Brittany Cartwright, says he has absolutely zero regrets about his decision to stay out of the spotlight in the interim, as it's been the best thing for his mental health.
During a chat on the "Forever Young" podcast, the former reality star said that his "mental health was taking a huge hit" after being portrayed as "the villain of the show for eight years." He said he felt like he was "just being hammered" all the time.
Taylor said that he's always believed he has thick skin, and he still believes this, "but after a while I don't care how thick your skin is. After eight years it takes a toll." He explained that by the end he "was really questioning [his] mental health."
"I was breaking down. I was crying. I was making a lot of dumb mistakes at the end. I was just collapsing," he said. "I chose to be in this world, but I was taking a beating. It's tough."
While it's never been officially confirmed, fans believe that Taylor and Cartwright were booted from the franchise after they shared identical and fairly generic goodbye messages to their social media pages. In response to fans poking at this, Cartwright replied, "Do you guys really truly think we got to write whatever we wanted?"
That said, they edged their way back into the "Vanderpump Rules" world amid the ongoing "Scandoval" cheating scandal that has rocked the series in Season 10, taking part in a few episodes of Peacock's "Watch With" feature.
As noted by Us Weekly, Taylor has said he'd be open to returning to the show now, with Cartwright adding that the time away has helped them decompress and come to a place in their lives where they'd be comfortable stepping back in front of the cameras.
As "Vanderpump Rules" was always about a group of friends and coworkers, they've remained in touch with some people on the cast. On the "Forever Young" podcast, Cartwright said that her husband has actually grown closer to Madix since the scandal.
Chaos erupted -- and is playing out now on the series -- after Madix discovered that her long-time relationship Tom Sandoval has been engaged in an affair with her best friend, and cast-mate, Raquel Leviss.
Cartwright says that in the weeks since the scandal broke, she and Taylor have bonded with Madix, who even came to their son Cruz' second birthday party.
"She just seems like she's doing great," said Cartwright. "On that side, I feel like things are better. We haven't talked to Tom."
As for Madix, he said that things are perhaps better than they ever have been between him and his former cast-mate. Taylor and Madix were famously at odds a lot -- as in a lot -- during his time on the show.
"We're just two different people. We just never really got along; we'd just butt heads," Taylor conceded. "Ever since this has happened, I feel like she's a different person. She seems really happy. She seems like a totally different person."
Cartwright agreed, saying that it's "like the weight was lifted off her shoulders" for Madix, while acknowledging that they are "sure it's been really hard still" for her.
Last week, Bravo released a teaser for the upcoming season finale of "Vanderpump Rules." Much of the footage for the episode was filmed after the current season initially wrapped ... with the show going back into production immediately after Sandoval's affair with Leviss blew up big time in public.
The teaser shows some of the fighting between Sandoval and Madix after she learned he was cheating on her, as well as the rest of the cast's reaction to the shocking scandal. Until then, new episodes hit Bravo every Wednesday at 9 p.m. ET/PT.
If you or someone you know needs help with mental health text "STRENGTH" to the Crisis Text Line at 741-741 to be connected to a certified crisis counselor.