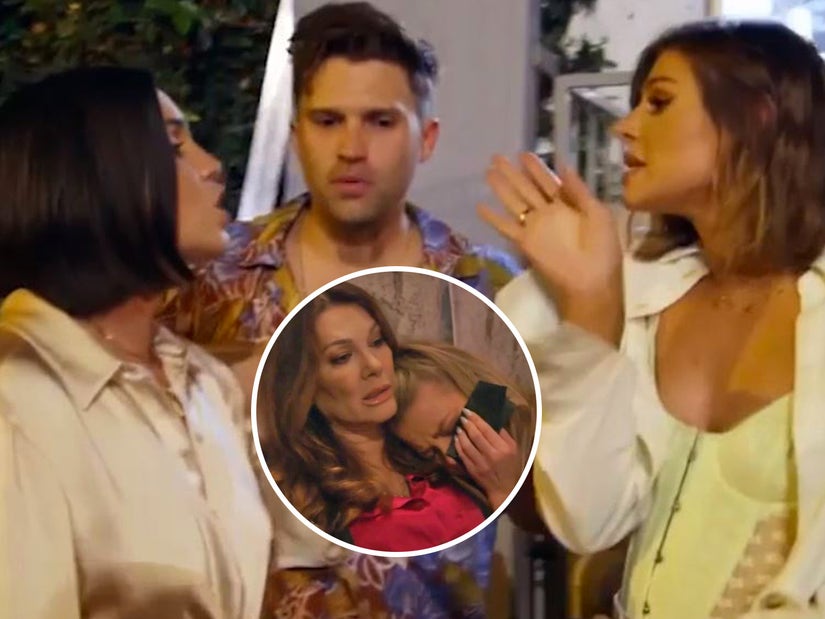 Bravo
"You're a little f---ing c--- is what you are," Katie hurls at Raquel, before Maloney's mom gets in on the fight and Ariana is left an emotional wreck.
Well, this would have been a wild way to end the season.
Wednesday's episode of "Vanderpump Rules" was originally meant to be the season finale, before Tom Sandoval and Raquel Leviss' affair broke and Bravo cameras scrambled to film how the cast reacted to the scandal. While we'll have to wait for next week to see that big reveal and the subsequent fireworks, this hour was still pretty damn explosive.
The episode culminated in a big event with everyone in the cast present, as Ariana Madix and Katie Maloney held a tasting for their sandwich shop. It was here where the ongoing tensions between Katie, Raquel and Tom Schwartz -- which began when Leviss first expressed interest in Tom, before then making out with him -- reached a boiling point.
At the party, Katie's mom Teri was seen expressing her disappointment with Tom to his face over the Raquel hookup -- reminding him how he and his ex-wife agreed not to pursue anything romantic with any of their friends. "It was kind of a real slap in the face," she told him, "That is so hurtful to any woman. Was it really worth it?"
"No, it wasn't worth it," he told her, something he reiterated in a confessional.
Meanwhile, Raquel first tried to make nice with Katie, telling her the sandwiches were delicious. She then made it all worse by bringing up how she maybe made out with Tom again at a bar in West Hollywood, criticizing Katie for sending Tom what she called "rage texts" about the rumors.
"You filed for divorce. If Schwartz and I made out there or not, it's none of your business," said Raquel. "What the f--- are you doing right now?" Katie shot back. "We were together for 12 years, you can't even comprehend."
After Raquel said it was no longer Maloney's place to "tell him who he should and should not be hanging out with," Katie blew up.
"What don't you get about this? How thick is your skull? This is my husband. You don't want to be with him. You've been friends for 5 minutes. Step off of it!" she shouted. "You have zero respect, no empathy, no respect. How the f--- were you raised?"
"Maybe I feel more empathetic for Schwartz than you. That's just my opinion," Raquel responded, before Katie shot back, "I think you should stick it up your ass. I think you should f---ing leave."
At that point, Katie's mom Teri interjected again, bringing up how she told Raquel during a trip to Las Vegas how "hurt" her daughter was amid the divorce. "When we had dinner, did my conversation mean anything?" Teri asked Raquel, who seemed to scoff at the fact her mom was even getting involved. That reaction only made Katie see more red -- prompting Maloney to get in Raquel's face and exclaim, "You're a little f---ing c--- is what you are. Walk away. Talk to [my mom] with respect. I'm so f---ing done with you, I'm so f---ing done with you!"
Even Sandoval got involved at that point, saying Schwartz and Katie weren't together when he made out with Raquel -- and claimed Maloney was "hooking up with another guy" when she was still living with Tom. As the crosstalk between them all continued, Teri told Raquel to "shut up," called her actions "hurtful" again -- as Sandoval said in a confessional it was "tacky" for Teri to even get involved.
As Raquel told Katie she was just "f---ing jealous," Ariana Madix walked by, looking shocked at the fight she had just witnessed. As someone who was really good friends with both Katie and Raquel at the time, she felt like she was in a terrible position ... and broke down in tears over the incident on Lisa Vanderpump's shoulder.
"I just wanna go home. I love Katie and I love Raquel. All the yelling. ... this summer has been so f---ing awful," she said. "I'm trying to show up for my friends and feel like I can't. I don't think I've processed everything."
In a confessional, Madix added, "I feel like I'm being shredded apart from the inside."
As this was happening, Sandoval just kept battling with Katie -- while Kristina Kelly told him he should maybe stop worrying about his feud with Maloney to focus on comforting his partner, who was in tears in the corner.
Maloney stormed out, with Tom on her trail. As they confronted one another in the alley behind SUR, Raquel also walked over ... which, of course, didn't go over well with Katie.
"You're not going to interrupt. We're in the middle of a conversation, go away!" she shouted, but Raquel wouldn't budge.
"I just have one thing to say. I am empathetic person," said Leviss, getting a "No, you're not!" from Katie. "You were hurt by the fact Schwartz made out with somebody. The fact that it was me hurts even more. I'm sorry for hurting you. It was not my intention to [hurt you]," Raquel added, though Maloney, naturally, didn't agree.
After Leviss walked back inside, Katie told Tom she was "done" with him "because of this little ho." She concluded, "I don't need an apology from her. The fact that you told me to shut up to listen to her, we're done."
The hour ended with LVP giving a big speech to the whole cast, in what would have been a nice moment to end to season on.
"I've seen you all go through so much this last year and that's what life is, it throws s--- at you. It's not what it throws at us, it's how we deal with it," she said, before pointing to some of the issues Lala Kent and the Toms had been through.
"I love you all, I do. You will learn to deal with your problems as you get older. Because each and every one of you have the tools and talent to go forward and solve all your problems," she added. "I'm always here for you ... don't let life get the better of you. I love each and every f---ing one of you."
Stay tuned for the finale of "Vanderpump Rules," which airs next Wednesday on Bravo.